Media
Jessica Mendoza on the shift, Dave Matthews Band, and why the Red Sox are different this year
"I just love outliers, in any field or walk of life, things that are really different."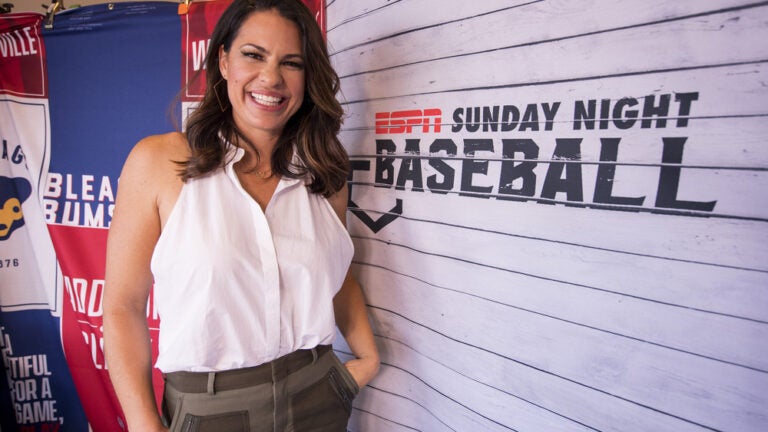 "That's delicious," says Jessica Mendoza, sipping a New England-style IPA for the first time on the patio at Cambridge Brewing Co. on a recent Saturday night.
Mendoza, in her third season as an analyst for ESPN's Sunday Night Baseball, is in town to call Red Sox-Yankees.  She's just come from Saberseminar, a baseball and technology conference at Boston University, where she delivered a talk on outliers, players who do one thing really well and might not have successful careers otherwise.
"I talked about what I gravitate towards," says Mendoza, and the irony is not lost on her that as a woman calling a men's professional sport, she is an outlier herself.
Over East Coast beers and a plate of nachos, Boston.com spent a couple hours talking to Mendoza — a California resident, Stanford grad, and two-time Olympic softball medalist — about beer, baseball, and what it's like working with A-Rod.
You just came from the conference. What was your talk on?
I talked about Yankees-Red Sox outliers, some Masahiro Tanaka stuff since we have Tanaka-[David] Price tomorrow, how he was kind of at the forefront of limited fastball usage, using secondary pitches as your primary way of being able to have success without being so fastball reliant, which is now a trend, especially a trend with the Yankees. Tanaka started that back in like '13 and '14.  It's really kind of cool when you think about where the game is now, whether it's Lance McCullers Jr. or really the entire Yankees rotation.
McCullers is curveball heavy, right, is that his thing?
He threw 29 straight curveballs when he faced the Yankees, which is never been done before, because why would you? But he did, and I love it. I just love outliers, in any field or walk of life, things that are really different.
What do you think of the launch angle trend? It seems like there are two outcomes in baseball now, home run or strikeout, and launch angle is a part of that.
I love guys maximizing their strengths and their bodies and what they can do. And I feel like to be honest every hitter's different. I feel like there's a lot of hitters out there who are doing launch angle that shouldn't be. Their percentage of outcome, by changing the angle of their bat, might increase their power but lessen the contact for the type of hitter they are if power isn't a part of their game.
I messed with it very late in my career, I started launching more, and more just thinking about putting the ball in the air. It's not let me change so much mechanically, but how can I get pitches to drive in the air? So it's changing the philosophy. Before, when I played, it was about how can I make contact. Now it's not good enough to hit the ball hard.
Like Jackie Bradley Jr., he's still continuing to hit the ball hard, but he's hitting it at people. They're shifting him. So unless you're finding the spots that you can hit, or honestly getting it into a higher slugging percentage in the air, you have to ultimately make those adjustments. But it all depends on the player.
Have you tried the Sake (Cambridge Brewing's Banryu Ichi Experimental Sake/beer hybrid) yet?
No. Are you trying it now? I'll try it with you. …
… I'm going in.
Do you smell — I smell something like ….
Strawberry.
I smell bubble gum. It's also 14 percent so that's why they give us a little bit.
That is so good though. That is delicious. And it is strong. I feel like to have a whole pint of it would be too much.
What is that one?
The Cure. I liked that one the least. That's the wheat IPA. I loved The Fog That Surrounds (a hazy IPA brewed with New England rye.) I liked the Hefewizen, but I really, really loved the Sake.
Since we're on launch angle, what do you think of the shift? Do you think MLB should change some kind of rule next year? 
No, no. I think it is killing certain offenses for sure. That's what I love about where we're at in the game. Now the numbers are telling us: the guy's hitting it here. To me the next crop of major league players are going to be ones that have to learn how to hit the ball and constantly evolve and change, which is not easy to do. So then we ask for another level.
If you're David Ortiz, or if you take these big, lefthanded 3,4,5 hitters, even righthanded batters, I think you're totally OK with them shifting him and knowing he'll still find power. Now it's gone to the 7,8,9 batters, the Jackie Bradley Jr.'s that are getting shifted on, and even though he's still crushing the ball, they know where to play him. There needs to be an adjustment back. I hate the idea of more restrictions. In fact, I'd love to just throw out almost all rules and see where the game would take you.
My question was going to be who do you like in the playoffs, Red Sox or Yankees? Recent results have obviously been a bit of an eye-opener. How do you handicap the Red Sox and Yankees right now?
To me the Red Sox didn't make a ton of moves and everyone wanted them to go get a bullpen arm, especially when the Yankees go and get Zach Britton. I think the Red Sox would have loved to have had that — that is to me the big glaring weakness of the team.
The Red Sox are clearly a better team right now, today. When I look at the Red Sox in the postseason, I like the idea of Drew Pomeranz and Eduardo Rodriguez being in the bullpen, kind of like how the Astros used Lance McCullers in the bullpen, Charlie Morton, the way that you're able to set your rotation and now strengthen what is a weakness for the Sox.
Are the Red Sox the best team in baseball?
Today it's the Red Sox. I picked the Red Sox to win it all preseason, and that was just like seeing the year that they had last year and the talent they had, knowing that they went and got J.D. Martinez. Knowing that nothing really changed last year except for whatever the heck was happening in the clubhouse.
I'm a big Alex Cora fan, as far as aggressiveness, the things that he sees like pitch tipping. His eyes are really good. Working with him I know that about him. That's very fore-thinking, the way he plays the game. The amount of stolen bases they have with the same players. They're just full throttle.
That 4th inning the other night in the first game against the Yankees. Even though they were hitting the crap out of the ball they were still stealing …
Yes, yes. I loved that. Because that's October baseball. You're not hitting the crap out of the ball in October. If they match up against the Astros in a championship series you've got Verlander and Cole and Morton. You need to know how to play the game. I like the Red Sox are so athletic that way. The Astros are too, though. They can also play that game.
You said earlier these are your first beers out in Boston?
They are. I'm embarassed to say that. Part of it's like when you're working — I really try to do a good job with food, try to hit the best restaurants — I could obviously do more. But these three beers are really good. I was a little worried because we are in like nerd central.  I'm being very stereotypical of my own kind, but I never knew nerds knew how to make beer.
What did you see in preseason from the Red Sox?
That they're the same team they were in '16, and they got better. Everyone compares them to '17. And I picked the Red Sox to win last year too, so it's not like I'm always right. But what I saw in them this year is honestly a difference in their whole entire demeanor. Literally last year I'd come into the clubhouse and it would seem like something was wrong. For a team that was winning and still good, there was something off, something missing. I spent a bunch of time this spring with them and we all thought the same thing, how different it was.
What's your first beer memory? 
I don't remember the exact first one, but I'm sure it was a keg in high school, Natty Light, awful beer. Thank god beers in high school for the most part were like super cheap and like water anyway. But it's always just something like, 'I'm supposed to be drinking this', but it was awful. I feel like every person's introduction is to like awful beer.
What's your favorite beer or beer style?
My favorite beer, but I think it only comes in a huge bottle, is the Tricerahops (a double IPA from Oregon's Ninkaski Brewing Co.). The unfortunate part is it's pretty high alcohol content but it comes in a gigantic bottle, so it's something you have to share.
What are some of your favorite cities in which to drink beer?
Bend, Oregon is No. 1, for sure.
I've never been.
You need to go. Part of it incorporates the whole outdoor aspect. You could literally be floating down the river and they have craft breweries floating with you, and you could be drinking beer as you're floating. Just last week Sheryl Crow was playing in the amphitheater that's right on the river, so you're floating and you've got live music. Dave Matthews was there last year.
Are you a Dave fan?
I saw him like a million times in college.
My wife and I met at a DMB concert.
No way. So he should have performed at your wedding.
He was just on Jimmy Fallon making fun of the fact that everyone asks him to perform at their wedding. 'You should just come out, one song.'
So my husband and I met at a wedding and he asked me to dance for "Crash", so that's our first dance. Which is so annoyingly cheesy. Which is not my style at all.
It's a totally cliche song.
But it's also an omen. We had met that night. I was actually leaving for the Olympics the next day, so I was like the only sober person at the entire wedding, which was actually really fun. He was like the guy who was on the dance floor with all the grandmas, doing all the fun silly crazy stuff. Then that song came on and he was like 'Hey will you dance with me?'
What should Red Sox and Yankees fans know about the rest of baseball that they might not be paying attention to? 
That Oakland and Seattle are in the American League and are good. It's all about Houston, Boston, and New York, and granted they're really amazing teams.  You go to the west and the Astros are in that division, but the A's have been this amazing run and I love it, because it's scrappy, and to be honest what I feel like Boston people would be like, 'I love this.' They didn't go buy anybody, they never do, and so they just put together all these awesome pieces.
Ultimately one of these teams in this division is going to play [the Yankees or Red Sox], so they should care. If the Yankees win 100 games and play one of them in a one-game playoff, it'll be the biggest thing in baseball.
In a one game playoff there's a decent chance the other team might win that game.
Well, James Paxton, I'd take Paxton over Severino right now, today. And I get it, it's a nation thing more than a Boston or New York thing. No one in the country is really locking in now on Seattle or Oakland. But those teams are really fun.
What sport do you want your kids to play?
I had to learn. My oldest (Mendoza has two boys) doesn't love baseball, he didn't play this year but he wants to play next year. It's not easy, I'm not saying, 'Oh that's great, play whatever.' He's really into ice hockey, which I swear he picked the thing mom knows the least about. His hair is down to here, surfer kid that's playing ice hockey. And I know it's because when I go and watch I'm always like 'That was great,' and he's always like, 'Actually, mom, I didn't do the thing.' And I'm like, 'I thought you looked good.'
Whereas baseball I coached his team and it's hard not to say, 'Oh you've got to watch your back foot.' You see things.
You've been doing Sunday Night Baseball for three years now. What's changed for you?
A lot. The confidence, just feeling like I can really go. My first year I was thinking things through and never wanted to make mistakes, was so afraid if I made a mistake people would say, 'This is why she shouldn't be here, we told you.' And now I have this — and part of it is getting to know the players, it's three years in, and really feeling like, 'OK, I have an understanding of when to go and feel really good about what it is that I'm saying.' Even if you disagree with me I feel like I can now back it.  
Do you pay attention to Twitter? How do you react to people who come at you who are maybe a little hesitant that a woman is calling their men's sports broadcast?
It's so much easier now.  When people would really come at me I took it personal. It was more of an insecurity like maybe I don't belong that brings out this, 'Am I doing the right thing? Yes, but maybe they're right in some ways.' I kind of learned, first of all my relationship with social media had to change. As an Olympic athlete, especially a female Olympic athletic, social media's such an amazing place, people are so positive, all these young girls. Anything negative is such a small space, people aren't coming at you for their gender. I always loved social media, and I had to learn I needed to have timeouts from it.
When I'm on Sunday night I will not go on Twitter until Tuesday. Just because I don't want to hear it. And sometimes it's exaggerated either way, sometimes it's overly positive, 'You're the most amazing broadcaster ever', and that's not true either. It's just dramatic. Usually by Wednesday it's just normal people reaching out because they have questions about normal things, so I can interact, versus this strong visceral positive or negative.
What have you taken from your playing career that you've applied to your broadcast career?
Pressure. The No. 1 thing has been pressure, just as much as there's, 'Oh yeah Brett Gardener took that pitch and I know what that feels like.' When the red light goes on, I didn't realize how much I crave it. I like it when my heart's pounding and I'm sweating and I'm nervous. 
Billie Jean King says — and it's my favorite quote: "Pressure is a privilege." Once you wrap your mind around, 'I'm in this high-pressure moment because I'm privileged to be in this space, then you kind of smile and accept the fact that this is really scary and hard and I'm nervous, but the same moments I took walking into Athens and Beijing, or my first at bat and I feel like I'm gonna puke because I'm so overwhelmed with pressure, I kind of smile because I know how those turn out. 
What's it like working with A-Rod?
It's been fun. He knows so much about the game. He could be doing anything, but he legitimately loves the game.
He doesn't need the money.
No, but he loves it, and he wants to be good at it. I just think it's rare. He watches his own stuff back. He treats it like he was as a player.
What's your first baseball memory?
On the field with my dad. He was a head baseball coach at a college growing up. It's sideline memories. Bus rides. To be honest my first memories are getting to know players. I remember being on the bus probably like 3, 4, 5 years old, and my dad would always say go sit with the players in the back. And I'd just go sit next to whoever, and these are college athletes, they'd have their chew in their mouth and they'd be like, 'OK 4-year-old coach's daughter.' And I always felt that they were like family.
My mom didn't always want me to ride back with my dad on the buses because of language and the rest, but after a while she realized that's what I loved to do the most.