Red Sox
Could Dustin Pedroia return to the Red Sox in 2018?
He hasn't ruled it out just yet.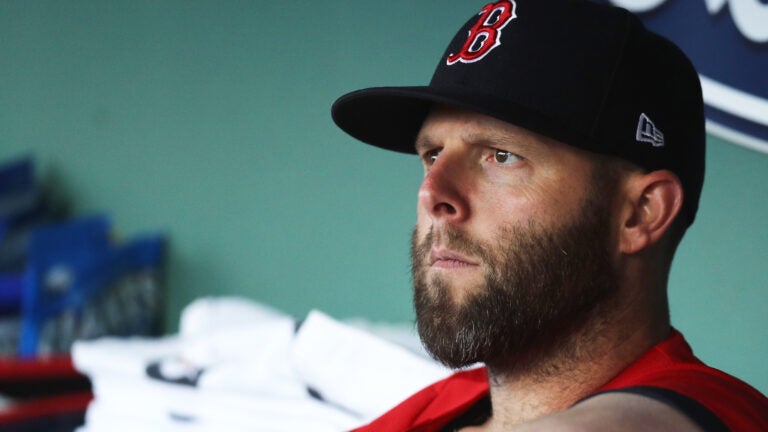 Red Sox second baseman Dustin Pedroia hasn't given up on the possibility of a comeback this season, despite not having played competitive baseball since May 29.
Pedroia told WEEI's "Ordway, Merloni & Fauria" Tuesday he's "getting better every day" and hopes to return to Boston soon. The 35-year-old has spent the last month rehabbing in Arizona after he was placed on the disabled list June 2 (retroactive to May 30) with inflammation in his surgically repaired left knee.
"I'm preparing right now — hopefully, if it's possible, if the team needs me this year — to be ready," Pedroia said on "OMF." "I don't know if they know it's possible, and I don't know if it's possible. All I'm doing right now is working. I started a running progression last Friday, so I'm building up the best I can."
It's unlikely, though not out of the question, Pedroia will return to the baseball diamond this season. The cartilage restoration procedure he underwent last October is, as manager Alex Cora put it, "major surgery." The initial plan to have Pedroia re-join the starting lineup in late May was foiled when he returned to the disabled list following just five games with Pawtucket and three with Boston.
"I think the timetable I was given at the start was a little unrealistic," Pedroia said. "But we made some changes to my rehab and things like that. I'm feeling a lot better and I'm seeing a lot of changes. I'm going to get over this injury. It's just a matter of when. Hopefully, if it's not this year, I have three years remaining to play after that."
Pedroia is signed with the Red Sox through 2021, with $40 million remaining on his contract after the 2018 season. The recent addition of veteran second baseman Ian Kinsler should alleviate any urgency to rush his return, and Pedroia has recognized the importance of letting his knee fully heal, but he's nonetheless still hoping he'll be back sooner rather than later.
"In this game, anything can happen with injuries or anything like that," he said. "I want to make sure if something does happen, I'm prepared and ready at that time."
Former Red Sox manager Terry Francona said Monday he's kept in touch with Pedroia because he knows the injury and its recovery have been "hard for him." Francona, however, said he "wouldn't be surprised" if Pedroia made a comeback this season, expressing the utmost faith in his former player to find a way.
"When you tell him, 'No,' he'll figure out a way to make the answer, 'Yes,'" Francona said. "But I don't want to see him hurt himself."
Though he's missed some time, Pedroia said the team's success is "probably the best thing ever" for him. At 88-39, the Red Sox hold the MLB's best record.
"We're playing great baseball," Pedroia said. "All the guys are doing well. If it wasn't going like that, I mean, if I had any hair on my head, I would have pulled it out. Watching every game and shooting guys funny text messages after they do good, that's keeping me going."