Red Sox
Morning sports update: Chris Sale says his injured shoulder feels 'like Paul Bunyan's ox'
The Red Sox ace hasn't pitched since Aug. 12.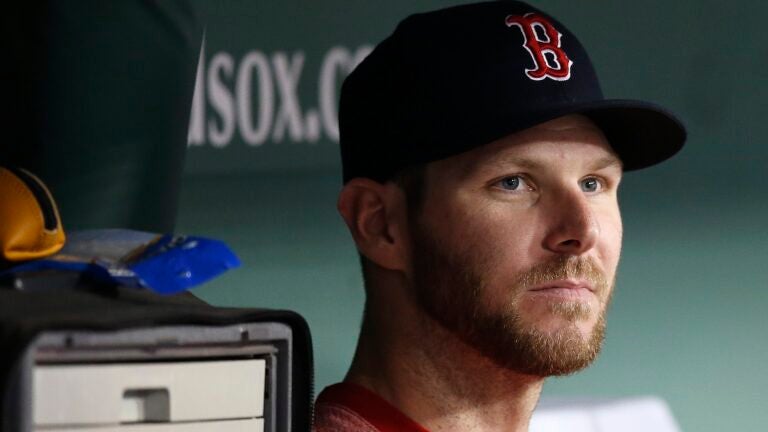 The Red Sox face the Marlins at 7:10 p.m. Tuesday at Fenway Park.
Here are some more sports headlines to get you caught up as you start your day:
Chris Sale says his injured shoulder feels 'like Paul Bunyan's ox'
Folklore holds that Minnesota's 10,000 lakes formed when water seeped into the massive footprints left behind by Babe the Blue Ox. According to Chris Sale, his injured left shoulder feels just as strong these days.
The Red Sox ace hasn't pitched since Aug. 12, when he struck out 12 in five shutout innings against the Baltimore Orioles. That 4-1 win moved Boston into a 9 1/2 game lead over the New York Yankees in the AL East, a lead that has shrunk to six games in the ensuing three weeks.
Sale, who's spent the time rehabbing the shoulder, gave a positive update when asked how it felt Sunday.
"Like Paul Bunyan's ox," he said with a smile, per the Boston Globe's Pete Abraham.
Spoke to Chris Sale, who said he was starting a throwing program tomorrow. He'll play catch for the first time since he was shut down.

Q: "How does your shoulder feel?"

A: "Like Paul Bunyan's ox."

Apparently that's good. But isn't Paul Bunyan stronger than the ox? Anyway …

— Pete Abraham (@PeteAbe) August 26, 2018
The lefthander first landed on the disabled list on July 28 with inflammation, then returned to the DL shortly after that start against the Orioles. Sale, the AL leader in ERA (1.97) and strikeouts per nine innings (13.5), noted he's "getting back to it" and planned to play catch on Monday.
Chad Finn weighs in on the Red Sox' recent struggles: The Red Sox lead in the AL East shrunk from 10 1/2 games to six in the space of three weeks. Finn writes that while the accounting may not be as satisfying as it was on Aug. 6, this isn't 1978 or 2011.
"They've given us much to anticipate," he notes. "The worst should not be one of those things." (Boston.com)
Danny Ainge shared an update on Gordon Hayward and Kyrie Irving: According to the Celtics president of basketball operations, both Gordon Hayward and Kyrie Irving would be ready to go if training camp started today.
"I don't want to hype it up too much, but I'm saying that, if our training camp were starting today, that they would be here today going full speed," Ainge said. (Boston.com)
Jessie James Decker gets emotional as her husband retires from professional football: The country singer's husband announced Sunday that he was retiring after eight years in the NFL. In a note on Twitter, James Decker wrote, "I cried, smiled, and ultimately respected his choice to finish this chapter to start another." (Boston.com)
Daily highlight:
https://twitter.com/SportsCenter/status/1034290867157323782