Red Sox
Red Sox clinch AL East title with win against the Yankees
"We haven't won what we want to win yet."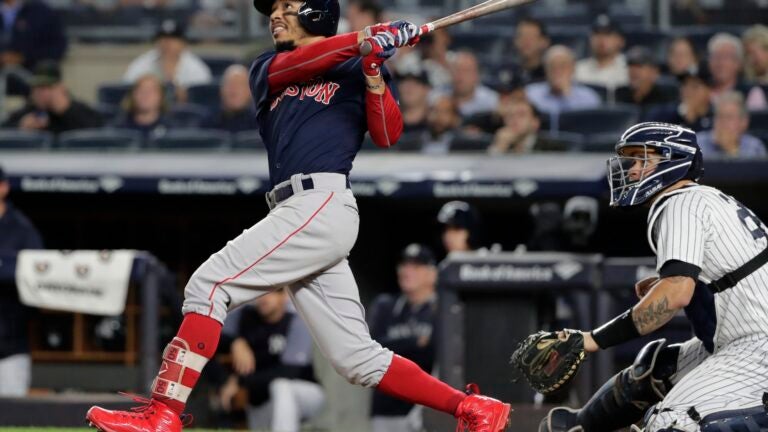 NEW YORK (AP) — Mookie Betts and the Boston Red Sox won their third consecutive AL East championship Thursday night, clinching on enemy turf with an 11-6 victory over the rival New York Yankees.
3-peat!! ? pic.twitter.com/Fo11GzeTgw

— Boston Red Sox (@RedSox) September 21, 2018
Betts homered, doubled twice and drove in five runs, finishing with four hits as the Red Sox overcame Giancarlo Stanton's go-ahead grand slam in the fourth inning. Jackie Bradley Jr. hit a tying home run in the seventh and Xander Bogaerts put Boston ahead with a sacrifice fly.
With the best record in baseball and a playoff berth already secured, Boston (104-49) closed out a once-tight division race with nine games to spare. J.D. Martinez and the Red Sox, alone in first place since July 2, will open the postseason at home in Fenway Park on Oct. 5 against an opponent to be determined.
"We haven't won what we want to win yet," Betts said in a champagne-soaked clubhouse.
Never before had Boston finished in first place three years in a row. The club needs one victory to match the franchise record held by the 1912 World Series champions.
It took three tries, but these Red Sox finally earned their chance to celebrate at Yankee Stadium under rookie manager Alex Cora.
"To be able to do it here — obviously we know the history," Cora said. "It feels great."
Boston entered the three-game series needing a single victory to lock up its fourth AL East title in six years, but the Yankees put the party on hold for a few nights with two straight wins.
Craig Kimbrel whiffed a slumping Stanton for the final out, and the Red Sox strolled out of the dugout to give each other hugs and high-fives in a muted celebration around the mound. They walked off the field and headed inside to cheers from Boston fans behind the third base dugout.
Then, it was time to break out the bubbly in the Bronx.
And the AL East goes to…
THE BOSTON RED SOX!!! ? pic.twitter.com/E4ebdYXQoH

— Boston Red Sox (@RedSox) September 21, 2018
"It feels good, man. We're not going to hide it," Cora said. "We're going to celebrate, we're going to enjoy it. This is a tough division. That team we just played, they're amazing. They're having a great season."
Two years ago, in David Ortiz's final season, the Red Sox celebrated in the visitors' clubhouse at Yankee Stadium after wrapping up the division crown in New York. But that came in the wake of a loss — after Mark Teixeira's game-ending grand slam gave the Yankees a comeback win.
"Kind of a stab in the heart," Betts recalled.
About 30 minutes earlier, the Red Sox had clinched when Toronto lost to Baltimore. So they went ahead and celebrated their season accomplishment with a booze-filled fiesta.
This time, they did it just right.
"This is just the first step," outfielder Andrew Benintendi said. "We came into the year expecting to win. We knew what kind of team we had."
Boston's magic number is two over Houston to clinch home-field advantage throughout the postseason.
After starter Eduardo Rodriguez walked a career-high seven in 3 2/3 innings, knuckleballer Steven Wright (3-1) worked three shutout innings for the win.
Brock Holt also homered for the Red Sox, and Martinez increased his major league-leading RBI total to 124 in a game that took 4 hours, 2 minutes.
New York's lead for the top AL wild card was shaved to 1½ games over Oakland, which routed the Angels 21-3.
Betts, a top contender for AL MVP, opened the game with a double off the left-field fence against Masahiro Tanaka and scored on Martinez's single. Betts added a two-run single in the second, then doubled and scored in the fifth.
Bradley tied it 6-all with a leadoff homer in the seventh against Chad Green (8-3). Christian Vazquez singled, and Boston loaded the bases before Bogaerts delivered his sacrifice fly. Another run scored on the play when center fielder Aaron Hicks was charged with a throwing error.
Betts launched his 30th home run in the eighth, a three-run shot off All-Star closer Aroldis Chapman, who was activated from the disabled list Wednesday.
Luke Voit hit a two-run homer for New York.
"They just outslugged us a little bit," Yankees manager Aaron Boone said.
Slow start
Tanaka threw 31 pitches and Rodriguez 29 in a first inning that took 38 minutes even though only one run scored.
Trainer's room
Red Sox: INF Eduardo Nunez (left hamstring) sat out and probably won't play this weekend in Cleveland, Cora said. Nunez exited Wednesday night's game in the ninth inning after legging out an infield single. … RHP Matt Barnes was available out of the bullpen for the first time in weeks. Barnes hasn't pitched since Sept. 3 because of left hip inflammation. Cora said he wouldn't put Barnes in a high-leverage situation right away. … Betts was the DH again but will return to the outfield this weekend, according to Cora. Betts sat out Tuesday after tweaking his left side two days earlier. He was the DH on Wednesday. … RHP Austin Maddox had rotator cuff surgery Wednesday in Los Angeles. Expected recovery time is about a year, the team said.
Yankees: Chapman also gave up a hit and a walk in his first outing since Aug. 21. He had been out with left knee tendinitis.
Up next
Red Sox: LHP Chris Sale (12-4, 1.92 ERA) is expected to throw about 65 pitches Friday night at Cleveland as he builds back up after missing time with a shoulder issue. All-Star RHP Trevor Bauer (12-6, 2.22) returns to the mound for the AL Central champion Indians in a potential playoff preview. Bauer has been sidelined with a broken right leg since he was struck by a line drive Aug. 11. Cleveland manager Terry Francona said Bauer will go a "couple of innings" before giving way to rookie Shane Bieber.
Yankees: CC Sabathia (7-7, 3.80 ERA) pitches Friday night at home against rookie RHP Yefry Ramirez (1-6, 5.50) and the last-place Orioles. Sabathia was tagged for five runs and seven hits over 2 1/3 innings in Saturday's loss to Toronto. He has one win in his last 11 starts.