Red Sox
SI film finds something heroic about the ill-fated 1978 Red Sox
The Red Sox had a 14-game lead over the Yankees in July before the teams' fortunes flipped in September.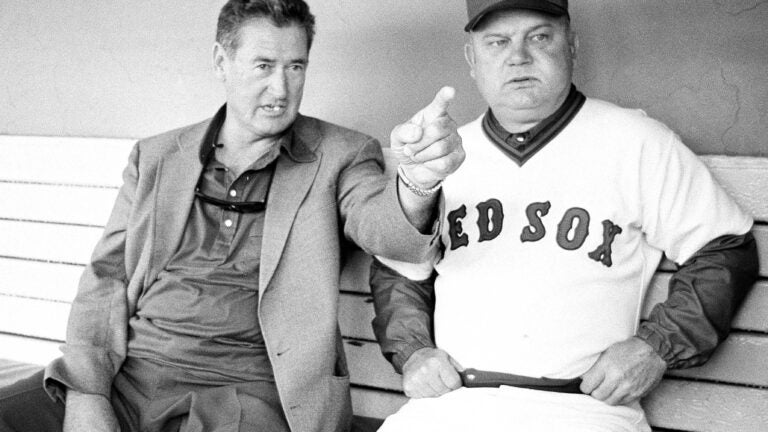 When it comes to the legendary — and in these parts soul-crushing — 1978 one-game playoff between the Red Sox and Yankees, the narrative territory is so well-trodden that it's a wonder there is any grass left on the proverbial field.
This acknowledgment is not to criticize director Jonathan Hock's new documentary for Sports Illustrated, titled "14 Back,'' on the showdown that October day, which ended in Yankee victory, Red Sox despair, and Bucky Dent acquiring a new middle name.
It's to praise how engrossing it is, especially emotionally, despite the challenge of the topic's familiarity.
If you're a Red Sox fan of a certain age or own any sense of history, you know the plot. The Red Sox had a 14-game lead over the ridiculously infighting Yankees in July before the teams' fortunes flipped, and the Yankees caught and passed Boston in September.
Some around here, apparently unaware of the cathartic redemption of 2004 (and the joyous championship follow-ups in 2007 and '13), still dwell on '78, even when we should feel like we're in the heart of the good old days. I can't tell you how many times, as the Red Sox bolted out to a lead in the American League East and charged toward 100-plus victories this season, that I was told, "Be careful . . . don't forget what happened in '78!'' As if that 40-year-old horror carries any relevance with this year's team.
That is one of the satisfactions of "14 Back.'' It doesn't lazily slap a choker's label on those '78 Red Sox. It reminds us that after they fell so far and landed so hard, they somehow pulled themselves up from the collapse to win their final eight games of the regular season to force the playoff.
"Once it tipped and the Yankees seized the lead, I think people on both sides kind of had the sense that it wouldn't tip back,'' said Hock, a 10-time Emmy Award winner who directed several of ESPN's finest "30 for 30'' documentaries, including "Celtics/Lakers: Best of Enemies.'' "And that's where the real heroism of the story is.
"The Yankees' comeback from 14 back is spectacular, unprecedented, but it's not heroic. They were the defending champions, they had sort of screwed themselves into the ground with their insanity and chaos. They were great in the comeback, but I wouldn't call it heroic.
"The Sox, when they fell 3½ games back in September, if they could have been tarred and feathered, if that was still legal in the commonwealth, I'm sure they would have been.
"For them to have then turned it around and win eight in a row and 12 of 14 with all of the starters going on three days' rest, Dennis Eckersley winning four of the last 14 games and Luis Tiant winning three of the last eight, the last on a two-hit shutout in Game 162, that was heroic.
"The greatest heroes are solitary, right? Everyone else has fallen away and they're the only ones left. That's what the Sox were. The writers had turned quite viciously on them, the fans probably more viciously. There was 60 years of frustration that fell on these guys, and they turned around and won every night.''
Remarkably, it took a Yankees fan to tell the tale in full.
"My dad is a Bronx boy and taught me the rivalry from the day I was born,'' said Hock. "In all seriousness, this game is one of the half-dozen events in my life that is indelibly on my soul and in my brain.''
Yet the film was not a longstanding passion project. He said he never really considered it until he was approached by Sports Illustrated editor Chris Stone about doing it for SI TV. (You can watch SI TV on SI.TV, Amazon Channels, fuboTV, and an app for Roku, iOS, or Android.)
"My passions as a fan and my passions as a filmmaker don't necessarily cross paths very often,'' said Hock. "There's a part of your brain where you love things and where you feel a personal passion. And then there's another part of your brain that is professional in evaluating things in terms of stories and the quality of the story, the content, the visual elements.
"Sometimes a thing that's in one part of your brain doesn't necessarily take root in the others. When Chris mentioned it to me, I went, 'Duh, of course I want to do this.' ''
The film is broken into three distinct parts: The Sox-Yankees history before '78, the '78 season, and the playoff game. Thankfully, the film doesn't spend more than a cursory amount of time on the Red Sox' sale of Babe Ruth to the Yankees. (Talk about well-trodden.)
The media voices are familiar ones, and Mike Barnicle in particular plays the hits ("They killed my father and they're coming for me''). The narrator, nasally actor/comedian Ray Romano, takes some getting used to; at one point he says, "Whoa, not so fast, Ma!'' and you'd swear you'd momentarily stumbled into an "Everybody Loves Raymond'' rerun on TV Land.
The best thing about the film is some fresh footage. The recollections of the participants are a close second. Yankees reliever Sparky Lyle is a genuine raconteur, as is Bill Lee. Dennis Eckersley is as candid as ever. Ron Guidry, Fred Lynn, Rick Burleson, Jerry Remy, Graig Nettles, Lou Piniella . . . all know how to share a tale in a way that tells you how much this still matters to them. Carl Yastrzemski's absence is conspicuous but not surprising.
Footage from the game is so taut and tense that sometimes it feels as though the ending will be different this time. When Jim Rice hits a long drive to right field with two on in the ninth inning, for a fleeting moment you could swear it's leaving the ballpark this time. Rice, as stoic as any Boston athlete of my lifetime, appears to be near tears as he relives the at-bat and the cruel outcome of it finding Piniella's glove.
"When you watch this, I think you will discover a very powerful appreciation of the Red Sox, the individuals on that team, and the circumstance of the players on those teams,'' said Hock.
"Everybody thought we choked,'' said Eckersley. "That's not choking, to me. With all that pressure that was on that team to win every night?''
No, the outcome cannot change. But maybe perception can.
And if not? Well, you'll like the epilogue anyway.