Red Sox
'If I take the mound, I expect to win': Chris Sale eager to amend for 2017 postseason clunker
Sale will start Game 1 of the ALDS.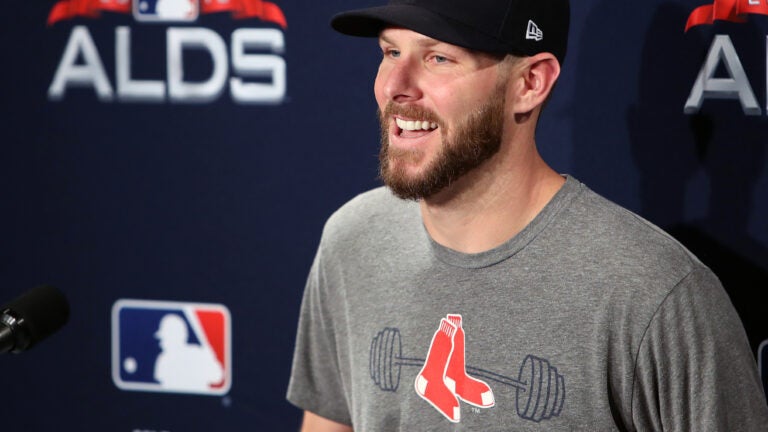 BOSTON (AP) — Chris Sale waited eight years to make his first postseason start and then another 365 days for a chance to put that memory behind him.
The Red Sox left-hander will start Game 1 of the AL Division Series against the New York Yankees on Friday night, one year after he was bombarded by the championship-bound Houston Astros in his playoff debut.
He's thought about it. He's learned from it.
And he wants to make sure he doesn't make the same mistakes again.
"Last year, obviously, I got my feet wet. Didn't do too well. But sometimes you learn from the bad more than the good," Sale said Thursday, a day before the longtime AL East rivals open their best-of-five series.
"It happened. I'm not going to run away from it. I don't think that's the right thing to do," he said. "I'm not going to hide from it. You can Google it now, tomorrow and 100 years, and it's going to be there. I own it. I accept it. And like I said, I'm going to be better. I'm going to go do everything I can to be better. That's all I can do."
A seven-time All-Star who was the ace of the White Sox staff before coming to the Red Sox in 2017, Sale had never pitched for a playoff team before starting the opener of Boston's series against Houston. He gave up seven runs in five innings; he pitched well in an emergency relief appearance in Game 4 but couldn't keep the Astros from advancing.
On Friday night, Sale will face Yankees lefty J.A. Happ.
Sale is still recovering from left shoulder inflammation that landed him on the disabled list twice in the second half of the season and limited him to 12 innings from July 11 until Sept. 11. He made four starts down the stretch as he tried to build up arm strength, but in his previous outing last Wednesday his fastball was the slowest he's had all year.
Sale adjusted his preparation because of rain Tuesday, pushing back some of his work to Wednesday so he could pitch off a regular mound instead of in the batting cage. Manager Alex Cora said Sale is "a full go," and the problems with his velocity were related to his mechanics and not his health or arm strength.
Either way, Sale insisted, "if I take the mound, I expect to win."
"Sometimes you go out there and you have your best, sometimes you don't," he said. "You have to find a way with whatever you have on any given day, and roll with it."