Red Sox
Red Sox hope bullpen woes don't doom playoff chances
With 162 regular season games, some players eventually hit a wall.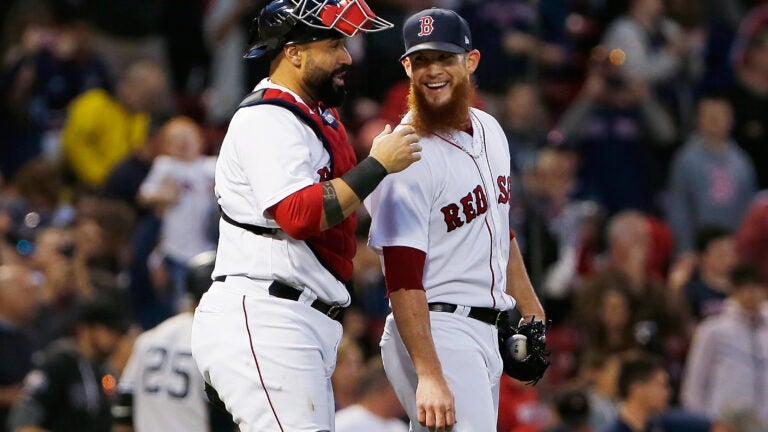 BOSTON (AP) — For a team that finished with the best record in baseball — setting a franchise record for victories along the way — the Boston Red Sox sure have a lot of questions about their bullpen.
Even as they coasted to their third straight AL East title, with two Cy Young Award candidates and two MVP contenders, not everything has gone smoothly for Boston this year. Red Sox relievers have been the problem — especially down the stretch in September, when they posted a 4.84 ERA that was the worst in the AL.
Manager Alex Cora said Wednesday he remained confident in his bullpen, insisting the late-season woes weren't a local phenomenon.
"You look around the league in September, there were some great bullpens that became bad," he said Wednesday before the Red Sox learned they will be facing the rival Yankees in the AL Division Series. "They were hit around. They were giving up leads.
"It's the nature of 162 games," Cora said. "We're going to the same guys, and it seemed like some of them hit the wall."
And part of that was because they just kept winning.
After victories in 17 of their first 19 games, the Red Sox led the division for all but a couple of weeks and never lost more than three in a row while breaking the 106-year-old franchise record with 108 victories.
The offense was potent, led by AL MVP favorite Mookie Betts, who is the first AL player since Mickey Mantle to lead the majors in both batting average and extra-base hits. J.D. Martinez hit 43 homers and led the majors with 130 RBIs and 358 total bases.
The starting pitching was also strong, led by Chris Sale, who was likely headed for the AL Cy Young before an injury limited him to 14 innings in August and September. David Price did not lose a game for two months. Rick Porcello, the 2016 AL Cy Young winner, is expected to start Game 3 of the AL Division Series, and Nathan Eovaldi is the likely starter for Game 4 against the Yankees, who beat Oakland 7-2 in the wild-card game to advance.
But it wouldn't be Boston if people weren't complaining about the Red Sox.
Only closer Craig Kimbrel, who has saved 42 of 47 opportunities, and righty Ryan Brasier seem set in their roles. Cora is hoping that knuckleballer Steven Wright will be useful in long relief. Matt Barnes seemed fine until he gave up three runs in his second-to-last outing of the year. Erstwhile starter Eduardo Rodriguez is another option in long relief.
That leaves two spots for righties Joe Kelly, Heath Hembree, Brandon Workman and lefty Bobby Poyner.
"Hopefully we've got the lead and we can give the ball to the next guy and the next guy and then we'll give it to Kimbrel and we go from there," Cora said.
That doesn't inspire confidence among Boston fans. When Baseball Reference said in late September that the Red Sox relievers were leading all of the majors in wins above replacement, fans reacted with a mixture of shock and anger that was reminiscent of the pre-2004 era. They have since dropped to second, behind Houston.
But Barnes said the team feels good about the options.
"Everybody is going to have struggles throughout the year. We just happened to kind of all go through them at the same time," he said. "You've got guys with incredible stuff, guys with experience in the postseason. And then obviously we're anchored by one of the best closers in baseball. I think everybody is very confident."
Cora would not say Wednesday who the final picks for the bullpen would be. The Red Sox will open the best-of-five series Friday night at Fenway Park against the Yankees, with Game 2 on Saturday before the series moves to New York.
And if the Red Sox suffer a third straight early exit in the playoffs, Cora knows what's coming. He said he watched Tuesday night's NL wild-card game head into extra innings and was already anticipating the second-guessing over the way Cubs manager Joe Maddon used his bullpen.
"That was just fun to watch," said Cora, who fell asleep and missed the last three outs. "Obviously there are certain situations where I kind of realize, 'You're going to be in that spot on Friday. People are going to dissect every move you make.'
"It was a good atmosphere. It was a great start to the playoffs."