Red Sox
Taking a closer look at David Price's postseason track record
It's tough to know what to expect from Price this postseason.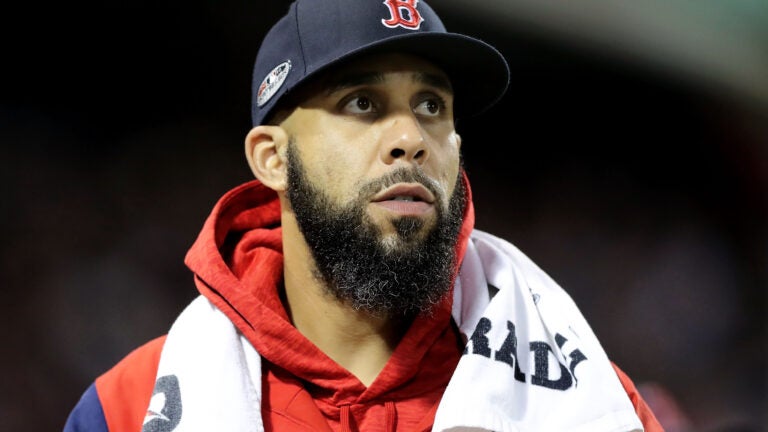 David Price has been an outstanding regular-season pitcher over his 11-year career. His top statistical comparisons through age 31 include Max Scherzer, Johan Santana, Roy Halladay, and (ahem) Jon Lester. He has won a Cy Young award (2012) and finished second twice ('10, '15).
Price has typically pitched for excellent teams, a tribute to him given his prominent contributions. Only the 2009 and '12 Rays missed the postseason with Price on their roster and at the front of the rotation. (He was traded from the non-contending Tigers in 2015 to the Blue Jays, for whom he went 9-1 with a 2.30 ERA in 11 starts while hoisting them to the AL East title.)
Price began his postseason career with an electrifying overall performance in the 2008 ALCS against the Red Sox, striking out four in 2⅓ hitless innings over three relief appearances. Most notable was his you-have-no-chance bases-loaded whiff of J.D. Drew in the eighth inning of Game 7, with the Sox trailing, 3-1. (No-so-fun-fact: Alex Cora was the runner stranded at third base.)
Price was one of the few bright spots for the Red Sox in their brief stay in the postseason last year, pitching 2⅔ innings of shutout relief in Game 2 of the ALDS against the Astros and then four more scoreless innings in the Red Sox' only win of the series in Game 3.
This is a highly successful baseball player. So, you know, there's hope — that he can be successful when the stakes are highest, the lights are brightest, and at the time of year when reputations are sometimes built and sometimes shattered.
Now, I suspect no reminder is required that Price has not found that postseason success in the realm in which is he is very well-compensated to do: as a top-of-the-rotation starting pitcher. Price has made nine career starts in the postseason. He has eight losses, one no-decision, and precisely zero victories. His two playoff wins have come in relief. His overall playoff earned run average is 5.03.
Other than the velocity on Chris Sale's fastball, those might be the most concerning numbers for the 108-win Red Sox in this Division Series matchup with the Yankees. If Sale is right, Price is the No. 2 starter. If Sale is not right, the Red Sox may be counting on Price to be the postseason ace he has never been able to be before.
To his credit, he acknowledges that the results must be different. He doesn't hide from it.
"I could go 35-0 in the regular season with a zero [ERA] and it wouldn't matter,'' he said in mid-September. "I need to win in October. That's that. Regular season means nothing for me.''
A closer look at Price's past postseason performance reveals a mix of the underwhelming and the bizarre. The Red Sox have actually been involved in his two worst starts, per Game Score, a metric created by Bill James to measure a pitcher's performance.
Price has made just one postseason start for the Red Sox so far, and it just happens to be the worst playoff start of his career, a 6-0 loss to the Indians in Game 2 of the 2016 Division Series vs. Cleveland. Price entered the game 10-2 against the Indians and 5-0 at Progressive Field, but gave up three soft singles and a three-run homer to Lonnie Chisenhall in a four-run second inning. He lasted just 3⅓ innings and finished with a Game Score of 29, his worst in nine playoff starts.
His second-worst start actually came against the Red Sox, in Game 2 of the 2013 ALDS for Tampa Bay at Fenway. Price had thrown a 97-pitch gem against the Red Sox in July, and this one was supposed to be a pitcher's duel with John Lackey, who always seemed to up his game in the postseason.
But David Ortiz took Price deep in the first inning, the Rays' defense did him no favors, and the Sox scored in five separate innings for a 7-4 win and a 2-0 lead in the series. Price gave up seven runs on nine hits — including two homers — in seven innings, for a Game Score of 34. Koji Uehara earned the save for the Red Sox. Is it too late to add him to this roster?
Among Price's nine postseason starts, four fit the parameters of what MLB considers a quality start (at least six innings, three or fewer runs). None would count as excellent, though. His best start came with Detroit in Game 3 of the 2014 ALDS against Baltimore (yes, this year's 107-loss Orioles actually have made the postseason fairly recently). Price allowed two runs in eight innings of a 2-1 loss that ended the series. He was outdueled by the legendary Bud Norris, with both of Baltimore's runs coming on a Nelson Cruz homer in the sixth.
No shame in this one, which had a Game Score of 68. For context, just nine of his 30 starts in his very good 2018 season had a higher score.
It's tough to know what to expect from Price this postseason. The cynics will say his track record tells us all we need to know. The optimists will tell you that redemption is just nine excellent innings away. Actually, make that seven innings. Even the greatest redemptions must start with reasonable expectations, right?