Red Sox
David Price: 'I said it last year, and I'll say it again, I want to win'
Saturday night wasn't a good one for Price.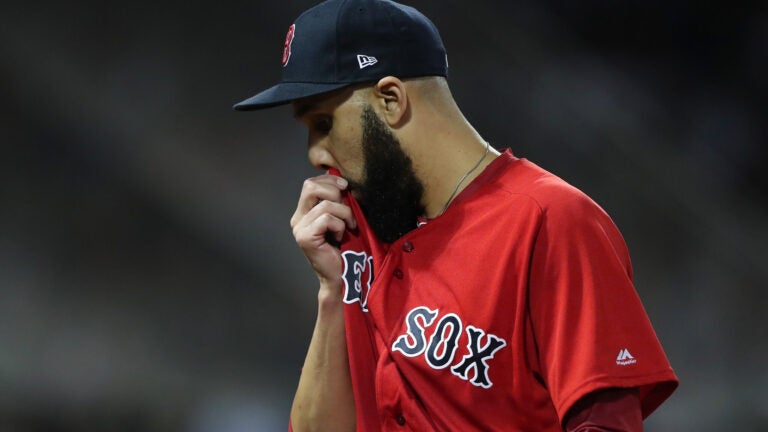 "The story of this one is David Price, clearly."
The words of former Red Sox manager John Farrell still ring true, but, this time around, the heightened attention isn't coming as praise.
Sox starting pitcher David Price stumbled from the get-go in Game 2 of the ALDS Saturday night, allowing a solo home run to Aaron Judge in the bottom of the first inning. His struggles persisted into the second, as he gave up a solo blast to Gary Sanchez and was unable to escape the inning. He trudged off the mound to a chorus of boos from the home crowd that had welcomed him just moments before.
"It's tough," Price said after the Red Sox' 6-2 loss. "After we won Game 1, to go out there and have that opportunity to go up 2-0, and to throw the baseball the way that I did, it was definitely tough."
In 1⅔ innings, Price threw 42 pitches (24 strikes), struck out no batters, and gave up three earned runs. He said he wasn't surprised by manager Alex Cora's decision to pull him on the early side, given the high stakes of the game and the recent trend in baseball to turn to bullpens sooner rather than later.
"If I don't like it, I need to pitch better," Price said. "Period."
Cora attributed much of the difficulties to location — the pitch that Judge rocked 445 feet, for example, was a back-door cutter over the middle of the plate — but Price couldn't pinpoint exactly what went wrong in his disappointing outing, one that could have helped alleviate any doubts surrounding his usage in the postseason.
"I didn't execute enough pitches, and that was that," he said.
The loss evens the series at one game apiece and further muddles Price's ability as a starting pitcher in the playoffs. In 10 postseason starts, the 2012 AL Cy Young winner remains winless (0-9) with a 6.03 ERA. His better postseason outings — including his two victories (2008 ALDS Game 2, 2015 ALDS Game 4) — have come as a reliever. Pitching out of the bullpen last season, Price posted 6⅔ shutout innings between Games 2 and 3 of the ALDS against the Houston Astros.
Cora, however, quickly shut down the idea that Price might shift to the bullpen exclusively for the remainder of the playoffs.
"He's one of our starters," Cora said. "Just a bad outing today. It just so happened it wasn't his day. He didn't make pitches. We trust him. He's bounced back before. We'll talk to him to make a few adjustments, and we'll go from there."
Cora did acknowledge it's possible that Price, due to his low pitch count Saturday, may be utilized out of the bullpen later in the ALDS. Games 3 and 4 will be played at Yankee Stadium Monday and Tuesday, while Game 5 (if necessary) returns to Fenway Park Thursday. Price said he would be available to take the mound Monday if needed and reiterated he is open to contributing in whatever way that best facilitates team success.
"I just want to win," he said. "That's it. My main goal is to win in the playoffs, to win a World Series. Whatever I have to do to help us do that, I'm fine with. I said it last year, and I'll say it again, I want to win. I want to win a World Series. And whatever I need to do to help us do that, I'm fine with. But I know I'm more than capable of winning games as a starter in October. That's what I look forward to doing."