Red Sox
3 things that need to happen for the Red Sox to beat the Yankees in Game 3
The Sox will need to limit the long ball, get production from all parts of the order, and trust what got them here.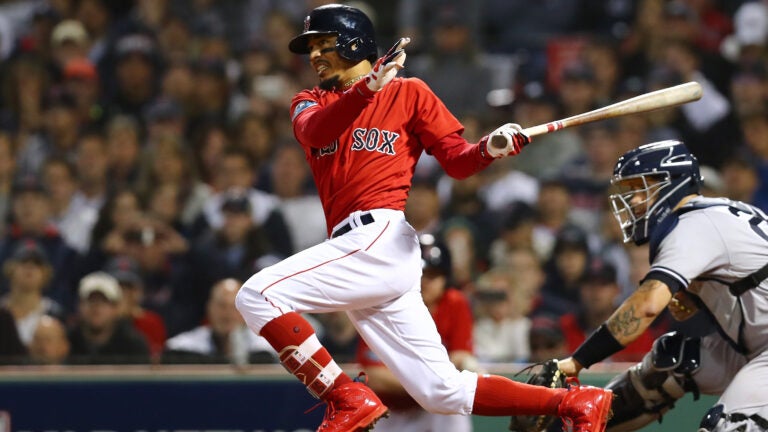 COMMENTARY
For the eternally optimistic fan expecting a three-game sweep against the Yankees, Saturday's 6-2 Red Sox loss was a rude awakening.
Unlike in Game 1, the Yankees struck early, ending David Price's night after just 1 2/3 innings. Much like in Game 1, they also struck late, and this time it was more than enough to earn a win.
It isn't panic time for the Red Sox quite yet, but they'll certainly need to piece together a more complete effort in Game 3 if they want to reclaim the series lead.
Here are three things that need to happen in order for the Sox to steal Monday night's game.
Blast(s) off
It's not a coincidence that the Yankees have already smashed four home runs in two games this series. They set the all-time major league record, with 267 in the regular season, so this is simply an extension of that trend.
Aaron Judge went yard in both Game 1 and Game 2, with his Game 2 shot traveling a whopping 445 feet. That seems like an exorbitant number, but it wasn't even the Yankees' longest blast of the night.
Gary Sanchez, who also homered earlier, launched a monstrous 479-foot, three-run homer in the seventh to bust the game open and make it 6-1 Yankees.
Despite their struggles early in the series, the Red Sox gave up 176 home runs this year, which put them at 11th best in the majors. That mark was just ahead of the Yankees, who allowed 177.
It will have to be a collective effort from starter Nathan Eovaldi and the bullpen Monday. The Yankees have been the aggressors so far, and they've consistently capitalized with their power to this point.
Get production from all parts of the order
After jumping out to a 5-0 lead through three innings in Game 1, the Red Sox have scored just two runs in 14 innings since.
They've gotten production from various sources through two games, but the hitting wasn't consistent enough Saturday to really challenge the Yankees.
Through two games, Eduardo Nuñez is 0 for 7 with a walk and two strikeouts, Sandy Leon is 0 for 5, and Jackie Bradley Jr. is 1 for 5 with a walk and a strikeout.
While getting a lift from the bottom of the order would be huge for Boston, the struggles extend beyond that part of the lineup. Leadoff hitter Mookie Betts is just 1 for 7 with a walk, a run and two strikeouts, while Andrew Benintendi also went hitless Saturday.
Xander Bogaerts and J.D. Martinez have been arguably the Red Sox' most productive players through two games. Bogaerts finished with a hit and an RBI in Game 1 and went deep the next night, while Martinez is 3 for 8 with three RBIs and a run in the series.
Trust what they've done all season
Oh, how quickly people lose track of the past. Don't forget, this team did win 108 games this year. The franchise has existed for well over a century, and this is its most successful regular season ever.
A split at home isn't a perfect result, but it could easily be worse. All they have to do is split again on the road, then win Game 5 at home. It may be easier said than done, but it's far from impossible.
They have three of the most dominant players in baseball in Betts, Martinez, and Chris Sale, and a strong supporting cast eager to advance.
Game 3 isn't a must win, but it would certainly be a major boost for the Red Sox.