Red Sox
What Alex Cora said after the Red Sox lost Game 2 to the Yankees
"He's one of our starters," Cora said about David Price. "Just a bad outing today."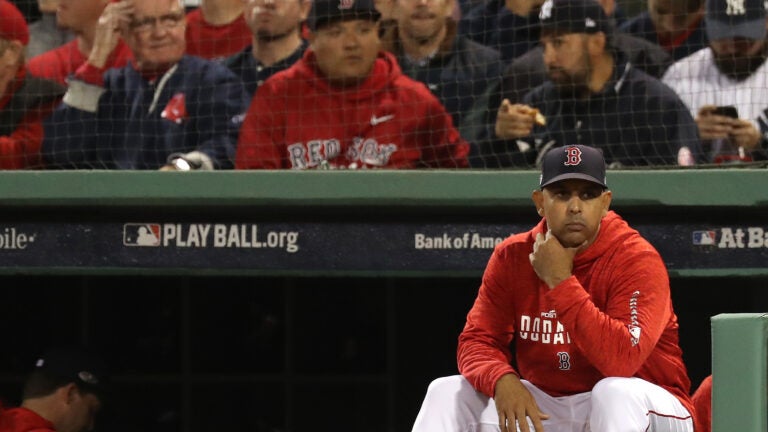 The Red Sox fell, 6-2, to the Yankees on Saturday, which knotted the series at one game apiece heading into Game 3 in New York.
After the loss, Boston's manager Alex Cora shared his thoughts on the evening. He spoke about starting pitcher David Price's outing and role going forward, as well as several other topics.
Price check
Cora said Price's main issue in Saturday's start was the location of his pitches. On Aaron Judge's blast, Price left the ball over the middle of the plate. The next inning, the left-hander gave Gary Sanchez an offering he could drive, and Sanchez capitalized.
The manager said he and his staff will discuss Price's short-term future, but he said it's unlikely he'll use Price exclusively out of the bullpen for the remainder of the playoffs.
"No, no," Cora told reporters. "He's one of our starters. Just a bad outing today. It just so happened it wasn't his day. He didn't make pitches. We trust him. He's bounced back before."
Starter packet
Rick Porcello was originally named the probable Game 3 starter, but it's possible his usage Friday in relief could affect Cora's plans.
Nathan Eovaldi, who was initially slated to pitch Game 4, could start Game 3 instead.
"We'll talk about it tonight and tomorrow," Cora said, "and we'll make a decision."
Up and down bullpen
The Red Sox bullpen struggled in stretches again Saturday night, as Eduardo Rodriguez surrendered a towering three-run blast to Sanchez in the seventh. That turned a tight 3-1 game into a 6-1 deficit.
Outside of that pitch, though, the Red Sox bullpen fared admirably. Joe Kelly, Ryan Brasier, Brandon Workman, and Heath Hembree combined to toss 5 2/3 innings of shutout ball.
"There were some good efforts," Cora said. "Joe, he took a step forward. Actually, [Hembree] gave us those two innings."
Cora said ideally the starters would go five or six innings. That happened in Game 1 with Chris Sale (5 1/3), but Price lasted just 1 2/3.
"We feel that, obviously, our strength is the rotation," Cora said. "But as you saw today, we were laboring tonight."
Troubles against Tanaka
When the Red Sox faced Masahiro Tanaka near the end of the regular season, they put five runs on the board in four innings.
Saturday night, they didn't have nearly as much success, as Tanaka tossed five innings and allowed just one run on a Xander Bogaerts homer in the fourth.
Cora said Tanaka's splitter was a lot better this time around and that he did a good job getting back into counts after falling behind.
"He made some pitches early in the game, and compared to the last one that we had against him, we were very disciplined in New York, and not tonight," Cora said.
"Let's see" about Moreland
Steve Pearce entered the game for Mitch Moreland in the eighth inning after Moreland may have suffered an injury while rounding third on Ian Kinsler's RBI double.
Cora said Moreland, who has dealt with a knee issue for months, might have injured his right hamstring. Moreland got treatment Saturday night, and Cora said he'll receive more attention Sunday at Yankee Stadium.
"Let's see if he's available for Monday," Cora said.
When asked if he's worried about having to replace Moreland on the roster, Cora said, "Not really."
"Just the situation right there, we have to take care of him before it gets worse," he said. "You know Mitch. He never wants to come out. He'll go out there and then he'll sprint somewhere and he probably could be worse."