Red Sox
Did Luis Severino know what time Game 3 started?
"It wasn't an issue."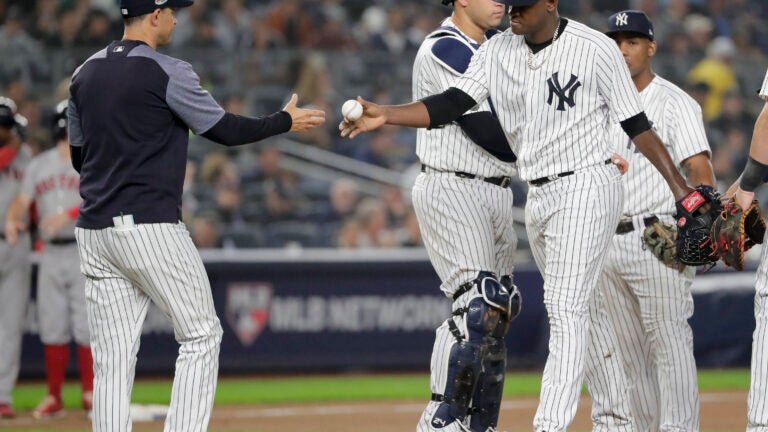 The New York Yankees are denying the notion that starting pitcher Luis Severino did not know the start time for Game 3 of the ALDS Monday night.
"It wasn't an issue," manager Aaron Boone said following the Red Sox' 16-1 onslaught to take a 2-1 series lead.
TBS announcer Ron Darling reported during the game broadcast that Severino didn't begin his warmups until 7:32 p.m. — just eight minutes before the scheduled first pitch at 7:40 p.m. The studio team at YES Network also noted that Yankees pitching coach Larry Rothschild was seen telling Severino, "7:40," at one point during their pregame routine in the outfield.
Rothschild told reporters after the crushing defeat that Severino was "perfectly clear" with what time the game started. He called the buzz surrounding any potential confusion "a little bit out of proportion," pointing out that Severino's warmup is already generally shorter than that of most pitchers and his issues Monday didn't manifest themselves until the third inning. Rothschild said the 24-year-old righthander — despite giving up six earned runs and getting pulled with the bases loaded and no outs in the fourth inning — "actually warmed up pretty well."
"He does a lot inside, and then he comes out a little bit later than most starters," Rothschild said. "When he left the bullpen, he had faced two hitters with signs, you know, and had done his complete long toss."
"He didn't rush to get in or any of that stuff," Rothschild continued. "He was able to sit down for three or four minutes and go out. The problem occurred in the third inning — not in the first inning. So if there was a difference in his warmups, he had already thrown 44 pitches when all this stuff happened."
Boone admitted he didn't think Severino looked "overly sharp from the get-go," but he insisted the pitcher had "plenty of warmup."
"He had what he intended to go down there and get done," Boone said. "Larry said he was able to get through his normal routine where he faces a couple hitters."
Though Severino acknowledged he struggled with the command of his fastball, he, too, said he completed his normal pregame routine and knew what time the game started. He said he came out to the field 20 minutes before the first pitch, per usual, and went to the bullpen 10 minutes before the game, per usual.
"For a game like this, you have to remember what time it is," Severino said. "No confusion with the time."
https://twitter.com/YESNetwork/status/1049510064103481345