Red Sox
John Farrell shares his thoughts on the Red Sox-Astros ALCS matchup
"These are two very good teams."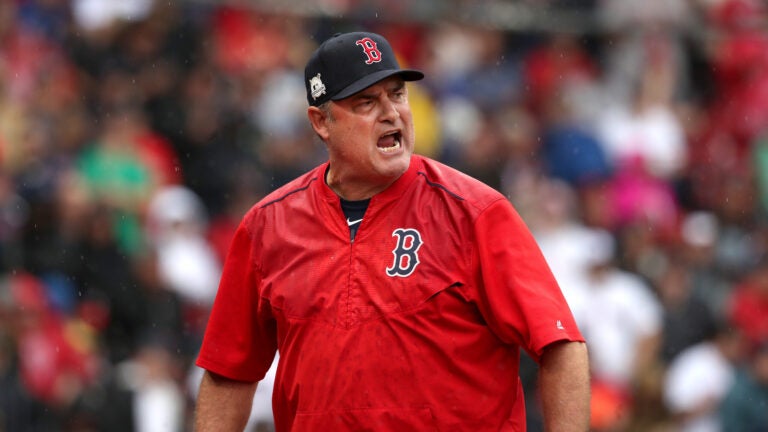 He hasn't been in Boston's dugout this season, but ex-Red Sox manager John Farrell expects his former team's upcoming league championship series against the Houston Astros to be an "interesting" one.
Farrell — who was fired after the Red Sox lost to the Astros in the ALDS last season — anticipates the matchup will boil down to starting pitching.
"When you look at the rotation of both these teams, [they're] very talented [and] very deep," Farrell said on SportsCenter, after the Red Sox' series-clinching victory over the New York Yankees early Wednesday morning.
Against the Yankees, Boston's starters — Chris Sale, David Price, Nathan Eovaldi, and Rick Porcello — pitched 20⅔ innings, including Sale's and Porcello's stints out of the bullpen. Their combined ERA was 3.05. Take out Price's abysmal Game 2 performance, and their ERA drops to 1.89. But Houston's rotation has been just as good — if not better. In their sweep of the Cleveland Indians, Justin Verlander, Gerrit Cole, and Dallas Kuechel struck out 19 batters and amassed an ERA of 2.60.
"These are two very good teams," Farrell said. "They're the best teams in the American League, maybe the best teams in baseball when you consider how thorough the roster is put together. They're complete teams."
In addition to the talented members of their rotations, both squads have several formidable hitters in their lineups. Designated hitter J.D. Martinez and rightfielder Mookie Betts combined for 75 home runs and 210 RBI during the regular season, while the Astros' tandem of third baseman Alex Bregman and outfielder George Springer tallied 53 homers and 174 RBI. As a group, both teams finished in the top 10 in the league for regular-season runs, home runs, total bases, RBI, batting average, on-base percentage, slugging percentage, and OPS.
Given the relatively even matchup, Farrell thinks how manager Alex Cora chooses to use the starters could present some "interesting" situations. Cora has already demonstrated he's comfortable turning to the rotation in relief. The Red Sox bullpen trudged through September with an AL-worst 4.84 ERA, and, while there were some bright spots, there was also a fair share of stumbles in the ALDS.
"It's going to be interesting how [Cora] spreads the use of that rotation over the course of that series," Farrell said. "He's not afraid to use them out of the bullpen. Obviously, they have to take the starts, but this is going to be an interesting series."
But Farrell's biggest takeaway from the ALDS had nothing to do with strategy.
"I think the one thing that you take from this New York-Boston series is the tightness of the games, the toughness, [and] the stage in which these guys play on," he said. "They'll walk into a league championship series against the Astros — a team that they're well aware of; we got knocked out by the Astros a year ago — with a chance to redeem themselves."
https://www.youtube.com/watch?v=F3DEALIGRuY