Red Sox
Alex Cora was ejected in Game 1 of the ALCS
"Sometimes you got to do what you got to do."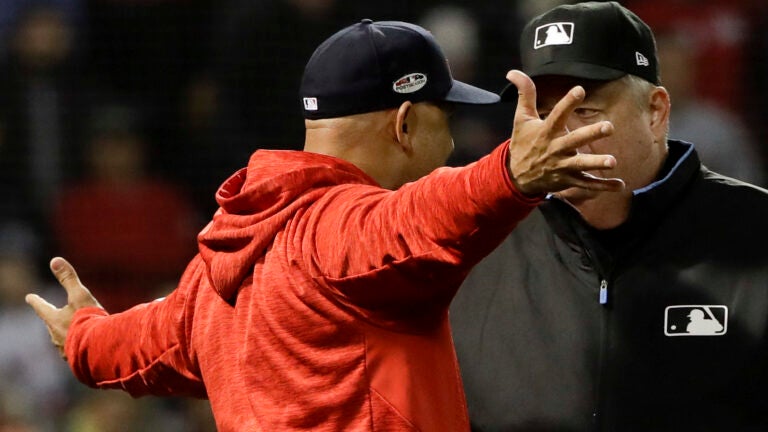 Red Sox manager Alex Cora was ejected during the fifth inning of Saturday night's ALCS Game 1 against the Houston Astros.
"I was arguing balls and strikes, and [the umpire] threw me out," Cora said following Boston's 7-2 loss.
After outfielder Andrew Benintendi struck out looking on a pitch just outside the strike zone to end the inning — leaving two runners stranded with the score tied at two apiece — the 24-year-old fired down his bat, helmet, and batting gloves. Barking at umpire James Hoye, he had to be escorted away from home plate.
"I guess [Justin] Verlander executed his pitch," Cora said. "[Hoye] called it a strike. Andrew didn't agree. I didn't agree. It's a big pitch right there. If it's ball four, it's bases loaded. They got [Ryan] Pressly in the bullpen, [and] most likely Verlander comes out of the game. But, you can't argue balls and strikes — and I did."
Cora began shouting at Hoye and was ejected for the second time this season. He also came out of the dugout and argued further with crew chief Joe West before going down the runway to the clubhouse.
"It's kind of embarrassing it happens in the playoffs," Cora said. "That wasn't cool, watching the game in the clubhouse. I got a job to do, and [that's] manage the team in the dugout. Sometimes you got to do what you got to do, and you got to defend your players. At least Andrew stayed in the game, and he had a few more at-bats and he played left field, while I was watching in my office."
Benintendi finished the game 0-for-4 with three strikeouts. He stranded three base runners on the night.
Bench coach Ron Roenicke managed the rest of the game for the Red Sox.