Red Sox
4 takeaways from the Red Sox' 7-5 win over the Astros in ALCS Game 2
Off to Houston.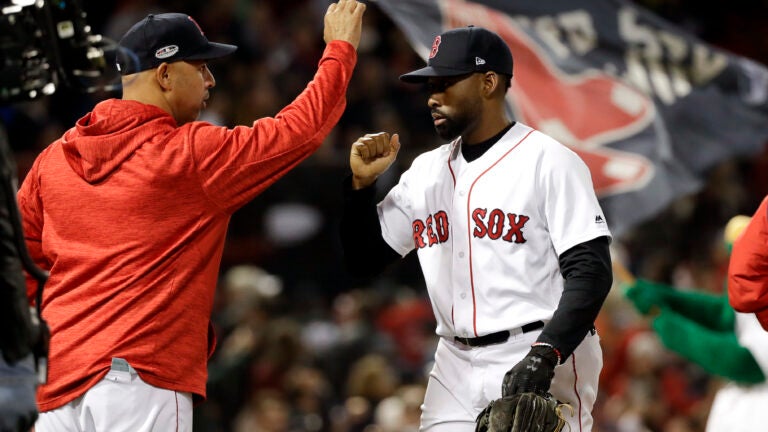 COMMENTARY
The Red Sox salvaged a split before heading off to Houston.
After dropping the opening contest of their league championship series, Boston outscored the Astros, 7-5, in Game 2 Sunday night to even the series at one apiece. Lefthanded pitcher David Price remains in search of his first postseason victory as a starter — he fell ⅓ an inning shy of being eligible — but Price's team is no longer winless in his playoff starts. They're still a measly 1-11, but, as Price noted, Sunday's maiden W was a "baby step" in the right direction. 
"That's my first team win as a starter," he said after the game. "If it's baby steps, it's baby steps. I expect to win, but I'm very happy we won."
Here's a look at what we learned from Game 2:
The bullpen ain't so bad.
For all the (much deserved) concern about the Red Sox bullpen headed into the playoffs, Boston's relief pitchers proved Sunday night they just as well can be a force.
"Coming in and getting those last 13 outs is huge," said Price, who called the group's performance "tremendous."
Matt Barnes, Ryan Braiser, and Rick Porcello combined for 3⅓ innings of shutout baseball, surrendering zero hits and striking out three. Closer Craig Kimbrel earned the save, despite giving up two hits and an earned run in the ninth. 
"They did an outstanding job," manager Alex Cora said of the bullpen. "They've done it throughout the postseason. We trust those guys. There are certain matchups we like with them. We're going to try to go to those matchups."
"They've got good arms down there," added Astros manager A.J. Hinch. "I think, this series, the bullpens are going to be talked about a lot. In playoff baseball, there's a lot of innings, and a lot of outs that you have to get, so buckle up."
Both Barnes and Brasier also did their part in Game 1, combining for 2⅓ scoreless innings. After a troublesome August — when his ERA for the month jumped to 9.64 — and a mediocre September, Barnes has been impressively effective and efficient this postseason. He has secured 14 outs on 55 pitches — thanks to his vicious curveball — and his ERA remains at 0.00 through 4⅔ innings pitched in four appearances. Braiser, too, boasts a 0.00 ERA through 4⅓ innings pitched in five appearances. Neither pitcher was on a postseason roster a year ago. 
Craig Kimbrel still doesn't seem like himself.
He might have three saves, but Kimbrel has yet to pitch a shutout inning this postseason. The 30-year-old offered another heart-attack save Sunday night, giving up a double to George Springer and an RBI single to Jose Altuve in the ninth. With the tying run on and two outs, Alex Bregman had a chance to, per the Red Sox' slogan, "do damage," but his long flyball fell to Andrew Benintendi just in front of the Green Monster. Kimbrel escaped unscathed.
But, his struggles aren't going unnoticed. Kimbrel's ERA this postseason is 10.80, up from his regular-season ERA of 3.13. Sunday's blunder pales in comparison to his near-disastrous collapse in ALDS Game 4 against the Yankees — when he walked two batters, hit a batter, and gave up a hit and two runs.
Rafael Devers should start over Eduardo Núñez.
21-year-old Rafael Devers got the start at third base Sunday, and, boy, did he rise to the occasion. Devers finished with two hits, two runs, and an RBI.
Cora has split playing time at third between Devers and veteran Eduardo Núñez, often citing Núñez's defensive capabilities as the reasoning behind benching Devers, who committed 24 errors during the regular season. Devers's offensive capabilities, however, are seemingly too much of a threat to ignore.
(Not to mention, he also made a fantastic play at third in the sixth inning Sunday.)
??? pic.twitter.com/3UueAmRsjI

— Boston Red Sox (@RedSox) October 15, 2018
Through three postseason games, Devers is batting .400 with four hits, four runs, 2 RBI, one walk, and one strikeout. Núñez, on the other hand, is batting .143 with two hits, zero runs, one RBI, two walks, and two strikeouts through four postseason games. During the regular season, despite registering 30 fewer at-bats, Devers posted more doubles, home runs, and RBI than Núñez.
The Red Sox need offensive production — they went 4-for-10 with runners in scoring position Sunday vs. 0-for-10 in the same situation Saturday — and Devers has the ability to inject firepower into the lineup that Núñez simply can't.
With left-handed pitcher Dallas Keuchel on the mound for Game 3 Tuesday, a Devers benching would be no surprise, but the move is something worth re-considering.
Mookie Betts had his best playoff game.
After Hinch called right fielder Mookie Betts "a ticking time bomb" before the game, Betts lived up to the moniker.
The AL MVP candidate hit two doubles, scored two runs, drove in another, and also had a three chances to flaunt his aggressive base-running.
"I just go out and do what I can to help the team win," Betts said. "Try and be consistent, having some good at-bats and getting some timely hits and what not. But it's not just me. We got 25 guys out here to win."
After a stellar regular season, Betts's batting average, on-base percentage, slugging percentage, and OPS have all been down in the playoffs. Entering Sunday, he was just 4-for-20 through five postseason games this year (and 11-for-46 through 13 postseason games on his career). As Betts noted, however, the 26-year-old isn't the only one who can contribute.
"We like to be able to put together great at-bats up and down the lineup, no matter who's up," centerfielder Jackie Bradley Jr. said. "We like to have that mindset of 'Do Your Job' and kind of pass the baton to the next person. Get on base any way you possibly can."
https://twitter.com/RedSox/status/1051666372361621504