Red Sox
Alex Bregman tried trolling Nathan Eovaldi on Instagram prior to ALCS Game 3
The Astros' third baseman has since deleted the video.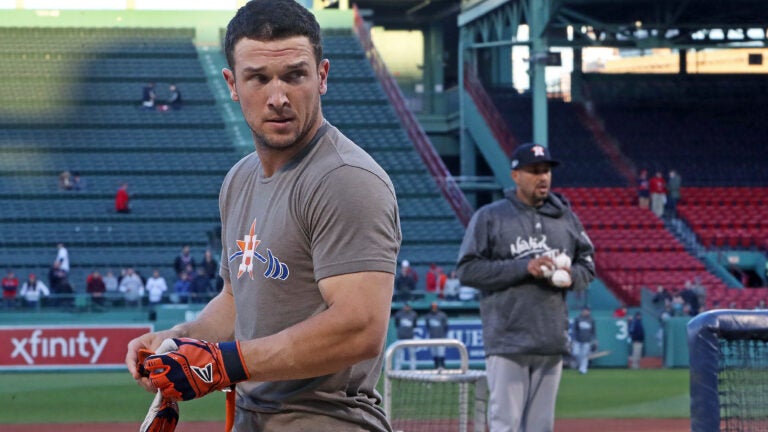 It's a good thing that Nathan Eovaldi doesn't have Instagram.
If he did, he would've seen the video that Alex Bregman posted, ruthlessly trolling the Red Sox' Game 3 starting pitcher. The video shows Eovaldi, who was then pitching for the Tampa Bay Rays, giving up back-to-back homers to the Astros' Jose Altuve, Bregman and George Springer during a June game.
The third baseman posted the video to his Instagram story, calling it a "lil pregame video work."
Bregman has already attracted some attention for his spicy attitude in the postseason, including his stare-down of Joe Kelly after being hit by a pitch. So it's no surprise that Bregman is stirring the pot with some pregame trolling, even though he has since deleted the video. Maybe he got a word of warning from Aaron Judge, who learned the hard way that trolling the Sox might come back to bite you.
As for Eovaldi? He has more important things on his mind.
"No, you know I don't have any social media or anything like that," Eovaldi said, per NESN.com. "The guys have told me about it. I think home run clips, right? Something like that. Yeah, I'm aware of it."
With the ALCS tied at 1-1 and Game 3 happening on Astros territory, the Sox' pitcher is laser focused on leading his team to an on-the-road victory.
"I still have a job to do. I've got to go out there and pitch my game [Tuesday] and I can't have any distractions."
While Eovaldi remained mostly indifferent to Bregman's prodding, some Red Sox weren't shy about sharing their feelings about the post.
"Wow. I don't know why he would do that," Red Sox first baseman Steve Pearce told WEEI.com. "We do our talking on the field. If he wants to run his mouth now we'll see who is talking at the end of the series. I don't think he needs to run his mouth. He's one of the best players in the game. If that's his personality, that's his personality. Nothing against the guy. If that's how he has to motivate himself, whatever."
Red Sox manager Alex Cora, who's familiar with Bregman from his time with the Astros, echoed Pearce's sentiments.
"If you need motivation in Game 3 of the ALCS, you better check yourself," he said. "Because you win three more games, you go to the show, and that's what should motivate you. Alex has different ways of motivating himself. And whatever. I'll leave it at that."
Red Sox backup catcher Blake Swihart, who grew up with the third baseman in New Mexico, vouched for Bregman, saying it's likely that his reasoning behind the post was not malicious.
"To me, in his mind, he's probably thinking he's trying to pump up his team, get everyone excited," said Swihart, who said he hadn't talked to Bregman about the post. "It might have come off the wrong way. I know he deleted it now. I think he was just trying to pump everybody up, that's all."
Astros manager A.J. Hinch also brushed off Bregman's antics, more or less chalking it up to kids being kids.
"Welcome to the current generation," Hinch said. "We have a sport full of great personalities and there's a fine line. Is it disrespectful? No. We want guys to have their personalities, have their fun, then go out and back it up. If you're going to put yourself out there you've got to back it up a little bit. But this is all in fun banter and competition."
"I thought [the post] was good fun," Red Sox second baseman Brock Holt said. "I don't think it will affect the way Nate goes out and pitches. We saw [the Judge video in the Yankees series] and we knew that if we did what we wanted to do and won the series, we were gonna blast the tune so he could hear it again. It's just having fun back and forth. I don't think [Judge] meant anything by it. Same thing with us. We won the series, felt pretty good, and wanted to give a little shot back. We'll have to think of something where, if this series goes the way we want it, we'll give Bregman a little shot back."
The first pitch of Game 3 is set for 5:09 p.m. Tuesday, and the Sox are leaning on Eovaldi to get a win in Houston.