Red Sox
Astros manager A.J. Hinch on fan interference call: 'I'm not sure if Mookie makes that catch'
"He's a great athlete, but how it's an assumed out is unbelievable."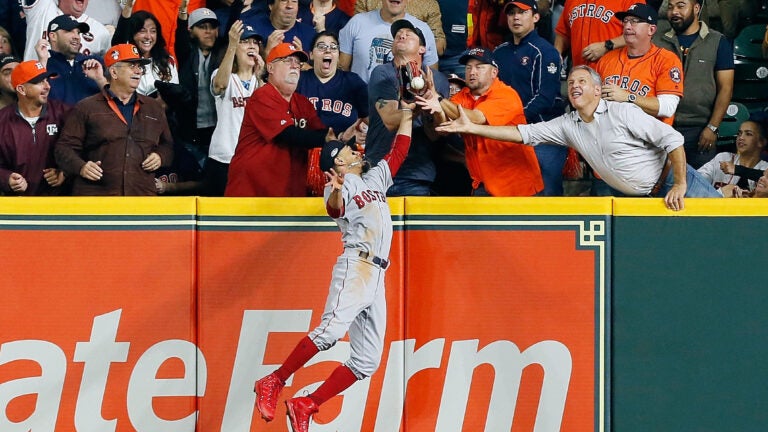 A.J. Hinch popped out of the Houston Astros dugout immediately after umpire Joe West ruled spectator interference on Jose Altuve's would-be home run Wednesday night.
Altuve drove a Rick Porcello offering deep to right field during Game 4 of the ALCS, a blast that would have tied the game 2-2 in the bottom of the first inning. Instead, Mookie Betts perfectly timed his leap at the wall and seemed set to reel in the ball before a fan appeared to force his glove closed. Fortunately for Betts and the Red Sox, West determined the fan had interfered and called Altuve out.
Hinch, the Astros manager, walked up the steps to talk to West and his crew, a conversation that led to a replay review. Three minutes and 13 seconds later, the umpires returned their verdict: The call on the field stood because there was no conclusive evidence to overturn it.
Hinch elaborated on his conversation with West during an in-game interview with TBS.
"He just said that there was fan interference on the field," the manager said. "My argument was more about the fact that the ball was leaving the yard, the trajectory was there. Jose paid kind of the ultimate price for something that's out of his control."
If Betts did come down with the catch, it would have been a worthy addition to his highlight reel. Hinch, for one, wasn't positive the right fielder was destined to snag the ball before the fan interfered.
"I'm not sure if Mookie makes that catch," Hinch said. "He's a great athlete, but how it's an assumed out is unbelievable."
Believe it or not, the call stood and the Red Sox held onto their 2-0 early lead. That lead evaporated in the fourth inning, but the Red Sox regained control and left Minute Maid Park with an 8-6 victory and a 3-1 lead in the series — thanks in large part to a spectacular grab by Andrew Benintendi.
After the game, Hinch discussed the fan interference call once more.
"What did I see? I saw fan interference," he told reporters. "I've had this a couple of times, or we have as a team. And they deemed the fan reached over into the field of play and interfered with Betts."
The manager noted he asked for a review, which came back with the same outcome.
"Once the fan reaches past that line of the fence, I mean, we're going to penalize hitters every time," Hinch said. "And so changed that whole inning."
When a reporter asked if MLB needs to add more cameras to ensure there's always a defintive camera angle for a replay review, Hinch referred to the incident where an Astros employee was stationed in the photo pit during Game 1.
"Earlier, we started the day with do we have too many cameras in the park," he said. "So, yeah, I wish we had an angle that was perfectly along the fence line that would show. That's the one camera we don't have."
https://twitter.com/MLBReplays/status/1052737184216834048