Red Sox
Alex Cora announces Chris Sale won't start Game 5 of ALCS
Sale spent a night in the hospital before arriving in Houston.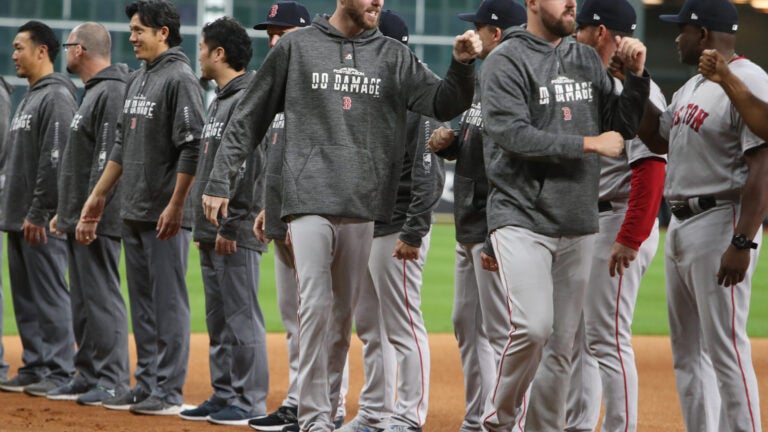 Red Sox ace Chris Sale won't pitch Game 5 of Boston's league championship series against the Houston Astros, manager Alex Cora announced Wednesday evening.
Cora said Game 6 (if necessary) is expected to be the next start for the 29-year-old lefty, who is battling lingering feelings of weakness from the stomach illness that landed him in the hospital Sunday. Cora revealed on Monday that Sale started throwing up after pitching four innings in his Game 1 start. He spent the night at Massachusetts General Hospital and rejoined the team ahead of Game 3 in Houston on Tuesday. Sale was the primary option to start Thursday's Game 5 for the Red Sox, who lead the ALCS 2-1, but Cora said he is struggling to keep down solid food.
"He still feels weak," Cora said Wednesday ahead of Game 4. "He lost some weight. It's hard to believe, but he did. … He's feeling better, but physically he's not there."
Sale did not throw a bullpen session Tuesday or Wednesday, he added.
Without Sale, the Red Sox have 1o pitchers to turn to on their 25-man roster. According to Cora, potential candidates for Game 5 include Game 2 starter David Price, who Cora noted will also be available out of the bullpen Wednesday; lefty Eduardo Rodriguez, who started 23 games in the regular season; and righthander Joe Kelly, who made 73 appearances out of the bullpen during the regular season. During this year's playoffs, Kelly has a 0.00 ERA through 4⅓ innings.
"We've got a lot of options," Cora said. "A lot."