Red Sox
Why Dave Dombrowski isn't 100 percent satisfied with the MLB investigation into the Astros employee
"I don't like the implication that the Boston Red Sox were doing anything illegal."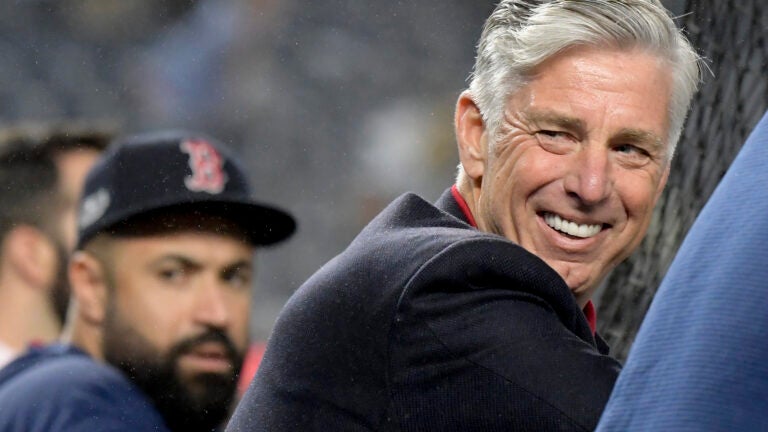 Red Sox president of baseball operations Dave Dombrowski says he isn't completely satisfied with the recent MLB investigation into the discovery of a Houston Astros employee stationed in the photo pit near the home team's dugout during Game 1 of the ALCS at Fenway Park.
"To me, the answer is yes and no," Dombrowski said Wednesday ahead of Game 4 at Minute Maid Park. "Yes, I do not think that person in the camera well was stealing signs, so I understand that was resolved. No, in the sense, that first of all, there was a violation. A person was in a credential box that shouldn't have been there."
During Game 3 of the ALCS Tuesday evening, reports emerged that Fenway Park security had removed an Astros employee from a well for photographers down the first-base line. According to Houston's president of baseball operations Jeff Luhnow, the employee was monitoring the Red Sox dugout for indicators that the Sox were attempting to steal signs from the Astros. As Luhnow put it, the organization was "playing defense," not offense.
"There's a lot of technology in ballparks — video cameras, high-speed cameras, high-magnification cameras, monitors showing live feeds," Luhnow said Wednesday. "When we go into an opposing ballpark, we tend to look around and make sure we don't see any suspicious activity."
Dombrowski called sign-stealing from the dugout "part of the game," and acknowledged the Red Sox were penalized last year for using electronic devices to aid their pursuits, but he also explained why this situation is different. Earlier in the day, MLB had issued a statement that concluded the Astros did not violate any rules and proclaimed the matter is "closed."
Here's why Dombrowski doesn't necessarily agree:
1. He did not like the suggestion that the Red Sox were involved with any sort of nefarious activity.
"I don't like the implication that the Boston Red Sox were doing anything illegal," Dombrowski said. "So, I don't think that the issue is actually closed for Major League Baseball from what I've been advised from the commissioner's office. There's a lot more steps that are attached to this."
2. The ALCS wasn't the first time the employee had been caught.
"I will also tell you that person was told in the other series against Cleveland that he should not be in there, and yet, he went back in there," Dombrowski said. "So to me, when they say they're doing this to protect themselves, they're also not listening to authorities from above."
Dombrowski apparently isn't the only one who takes issue with the league's decision. ESPN's Buster Olney reported Wednesday evening many team officials across baseball are "frustrated" and "appalled" by the lack of punishment.
https://twitter.com/Buster_ESPN/status/1052720079081758721