Red Sox
Why the umpire ruled fan interference on a potential Mookie Betts home run-saving catch
The two Houston runs never appeared on the scoreboard.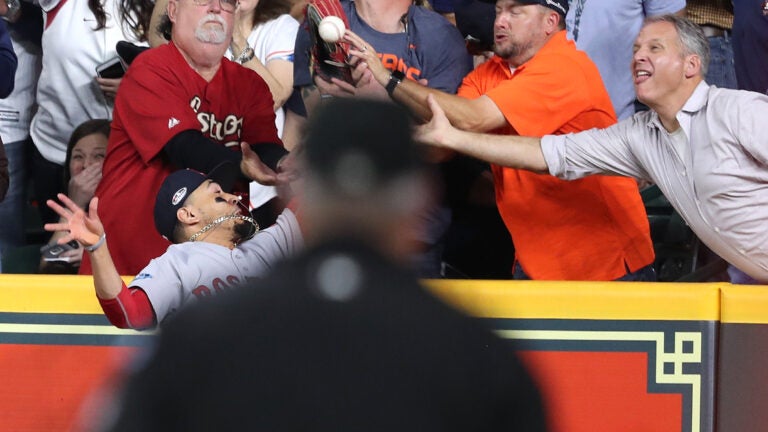 The Astros fan who interfered with Mookie Betts above the right field wall Wednesday night made no friends on either side of the aisle. His fellow Houston supporters believed he cost Jose Altuve a two-run home run, while their Red Sox counterparts felt Betts would have come down with one of the catches of the season.
In Game 4 of the ALCS, with a runner on first base, Altuve blasted a Rick Porcello pitch deep to right field. The ball appeared destined for the Minute Maid Park seats, a homer that would have tied the game 2-2 in the bottom of the first inning.
The two Houston runs never appeared on the scoreboard. Mookie Betts leaped at the wall, stretching within inches of the ball before a fan appeared to force his glove closed and prevent him from making the catch. Although Altuve looked to have his home run, right field umpire and crew chief Joe West called spectator interference.
After the game, West noted it was a clear call in his mind.
"Here's the whole play," the umpire said. "[Altuve] hit the ball to right field. [Betts] jumped up to try to make a catch. The fan interfered with him over the playing field. That's why I called spectator interference."
Crew Chief reviews call of spectator interference in the 1st; call stands, spectator interference.

Powered by @Mitel. pic.twitter.com/gxIEvewtLY

— MLB Replay (@MLBReplays) October 18, 2018
West turned to replay review after Astros manager A.J. Hinch popped out of his dugout to argue with the umpires. The officials took three minutes and 13 seconds to return their ruling: The call on the field stood because there was no conclusive evidence to overturn it.
According to MLB rules, when a spectator clearly prevents a fielder from catching a fly ball by reaching onto the field of play, the batter shall be ruled out. If the fan comes in contact with the ball without reaching onto the field of play, no interference should be called — even if a fielder might have caught the ball had the fan not been there.
The fan clearly infringed upon Betts's ability to make what would have been a sensational grab. West and his crew evidently found no angle to prove the fan hadn't reached onto the field of play. So the runner went back to first base, Altuve returned to the dugout, and the Red Sox held onto their early 2-0 lead.