Red Sox
Red Sox hold off Astros in thriller to take 3-1 series lead
Andrew Benintendi made a clutch catch to end it after a back-and-forth game.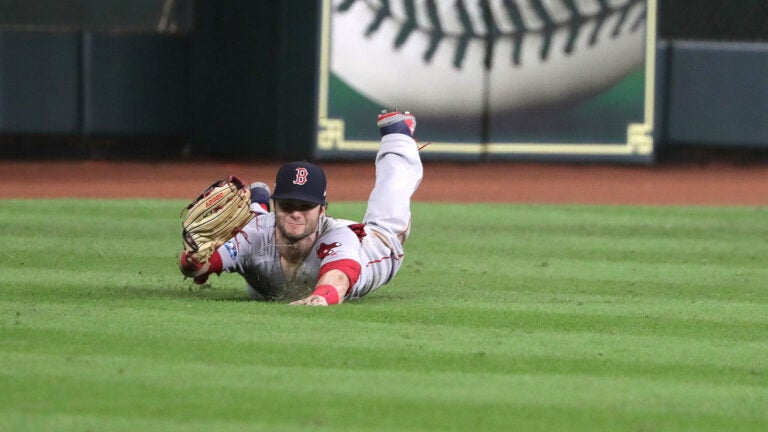 HOUSTON (AP) — Left fielder Andrew Benintendi made a diving catch with the bases loaded for the final out, and the Boston Red Sox held off the Houston Astros 8-6 on Wednesday night to take a 3-1 lead in the AL Championship Series.
Boosted by a questionable fan interference call early in a back-and-forth game and a go-ahead homer from Jackie Bradley Jr., the Red Sox moved within one victory of their first World Series trip since winning the 2013 title.
Craig Kimbrel earned a shaky six-out save, aided by a rocket throw from right fielder Mookie Betts and Benintendi's daring grab of Alex Bregman's sinking liner in left. Had the ball scooted past a charging Benintendi, it easily could have scored three runs and won the game for Houston.
Boston improved to 4-0 on the road in these playoffs and inched closer to eliminating the defending champions.
Game 5 is Thursday night in Houston, where ace Justin Verlander will pitch for the Astros. Boston's starter was uncertain after Chris Sale was ruled out Wednesday while recovering from a stomach illness.
"Beni took a shot. Had a great jump. And he got it," Red Sox manager Alex Cora said.
Instead, the Red Sox improved to 4-0 on the road in these playoffs and inched closer to eliminating the defending World Series champions.
"That was an interesting game, to say the least," Cora said. "It was a complete team effort. And that's what it's all about."
Game 5 is Thursday night in Houston, where ace Justin Verlander will pitch for the Astros with their season on the line. David Price, who was warming up in the bullpen late in Game 4, will start for Boston on three days' rest after Chris Sale was ruled out Wednesday while recovering from a stomach illness.
Bradley hit a go-ahead homer in the sixth inning, his latest huge swing for a Red Sox team that was knocked out of the postseason by Houston in the Division Series last year.
Boston has won three straight after a Game 1 loss, and this one came with some controversy after Houston star Jose Altuve was denied a two-run homer in the first inning and called out because of fan interference.
"Jose pays the biggest price because the trajectory of the ball looked like it was going to leave the ballpark," Astros manager AJ Hinch said. "Changed that whole inning."
Boston trailed by one with two outs in the sixth when Christian Vazquez doubled to deep right-center. Center fielder George Springer nearly made a leaping catch, but the ball glanced off his glove.
Bradley, who hit a grand slam in Game 3 and a three-run double in Game 2, put the Red Sox on top 6-5 with his soaring shot to right field on the next pitch from rookie Josh James.
"I'm very proud of him, what he's done in the second part of the season and what he's done tonight and in this series. It's amazing," Cora said. "He keeps working on his craft, his swing. He understands now, he's staying through the ball, hitting the ball in the air. There's no more hitting line drives into the shift. Now he hits the ball in the air."
Boston got some insurance in the seventh when Lance McCullers walked in a run after taking over for Ryan Pressly with the bases loaded and two outs. J.D. Martinez padded the lead further with an RBI single in the eighth.
Houston cut the lead to two on an RBI groundout by Altuve in the eighth. Right fielder Josh Reddick made a diving catch of Betts' sinking liner with the bases loaded to end the top of the ninth.
Red Sox starter Rick Porcello allowed seven hits and four runs over four innings in a wild game that took 4 hours, 33 minutes. Joe Kelly was the winner after giving up a run in the fifth.
Rafael Devers and Xander Bogaerts had two RBIs apiece for the Red Sox, who have outscored their opponents 36-12 on the road this postseason.
Houston's Carlos Correa, who has struggled with back problems for months, had three hits and two RBIs for his first multihit game this postseason. Springer and Tony Kemp each hit a solo homer for the Astros, who left 13 runners on base.
A rusty Charlie Morton gave up three hits, three runs and two walks in just 2 1/3 innings. He also threw two wild pitches in his first outing for the Astros since the regular-season finale on Sept. 30.
James took over and yielded four hits and three runs while striking out five in 3 2/3 innings during his second postseason appearance.
Morton had trouble with control from the start and plunked Betts before a one-out walk to Martinez. A wild pitch allowed both runners to advance before a two-out single by Devers sent them both home to give the Red Sox two runs in the first inning for the third straight game.
The disputed home run call came in the bottom of the inning when umpires ruled at least one fan interfered with Betts' attempt at a leaping catch above the right-field wall on the ball hit by Altuve.
Crew chief Joe West, working the right-field line, signaled fan interference after Betts was unable to make the grab and the ball ricocheted back onto the field.
"Joe calls it right away and I saw the replay," Cora said. "And I said, no way they're going to overturn this. I was pretty sure."
The call stood after a replay review that lasted 3 minutes, 13 seconds. Altuve was ruled out and Springer was sent back to first base.
Hinch moved Bregman up to the leadoff spot from third after the Red Sox walked him seven times in the first three games. The shake-up didn't help the Astros, though, as Bregman went 0 for 5 and was hit by a pitch.
Springer got the Astros within a run when he sent Porcello's first pitch of the third inning into the seats in right field. Unlike Altuve's, this one was a no-doubter, sailing about seven rows into the stands into a pocket of about four fans wearing Red Sox jerseys.
Altuve followed with a double that clanged off the wall in left field. Last year's AL MVP, who has been Houston's designated hitter as he deals with a bruised knee, grimaced as he slid into second on the play and was limping after he got to his feet.
Josh Reddick tied the game at 3 with two outs when he singled to shallow left-center to score Altuve, who still looked uncomfortable as he trotted home.
Kemp gave Houston its first lead when he knocked a slider from Porcello over the wall in the right-field corner in the fourth.
Benintendi's second double came in the fifth and he scored on a two-out single by Bogaerts to tie it at 4.
Correa's run-scoring single made it 5-4 in the bottom of the inning.
Up next
Verlander is 6-1 with a 2.44 ERA in eight postseason appearances for the Astros. He allowed two hits and two runs over six innings for the win in Houston's 7-2 victory in Game 1 at Fenway Park.