Red Sox
The Red Sox punched their ticket to the 2018 World Series
David Price dominated his start, Rafael Devers provided the biggest hit, and the bullpen got the job done.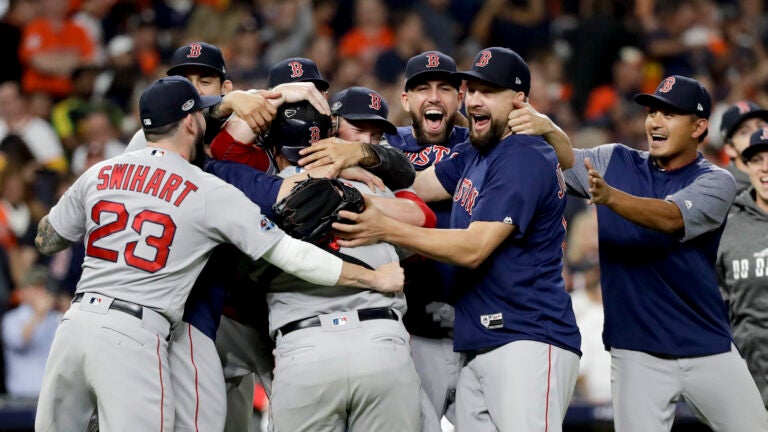 HOUSTON (AP) — What a birthday present for rookie manager Alex Cora. He's taking the Boston Red Sox back to the World Series.
David Price put his postseason woes behind him, pitching the Red Sox past the defending champion Houston Astros 4-1 Thursday night in Game 5 of the AL Championship Series.
Next stop for the 108-win Red Sox is Fenway Park for the World Series opener Tuesday night against either the Los Angeles Dodgers or Milwaukee Brewers.
AL's best!!!

Fly the pennant! #DoDamage pic.twitter.com/IvAuirgSHY

— Boston Red Sox (@RedSox) October 19, 2018
But before leaving Minute Maid Park, the Red Sox surrounded the 43-year-old Cora in the clubhouse and heartily sang "happy birthday!" Wearing goggles and championship gear, the team saluted the first manager from Puerto Rico to take a team to the World Series.
Cora was hired a year ago as he prepared to go to the Series as Houston's bench coach. He got the job a month after Hurricane Maria devastated his island homeland, and immediately went to work helping with relief efforts.
"I know right know for everything that we're going through as a nation, as a country, for me to stand up here with this trophy, I know there's a lot of people proud of me in Puerto Rico," he said.
And now we ???!!! #DoDamage pic.twitter.com/1fFdbUH3Hk

— Boston Red Sox (@RedSox) October 19, 2018
Rafael Devers hit a three-run homer as the Red Sox stunned Justin Verlander to win the best-of-seven set 4-1.
ALCS MVP Jackie Bradley Jr., outfielder Mookie Betts and the Red Sox will try to bring Boston its fourth crown in 15 years — this is their first trip since winning it all in 2013.
Los Angeles has a 3-2 lead in the NLCS going into Game 6 on Friday night at Miller Park.
"We got four more wins. That was very, very special, absolutely. But we want more," Price said.
Pitching on only three days' rest after Boston ace Chris Sale was ruled out while recovering from a stomach illness, Price struck out nine in six shutout innings of three-hit ball. The left-hander, who has had a rough time in Boston since signing a $217 million contract before the 2016 season, entered 0-9 with a 6.16 ERA in 11 career postseason starts.
Price was warming in the bullpen as Game 4 ended, perhaps jeopardizing his readiness for Thursday. Instead, that session may have keyed his dominant performance.
"It felt good. Honestly, it really started last night in the bullpen. Threw quite a few pitches to come in for the next hitter, found something out while doing that and kind of just carried that over to today," Price said.
Price tipped his cap to a few hundred Red Sox fans assembled behind the Boston dugout while they cheered as he walked off the field following postgame interviews.
After dropping the opener at home, Boston took four straight — including three in a row in Houston to improve to 5-0 on the road in these playoffs.
The Red Sox are the first team to win four straight postseason games against a 100-win club since the 2004 Red Sox against both the Yankees and Cardinals, STATS said.
"Since Day One, we knew we had something special. We just needed to stay healthy and go out and execute," Bradley said.
Well-deserved is an understatement!

Congrats @JackieBradleyJr!! pic.twitter.com/gJu0rwukOq

— Boston Red Sox (@RedSox) October 19, 2018
Left fielder Andrew Benintendi caught a long fly for the last out — not nearly as dramatic as his game-saving diving grab the previous night.
"The last out yesterday was like around 12:10. So we won two on my birthday. I'll take it. I'll take it," Cora said.
There was a smattering of boos from the home crowd as the Red Sox charged onto the field, embracing as they jumped around near the middle of the diamond. They posed for a team picture on the mound a couple of minutes later as members of Houston's pitching staff slowly walked by, glancing at the revelry on their way back from the bullpen.
"They beat us. We ran out of wins," Astros manager AJ Hinch said.
Despite leading the majors in wins during the regular season, the Red Sox were underdogs against a Houston team that defeated the Dodgers in last year's World Series and romped past Cleveland in the Division Series this month.
But stars Jose Altuve, Carlos Correa and the Astros hobbled to the finish in a humbling defeat. Still, no team has repeated as World Series champs since the New York Yankees won three straight from 1998-2000.
Red Sox slugger J.D. Martinez hit an early homer off Verlander, and Price made the lead stand up into the late innings. Craig Kimbrel worked the ninth for his third save of the series.
Martinez reached the World Series by beating the team that released him during spring training four years ago.
"It's a little sweeter, obviously," he said. "But it's one of the things where I'm past it, and I'm here because of my struggles and because of my pain that I went through there," he said.
"To win 108 games in a season, you've got to have a complete team and I think that was on display this series. The whole playoffs, actually," he said.
Well-deserved is an understatement!

Congrats @JackieBradleyJr!! pic.twitter.com/gJu0rwukOq

— Boston Red Sox (@RedSox) October 19, 2018
Red Sox president of baseball operations Dave Dombrowski is taking his third organization to the World Series. He won two championships as general manager of the Florida Marlins, then oversaw two pennants as GM of the Detroit Tigers. Dombrowski was hired by Boston in 2015.
It was the 14th pennant for the Red Sox, who are 8-4 in World Series appearances. They took the American League flag in 1904, but the World Series wasn't played that year.
Boston ended an 86-year championship drought in 2004.
With the season on the line, Verlander was unable to save the Astros this time.
The ace right-hander had pitched 24 scoreless innings over his previous three starts with his team facing postseason elimination, and he came in 4-1 with a 1.21 ERA in five potential elimination games during his career.
Price left with a 4-0 lead. Nathan Eovaldi pitched 1 1/3 scoreless innings and Kimbrel posted his fifth save of this postseason.
After steamrolling the Indians in a sweep in the division series, the Astros went out with little more than whimper. Their only run came on a home run by Marwin Gonzalez in the seventh off Matt Barnes.
Altuve went 1 for 4 in the finale. Hinch said before the game that last year's MVP was in a lot of pain and basically "playing on one leg."
Hinch moved Alex Bregman into the leadoff spot after the Red Sox walked him seven times in the first three games, but the change didn't help the Astros as he went 0 for 9 in the last two games of the series.
Verlander, who starred for Houston last postseason after being acquired on Aug. 31, yielded seven hits and four runs in six innings for his second playoff loss with the Astros.
It was 1-0 in the Boston sixth when Mitch Moreland doubled on a ball that left fielder Tony Kemp almost caught at the wall. Ian Kinsler singled before Devers homered into the front row of the short porch in left.
The Red Sox dugout erupted with high fives and cheers as Devers rounded the bases while most of the stadium barring a sprinkling of Red Sox fans sat in stunned silence.
Devers, who turns 22 on Wednesday, has 12 RBIs in 10 postseason games. He joins Mickey Mantle, Andruw Jones and Miguel Cabrera as the only players in major league history to have nine or more RBIs in the postseason at age 21 or younger.
UP NEXT
Sale, who spent Sunday night in a hospital because of a stomach illness, has recovered and is set to start Game 1 of the World Series. Cora said Sale threw off flat ground on Thursday and was feeling better after he was unable to start on Wednesday because of the issue.