Red Sox
Watch Andrew Benintendi's incredible game-saving catch to end Game 4
The Red Sox left fielder laid out for a stunning grab.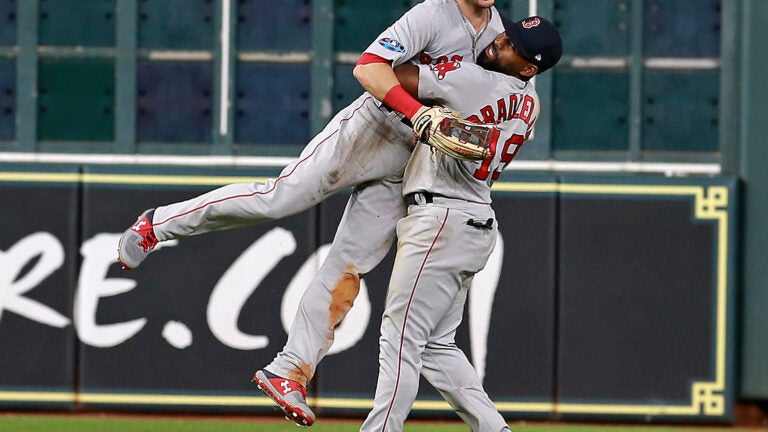 Andrew Benintendi could have stayed on his feet. That would have been the safe option. Instead, the Red Sox left fielder laid out for a stunning catch, one that let Craig Kimbrel escape a bases-loaded jam and allowed Boston to leave Houston with an 8-6 win and a 3-1 lead in the ALCS.
Benintendi's heroics ended Game 4 after a nerve-racking ninth inning from Kimbrel. The closer struggled with his command in a six-out relief appearance. He walked three Astros batters to pack the base paths in the ninth before Alex Bregman stepped to the plate with two outs.
Bregman didn't wait around to see if Kimbrel would walk a fourth. He sent the first pitch, a 97-mph fastball, careening into left field. If Benintendi let it drop, he could have potentially still prevented the tying run from scoring. By diving at the ball, he opened up the possibility for three runners, including the winning run at first base, to cross the plate.
"I thought I got a good jump on it," the 24-year-old said after the game, per NESN. "It wasn't hit that hard and I think it got in a little bit so, I don't know, I thought I could catch it and timed it up well and, I mean, at that point it's do-or-die so glad I caught it."
Benintendi noted he would not have laid out if he wasn't fully confident he'd make the catch.
"That's why I dove," he said. "I wouldn't have dove if there was any chance that it would have bounced, but it was close, I haven't seen a replay or anything but I felt like I got a good jump on it."
BENNY BALLGAME. #ALCS pic.twitter.com/IBYXxykAls

— MLB (@MLB) October 18, 2018
No matter. Benintendi trusted his read and dove head-first for the line drive. He popped up from the grass, baseball safely in hand, and celebrated Boston's victory.
"I'm going to sleep real good and dream of Benny catching that ball," Xander Bogaerts said after the game.
The Red Sox can clinch a World Series berth with a win Thursday.