Red Sox
Alex Cora has some words for a vocal critic of David Price
"He actually should apologize to him."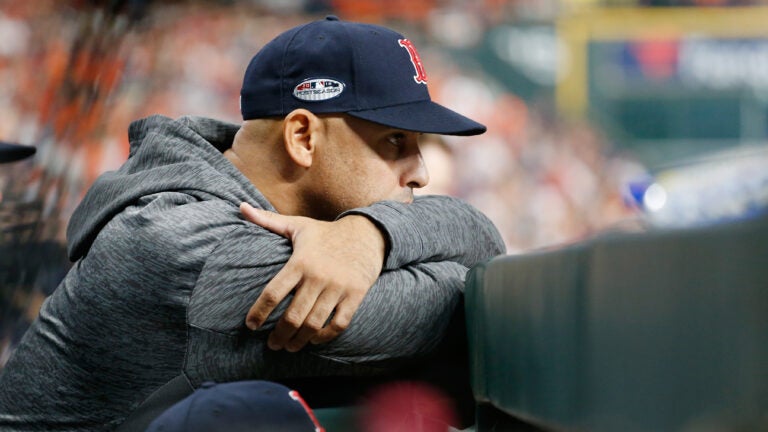 Red Sox manager Alex Cora said he was "very happy" for pitcher David Price after his outstanding showing in Game 5 of the ALCS.
Not only did Price throw six shutout innings against the Houston Astros to help the Sox advance to the World Series, but his dominant performance also may have silenced, at least for the time being, the growing chatter that Price isn't any good during the playoffs.
"There was a lot of noise," Cora said. "I was saying today — and I don't want to pick battles with the media — but I heard somebody today on TV just blasting David, blasting him, calling him the worst pitcher in the postseason."
Cora said he was "offended" by the negative commentary about Price that he heard on MLB Network, calling the analyst's remarks "embarrassing."
"Yeah, the numbers are there, I know, but he was saying this and he didn't hesitate," Cora said. "[He said Game 5] was a bad matchup — one of the greatest [Justin Verlander] against the worst and all that. I don't listen too much to what's going on outside, but that one got me. That one got me."
There's no denying Price has struggled as a starter in the playoffs. Before Thursday, he was 0-9 with an ERA of 5.42. During this postseason alone, he had given up three homers, seven earned runs, and eight hits in 6⅓ innings between Game 2 of the ALDS and Game 3 of the ALCS. But, if Cora ever lost faith, he didn't show it, continually reiterating to reporters that Price would remain in the rotation.
The belief paid off Thursday. 
"When he was throwing 94 miles per hour and the [changeups], I was thinking about that segment on MLB Network today," Cora said. "I don't know, probably the guy is going to blast me because I'm talking about him — whoever he is — but you know what? I'm happy David showed up today, and [Friday], we can turn the page and move on to the World Series with David Price."
And as for the guy on MLB Network?
"He actually should apologize to him."