Red Sox
Have we seen the last of Craig Kimbrel's postseason woes?
Things appear to be changing.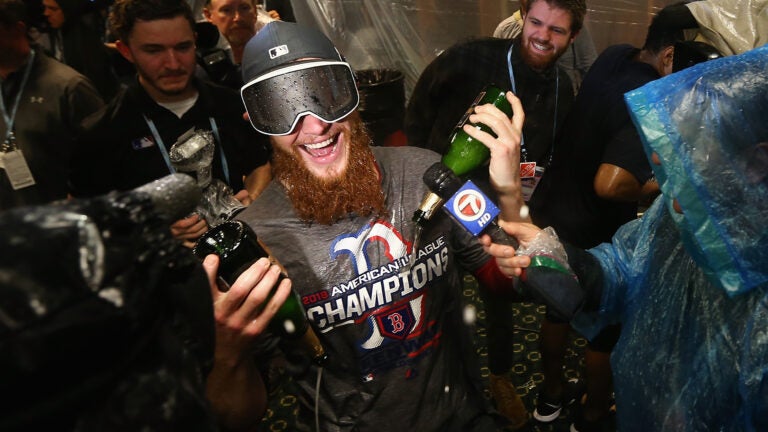 Red Sox nation, Craig Kimbrel has an apology.
"I'm sorry that I gave quite a few of you heart attacks the last few days," Kimbrel said after Boston eliminated the Houston Astros in Game 5 of the ALCS with a 4-1 win. "Let's hope in the World Series I can make them nice and clean."
Kimbrel, the Sox' closer, notched a save in each of his five outings this postseason, but the typically reliable All-Star didn't look like his regular-season self. In 6⅓ innings, Kimbrel surrendered six hits and five runs, pegged two batters, walked six, and struck out eight. His ERA ballooned from 2.74 to 7.11, and his strike rate dropped from 62 to 48 percent. He loaded the bases twice in the ninth inning — a scenario that, despite occurring sparingly in his 62⅓ regular-season innings, seemingly became the expected outcome.
No matter how dire the situation at hand, however, Red Sox manager Alex Cora never pulled Kimbrel from the game. Each time the 30-year-old stepped onto the mound, he was the last Sox pitcher to do so.
"There's been a lot of doubt going around through the season, through the postseason, about everyone else but me," Kimbrel said. "I come in the postseason, give up some runs, have some tight innings, and there is a lot of talk about that. For him to stick with me, tell me he's confident in me, and say I was his guy, it was great."
Thursday night's Game 5 was the best of Kimbrel's postseason thus far. He gave up no hits, walked one, and struck out two. Kimbrel said he and pitching coach Dana LeVangie identified a few problematic areas — "some stuff [he'd] been struggling with for a while" — after his near-catastrophic outing in Game 4.
"I heard he wanted to spend the night here watching video," LeVangie said, via WEEI's Rob Bradford. "I said, 'Nope, it's not going to happen. We'll talk about it tomorrow.' It was small little things, so we would fix it, and we did."
But there was another source of help that came from outside of the Red Sox organization, although not too far removed. Retired MLB closer Eric Gagne, who overlapped with Cora for six seasons in Los Angeles and one in Boston, was watching Game 4 of the ALCS from Arizona when he noticed something in Kimbrel's delivery: He was tipping his pitches.
Gagne texted Cora, who asked him to text Kimbrel, who passed the message to Levangie. Kimbrel discussed the issue with both Gagne and Levangie before Game 5, and Cora detected a difference during the ninth inning that night.
"We saw his hands," he said. "[Wednesday], they were up; [Thursday], they were down. He was tipping his pitches for two weeks."
Discovering that Kimbrel was tipping his pitches doesn't address a variety of other noticeable issues, such as his lack of command, but it's certainly a start.
Up next for Kimbrel and the Sox will be either the Milwaukee Brewers or the Los Angeles Dodgers in the World Series.