Red Sox
Morning sports update: David Price appeared to have words for Alex Bregman following his 8th inning strikeout
The Red Sox social media team also trolled Bregman after the ALDS-clinching game.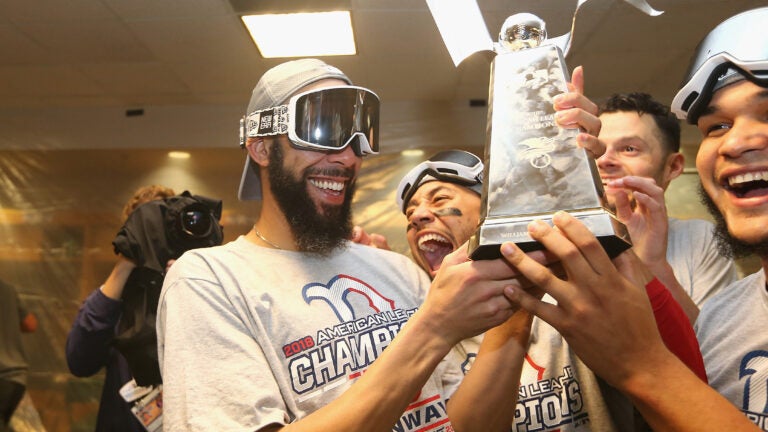 Well, how about that? The Red Sox are heading to the World Series.
And it was in large part thanks to David Price, who pitched six scoreless innings Thursday night, and Jackie Bradley Jr., who was named the MVP of the American League Championship Series. The 4-1 win clinched the series against the Houston Astros, four games to one.
The World Series starts Tuesday, and next up are the Los Angeles Dodgers or the Milwaukee Brewers. Here's what you need to know about the two potential opponents.
Hey Boston, we're home & we brought a souvenir! pic.twitter.com/t0zCXiaFW4

— Boston Red Sox (@RedSox) October 19, 2018
David Price had two words for Alex Bregman
Be careful before you troll.
Before Nathan Eovaldi's start in Game 3 earlier this week, Alex Bregman posted an Instagram story video showing him and other Astros players hitting back-to-back-to-back home runs off the Sox pitcher in June when he played for the Tampa Bay Rays. The Astros third baseman's caption for the video, which was later deleted, read "lil pregame video work."
"We'll see who is talking at the end of the series," Sox first baseman Steve Pearce told WEEI when asked about Bregman's video at the time.
For the most part, the Sox let their play do the talking in Game 3. However, Eovaldi got another chance to face Bregman during a relief appearance in the eighth inning Thursday night. And when he struck out Bregman on a 102-mph fastball, Price had a suggestion for the 24-year-old's Instagram account.
"Post that" ?????? pic.twitter.com/sG7LZ2n6zs

— Justin Duarte (@JDuarte15) October 19, 2018
After the game, the Sox also got in on the counter-troll, posting a video of Eovaldi celebrating in the Houston clubhouse Thursday night with a caption reading, "lil post series video work."
lil post series video work pic.twitter.com/mbwVWHuh8i

— Boston Red Sox (@RedSox) October 19, 2018
Bregman should have asked Aaron Judge before he tried to goof on this team.
Here's the latest on Game 5 from Boston.com
BROCKTOBER! pic.twitter.com/I8AZ6cFgxC

— Boston Red Sox (@RedSox) October 19, 2018
Chris Sale is apparently feeling well enough to play
After being hospitalized earlier this week with a stomach issue and having to be scrapped from his scheduled Game 5 start, ace Chris Sale is "ready for his next start," according to manager Alex Cora. Game 1 of the World Series is Tuesday at Fenway Park. [Boston.com]
Craig Kimbrel is sorry for his nerve-wracking playoff appearances
The closer is very much aware that his appearances this postseason have had fans on edge (for what it's worth, Cora suggested he may have recently been tipping his pitches). "I'm sorry that I gave quite a few of you heart attacks the last few days," Kimbrel said Thursday. "Let's hope in the World Series I can make them nice and clean." [MassLive]
Bruins fall to the Oilers in overtime
The Bruins' weeklong Canadian road trip is not off to the best start, having now lost their first two games. The team lost 3-2 late Thursday night to the Edmonton Oilers on a Leon Draisaitl overtime goal set up by Conor McDavid. [Boston.com]
'Jurassic Park's going to be crazy'
The Celtics are preparing for their first road game of the season Friday night against the revamped Toronto Raptors, who traded for Kawhi Leonard this offseason. Kyrie Irving says he's expecting a special atmosphere and a tough game from their Eastern Conference peers. [Boston Herald]
Where are Orsillo and Eck?
Don Orsillo, the former NESN broadcaster, and Dennis Eckersley, who currently calls Sox games for the network, teamed up to call the ALDS series between the Astros and Cleveland Indians for TBS. So why, fans ask, couldn't they call a few playoff games? Chad Finn writes that he's been peppered by fans who find the Brian Anderson-Ron Darling tandem that announced the ALCS on TBS "boring" and want a Orsillo-Eckersley reunion. Finn explains why that won't happen. [Boston.com]
Daily highlight: As the Sox clinched their World Series bid Thursday night, LeBron James's debut as a Laker got off to a thunderous start (even if it didn't have the ending they may have wanted).
LeBron throws it down for his first @Lakers bucket! ?#LakeShow pic.twitter.com/0cPpSrWaHc

— NBA on TNT (@NBAonTNT) October 19, 2018
https://twitter.com/NBAonTNT/status/1053117539281059840