Red Sox
How David Price pitched in Game 5 of the ALCS
"He's never going to forget it."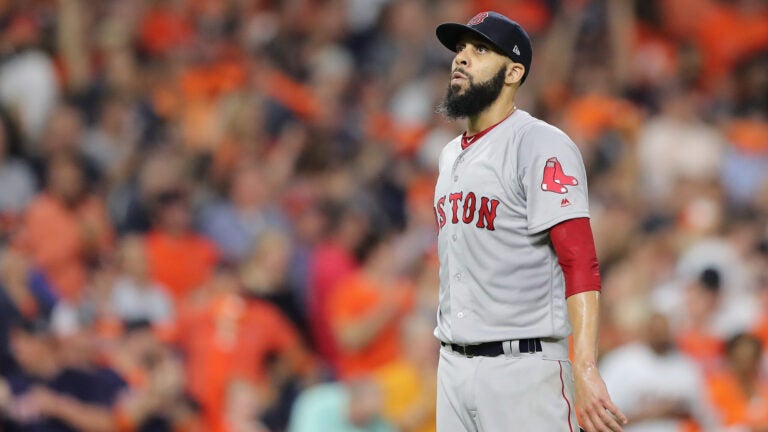 "He was more than just brilliant."
Former Red Sox ace Pedro Martinez hit the nail on the head in describing starter David Price's performance in Game 5 of the ALCS Thursday night. Getting the call two days earlier than initially expected, due to Chris Sale's lingering stomach illness, Price pitched six shutout innings and struck out nine to help Boston clinch yet another trip to the World Series.
"Unreal," designated hitter J.D. Martinez said. "Unreal. You can't put it into words."
"From pitch one, I had that feeling that tonight was going to be that night for him," added centerfielder Jackie Bradley Jr. "I couldn't ask for a better teammate. The way he's battled through the whole postseason talk, this and that, I think it really shows the determination and the competitor that's inside of him."
Price earned his first postseason win as a starter, after toiling with a 0-9 record since entering the league in 2008. He threw 93 pitches — 63 of which were strikes — and also clocked a 95.6 mile-per-hour fastball in the fourth inning for his third fastest pitch of the year. Price showed confidence with his changeup, as its usage rate (42 percent) was the highest of any outing in his career.
"With Chris feeling the way he was, for [David] to step up with three or four days rest, after throwing yesterday in the pen, that just shows you his heart," J.D. Martinez said. "He wanted the ball, he was talking about it yesterday, and he was pumped. You just got to tip your hat. That was an unbelievable performance."
"We need that performance from him tonight," Bradley Jr. said. "I feel like he needed that performance from him tonight."
After floundering against the New York Yankees in Game 2 of the ALDS and surrendering four runs to the Astros in Game 2 of the ALCS, Price caught endless flack for his unreliability in the postseason and his hefty $217 million contract. In the face of jeers encouraging him to opt out of his deal, however, the 2012 AL Cy Young winner demonstrated why deserved to be on the mound with a trip to the World Series on the line. His command was on point and his velocity was up.
"That was one of the ballsy-est efforts I've ever seen," starter Rick Porcello said.
For Price, the stellar performance "felt good." The 33-year-old said the positivity actually started the night before, when he warmed in the bullpen during the final innings of Game 4. Price noted he "figured something out while doing that, and it kind of just carried over" to Game 5. He wouldn't disclose what made the lightbulb go off, but the end result was a 4-1 win and a trip to MLB's biggest stage.
"I don't think he's going to forget it," Bradley Jr. said. "I know I'm not."
Though Price said the win was "very, very, very special," he was sure to mention the Red Sox aren't done yet. There's still one more series to go, and it starts Tuesday.
"We got four more wins," he said. "We want more."