Red Sox
The Red Sox left no doubt that they deserve to be playing in the World Series
'(That) was one of the more special nights I've ever had on the baseball field.'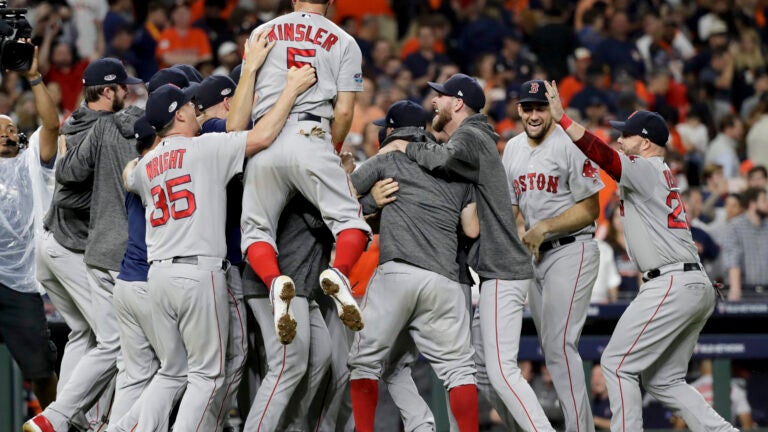 HOUSTON — Ten years ago Friday, 23-year-old lefty phenom David Price came out of the Tampa Bay bullpen in Game 7 of the American League Championship Series and blew away the Red Sox' dreams, recording the final four outs as the Rays advanced to the World Series.
A day less than a decade later, Price, now 33 and starting on three days' rest, held the defending World Champion Houston Astros to 3 hits and no walks while striking out 9 over 6 shutout innings. His performance, on the road, against a 103-win team that never masks its champion's will and pride, was extraordinary.
And during those 3,651 days from one admirable postseason feat to the other? Oh, some stuff happened to Price. He was 0-9 in 11 career playoff starts. Not an inning of it matters now.
In Game 5, Price was little bit of Derek Lowe '04, a little John Lackey '13, and a whole hell of a lot of redemption.
The Red Sox' 4-1 victory over the Astros Thursday didn't just ensure that this special season – they're now at 115 wins overall – would live on in the World Series. It ensured that so many tired talking points, the redundant themes yelped in between the hair-replacement and weight-loss ads on sports radio, would die.
They had an easy schedule and can't beat good teams … their bullpen is going to implode in the playoffs … Jackie Bradley Jr. is too streaky to do anything big in the postseason … David Price can't win a playoff game …
The Red Sox bounced the 100-win Yankees and 103-win Astros from the postseason, going 7-2 overall and 5-0 on the road. Their bullpen was rock-steady, save for a couple of Craig Kimbrel near-meltdowns. Jackie Bradley Jr. drove in 9 runs in the ALCS, all on two-out hits, and won the series MVP award … David Price, resilient-when-it-was-needed-most David Price, won a playoff game.
"(That) was one of the more special nights I've ever had on the baseball field,'' said Price afterward.
"You just want to be part of something great,'' said Bradley.
Price's performance, on short rest and after warming up intensely as if he were coming into the game Wednesday night, does not carry the historic magnitude of Lowe's six innings of one-run pitching on two days' rest in Game 7 of the 2004 ALCS against the Yankees. That night marked a seismic shift in the one-sided rivalry. But this is at least on the podium in terms of narrative-changing victories in Red Sox lore. Price didn't carry the weight of 86 years of disappointment to the mound, but he did bring his own history, his own baseball agonies, with him. Which is why his scream of satisfaction after his sixth and final inning must have been a catharsis that few can understand.
***
2. The question came up during a conversation with a friend on Twitter Tuesday or Wednesday: After the Red Sox built their big lead over the Yankees in Game 7 of the 2004 American League Championship Series, when were you confident that there would be no comeback?
My answer was when Mike Timlin put Derek Jeter's it-always-works-out-for-me smirk into storage for the winter by retiring him on a routine groundout to third in the eighth inning. The honest answer is probably when Pokey Reese fielded Ruben Sierra's ground ball and threw to first base for the 27th out. I will admit to some feeling, even with the Red Sox leading 9-3 in the eighth, that there was a possibility that Red Sox lifers were being set up for the biggest soul-crusher yet. Seems silly now, but the anguish of 2003 was still fresh.
Thursday night, there wasn't a specific moment that I was sure it was over until, you know, it was over. The Red Sox had just four runs, the Astros' lineup is potent, and after his Game 4 performance, the Red Sox did not move the bullpen to prevent Kimbrel from finding it.
But there was one play, in the sixth inning, that felt like a clue, a wink, a small moment of irony meant to inform Red Sox fans that it was their night. With no outs, Alex Bregman, for whom Astros fans chant "M-V-P!", hit a deep drive to right field. Mookie Betts, the probable MVP when the voting is announced, sprinted back, bounded into the air … and pulled it down just before the baseball could decide whether it would be a home run or a double. It looked familiar, almost exactly so, like his leaping attempt in Game 4 that ended up as a controversial fan interference call, costing Jose Altuve a two-run homer.
Betts said after Game 4 he was "100 percent" certain he would have had it. If you're familiar with Betts's glove work, you 100-percent believed him. But the catch last night – with no interference, no closed glove, and no Joe West – was as close to a confirmation that we could ever get that he had the other one all the way as well. Just like, as it turns out, the Red Sox did in this series.
***
3. Rookie manager Alex Cora's unyielding, upbeat faith in his players paid off, whether it was with Price, Bradley, Kimbrel, or anyone else who felt the Fenway wrath at one time or another. But it is interesting that a player of whom Cora was especially candid and sometimes critical, 22-year-old third baseman Rafael Devers, was the offensive star for the Red Sox.
Devers crushed a three-run home run off Astros ace Justin Verlander in the fifth inning that turned a tense and taut 1-0 game into a 4-0 lead. Devers had a hard time getting on the field earlier in the postseason, with Cora favoring savvy but rickety veteran Eduardo Nunez. That worked out fine in the Yankees series, but Devers's lefthanded bat was needed against the Astros' array of righthanded power arms. Devers is now hitting .350 with a .909 OPS in the playoffs. That's called proving yourself to your boss. Meanwhile, the Red Sox' first run came on a J.D. Martinez solo home run in the third inning. I'd imagine Houston's version of Bob Lobel asked on the air why the Astros can't get guys like that.