Red Sox
What experts are saying about the Red Sox' chances in the World Series
Most pundits believe Boston will win its first championship since 2013, but not everyone agrees.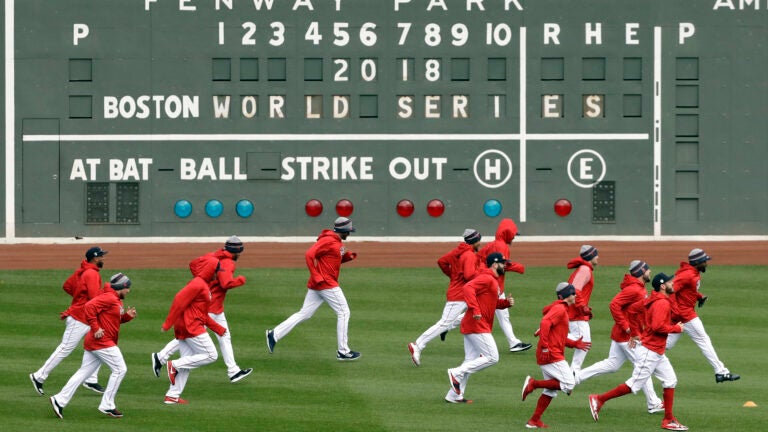 The Red Sox open the World Series against the Dodgers this Tuesday at 8:09 p.m. at Fenway Park.
It's the first World Series meeting between the teams in 102 years, and the Boston-Los Angeles rivalry adds another layer to an event that doesn't need any more hype.
Boston started at minus-135 favorites in early betting, and ever since, pundits around the globe have weighed in with their predictions.
Here's what sportswriters are saying they expect to happen:
Sports Illustrated
The Sports Illustrated team is split exactly down the middle, with four writers taking the Red Sox and four choosing the Dodgers.
Longtime journalist Tom Verducci sees it coming down to the final game, with the Dodgers winning at Fenway Park.
Verducci's take: This should be a closely-contested series, especially the middle three games under the blessed National League rules. (Dodgers have plenty of firepower to slot into the DH spot in the dull AL-rules games in Boston). When in doubt in today's game, go with the team that hits the most home runs and has the better bullpen. Once again: runners in scoring position is overrated. The Dodgers hit .176 in the Division Series with RISP and .196 in the Championship Series and won the pennant. Why? They throw haymakers: the home run ball. Dodgers in 7. 
Ben Reiter envisions the series unfolding similarly at first, but he expects the Red sox to prevail in a decisive seventh game. He predicts that Mookie Betts will take home MVP honors after playing at least two games at second base.
Reiter's take: This is a matchup of formidably deep teams, run by managers who are unafraid to creatively deploy their resources, and I expect the series to go the distance. But the Dodgers simply haven't contended with a lineup as overwhelming as Boston's; the two didn't meet during the regular season, and L.A. didn't see the Yankees, either. After more than 30 hours of total play, I expect the Red Sox to emerge, with Nathan Eovaldi handing his old club a second straight World Series Game 7 defeat. Red Sox in 7. 
Stephanie Apstein and Jack Dickey also picked Betts to earn MVP honors, while Emma Baccellieri chose J.D. Martinez. Jon Tayler selected Manny Machado, Gabriel Baumgaertner went with Justin Turner, and Connor Grossman decided on Clayton Kershaw.
Grossman's take: The Dodgers ace will finally enjoy the moment he's waited his whole career for—and he'll be the one creating it. Clayton Kershaw will throw the last pitch of the 2018 World Series at Fenway Park on Tuesday, Oct. 30 at Fenway Park. He's likely to start Games 1 and 5, and with a travel day between Games 5 and 6, Roberts will feel OK deploying Kenley Jansen early in Game 6 knowing one of the best pitchers of this generation is waiting behind him. Kershaw has said he's tired of hearing about 1988. Soon he'll be hearing a lot about October 2018. Dodgers in 6.
ESPN
In a survey of 25 ESPN experts, the consensus leans much more in the Red Sox' direction. Twenty of 25 writers predict Boston will win, and five of them even expect the Red Sox to cruise in five games.
Writer Sam Miller doesn't believe it will be that lopsided, but he ultimately goes with the Red Sox.
Miller's take: A matchup between a 108-win team and a 92-win team shouldn't be this hard to decide, but a lot of circumstantial evidence suggests that the Dodgers are also an exceptionally good, maybe even elite, team: the fact that they won 104 games last year and mostly upgraded their roster, their 102-win run differential, the savvy improvements they made to their roster late in the season, and the tautological fact that they've beaten two playoff opponents and made it to the World Series. With all that said, I can't pick against the 108-win Red Sox, who dispatched two powerhouses on the way to this point and get the benefit of the doubt until they've lost. Red Sox in 7. 
Betts garnered the most tallies for MVP, earning eight pre-series votes. Next up was Martinez, with five, and after that came Kershaw with three. Xander Bogaerts, Chris Sale, David Price, and Andrew Benintendi also picked up a vote or two for the Red Sox, and Justin Turner and Yasiel Puig did the same for the Dodgers.
Sarah Langs, of ESPN Stats & Information chose Price, who is fresh off the best start of his postseason career.
Langs's take: How great would this be for the narrative? To go from the pitcher with the most starts without a team win entering the postseason, to an outstanding performance in ALCS Game 5 as the team clinches, to two more dominating starts in the World Series en route to a series MVP? Or perhaps a bullpen renaissance, getting the save in the final game? In a season that has given us so many storylines — just like every MLB season before it — this just feels like a fitting way to cap it off. Price induced more swings and misses in his ALCS Game 5 start than he did in any other postseason game of his career. He's ready.
CBS Sports
Six different CBS Sports writers all believe the Red Sox will win, including Katherine Acquavella.
Acquavella's take: The Red Sox have been the best team in Major League Baseball all season, and they haven't showed signs of slowing down during their playoff run. Boston has already defeated two teams that won at least 100 regular season games. I just don't see this Dodgers team, after having been in peril at multiple points during the season, overcoming the Sox's starting rotation or slowing down the Sox's offense. Red Sox in 5.
USA Today
Six out of seven USA Today writers see it unfolding similarly to Acquavella, but Ted Berg is happy to play devil's advocate.
Berg's take: It's never good business to bet against a 108-win team, especially after the way the Red Sox dismantled Astros in the ALCS. But the Dodgers were always a better club than their regular-season record suggested, and their platoon-heavy offense matches up better against Boston than it did against the Brewers. Alex Cora is not about to go to his bullpen after one batter, so Dave Roberts can stack his righties against Chris Sale and David Price without having to worry about a Josh Hader type coming in to flip the script for three innings. Clayton Kershaw looks primed for a huge series after a great start in NLCS Game 5, and the Dodgers simply seem due. Dodgers in 6.
Bleacher Report
Bleacher Report's Joe Tansey's views don't align with those of Berg. He believes Chris Sale will play a key role in helping the Red Sox take down the Dodgers. He does, however, expect the series to be tight.
Tansey's take: Given how strong both pitching staffs and lineups are, the margins will be slim. Winning on the road will be key for both sides, and expect at least one road victory out of both franchises. Game 7 at Fenway Park should be quite the spectacle, and the Red Sox will benefit from a pitching combination led by Sale to win their first championship since 2013. Red Sox in 7. 
FiveThirtyEight
FiveThirtyEight, meanwhile, gives the Red Sox a a 61 percent chance to win their first World Series since 2013.
The Red Sox have embraced the role of supremely talented yet disrespected underdogs of late, but now they'll enter as the clear favorites.