Red Sox
3 things Red Sox fans should know about 2018 World Series tickets
They may not be as expensive as previous Fall Classics, but getting into Fenway Park will still be costly.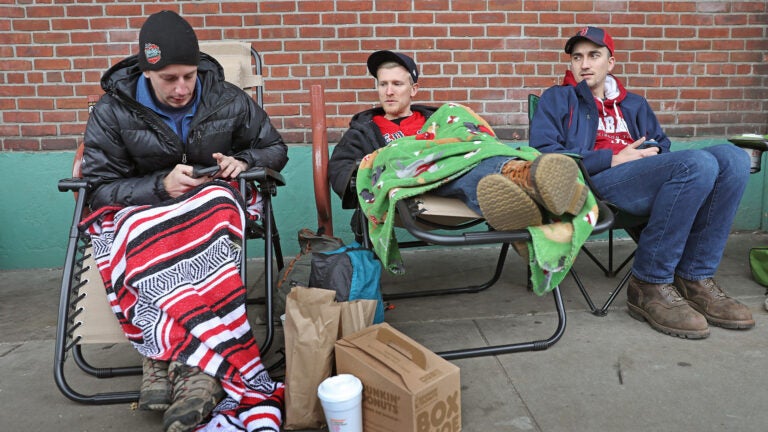 Thinking about shelling out for some last-minute World Series tickets Tuesday or Wednesday night? Or saving up in case the Red Sox and Los Angeles Dodgers return to Fenway Park next week for Games 6 and 7?
Either way, it's going to cost a few hundred dollars — if not a few thousand.
It could be worse. Jesse Lawrence, the founder of the ticket aggregator TicketIQ, said Tuesday that ticket prices for the four World Series games at Fenway Park have dropped 15 percent over the last two days, with the cheapest going for about half of what it would cost to get into Dodgers Stadium for the series. SeatGeek spokesman Chris Leyden says the get-in price for Game 1 bounced around in the low $400 range Tuesday, about $100 less than they were going for on Monday.
Still, tickets aren't going to be cheap.
How much will it cost me to get into Fenway Park?
Including fees, the cheapest tickets Tuesday afternoon for Games 1 and 2 at Fenway Park ranged between $400 and $450 on secondary market sites like Ace Ticket, SeatGeek, StubHub, TicketIQ, and Vivid Seats. And that's generally for standing room, upper deck, or bleacher and outfield grandstand seats a few dozen rows deep. As Tuesday evening approached, the lowest Game 1 prices climbed back into the $500 range.
According to Leyden, the average resale ticket price on their site Tuesday was $1,012 for Game 1 and $977 for Game 2. And to sit four rows behind home plate will cost you around $3,000, he said.
Jessica Erskine, a spokeswoman for StubHub, said Tuesday evening that the average selling price of tickets for Games 1 and 2 were $990 and $1,109, respectively — not including fees. However, the cheapest tickets the site had sold (again, without fees) were $246 for a Game 1 infield grandstand seat and $135 for a Game 2 bleacher seat.
Meanwhile, SeatGeek's website showed the get-in price for Games 3 through 5 over the weekend in Los Angeles around $800, with single standing room tickets for Saturday night's Game 5 starting at $880. The asking price for some tickets behind home plate Saturday at Dodgers Stadium was well above $8,000 each, with one front-row pair near the Red Sox dugout listed for a combined $39,400.
As of Tuesday, the lowest prices for Games 6 and 7 next week back at Fenway started around $700 and $800, respectively.
There were also some very extreme — and perhaps overly ambitious — asking prices at Fenway Park, too. As of Tuesday afternoon, there were three Game 7 field box tickets listed for $1.2 million each, including fees (SeatGeek's deal score rated the offer as a very bad deal).
It may not be a million dollars, but, if you think there aren't people willing to splurge thousands of dollars to see the Red Sox and Dodgers play, think again. According to The Boston Globe, tickets at both Fenway Park and Dodgers Stadium for this year's World Series have been sold for more than $10,000 each. Erskine said StubHub had sold dugout box tickets for $15,000 each for both Games 1 and 2 at Fenway.
"We've seen thirty percent of our sales for tonight's game come in for the last 24 hours so I think what we are seeing is that Boston Red Sox fans have been here many times before and they're comfortable watching the market but they're still paying and they're attending," Jill Krimmel, the general manager of MLB for StubHub, told Boston.com.
"While get in-prices have dropped by about $100 from past days, the average price fans are paying to get in remains relatively steady since yesterday," Krimmel said Tuesday. "In fact, the purchase of the highest priced ticket sold for tonight's game happened in the last 24 hours at twice the cost of what had been spent this time yesterday."
How does that compare to previous World Series?
While she expects prices to rise with demand as the series progresses, Krimmel says this year's World Series is "indeed a slightly more affordable ticket than years past."
"Overall it looks like this World Series is fairly close in price to last year, and down from 2016 when the Cubs and Indians played," Leyden said of SeatGeek's numbers.
Lawrence attributed the drop off to possible World Series fatigue. With the Red Sox having now appeared four times in 15 seasons, Boston fans may be less willing to pay big money for tickets than ring-deprived Cubs or Dodgers fans. But he also suggested there could be fans who are holding off for the potentially pivotal late-series games.
"Prices for games 6 and 7 are also a lot more expensive and people may be saving up for those," Lawrence said in an email."[Dodgers Game 1 starting pitcher Clayton] Kerhsaw is also going to be a hard W."
According to TicketIQ, despite the recent dip in prices, Fenway Park tickets in this World Series remain the sixth most expensive for any home stadium this decade at an average of $1,627 on the secondary market (not including fees). The most expensive was the Chicago Cubs in 2016, when Wrigley Field World Series tickets averaged $6,641.
The last time the Red Sox played in the World Series, in 2013, tickets for the first two games at Fenway Park averaged $706 and $810, respectively, on SeatGeek, according to numbers provided by Leyden. The average price for the Game 6 clincher at home against the St. Louis Cardinals was $1,177.
How do I make sure I won't get scammed?
Amid the all the excitement and inflated ticket prices, Boston police are warning fans to be wary of counterfeits.
"Simply put, fans who choose to purchase tickets from a secondary source are taking a chance," the department said in a release Monday. "And, the fact remains, fans are less likely to be scammed when purchasing tickets from authorized ticket agencies."
Police encouraged fans to purchase tickets from official vendors and said the "old-buyer-beware axiom" applies for those who choose to do otherwise, such as getting tickets from scalpers or less reputable online sources.
The National Association of Ticket Brokers' "ten commandments of ticket buying" includes getting a money-back guarantee, cross-referencing the ticket's section and row on the seating chart, not buying outside the event, using trusted vendors, and being skeptical of "too good to be true" deals. The Better Business Bureau also advises fans to look up vendors on their website to make sure they're reliable. NATB members also offer 200 percent money back guarantees.
Boston police are urging individuals to contact them if they know of someone selling counterfeit tickets and have  provided a tip line — call 1-800-494-TIPS or text the word 'TIP' to CRIME (27463) — for anyone who wants to provide information anonymously.