Red Sox
Members of 2004 Red Sox play major roles in ceremonies prior to Game 2
The Sox also honored the Boston Pops and Jerry Remy.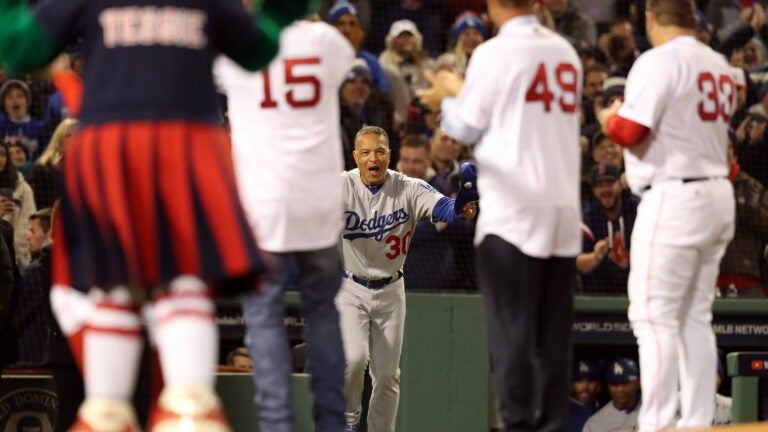 Three Boston institutions took leading roles in the ceremonies before Game 2 of the World Series on Wednesday night: The Boston Pops, the 2004 Red Sox, and Jerry Remy.
The national anthem was performed by the Tanglewood Chorus and the Boston Symphony Children's Chorus, all under the direction of Keith Lockhart.
Then eight members of the curse-breaking 2004 World Series champions took the field to an ovation from the crowd. Team captain Jason Varitek was first, followed by Alan Embree, Keith Foulke, Kevin Millar, and Tim Wakefield.
Dodgers manager Dave Roberts, who was a member of that team, also was introduced and jogged over to hug his former teammates to the cheers of the crowd. Roberts tipped his hat to the fans before going back to the dugout.
When Pedro Martinez and David Ortiz popped out of the dugout, the cheers grew even louder. The group then threw out first pitches to members of this season's team.
Conspicuous by his absence was Curt Schilling, one of the heroes of that team and still a Massachusetts resident.
Schilling is now a commentator for Breitbart News, the right-wing media company, and has voiced a number of controversial political views. But the team said his absence was not related to that.
"We did not reach out to him,'' a Red Sox executive said. "But it is not out of spite. It was originally just going to be Pedro and David and Wake and Millar, but we heard from a few others and they are included.''
After the 2004 players were feted, Jajuan Julian, a senior at Edward M. Kennedy High School and a member of the Boys & Girls Clubs of Boston, delivered the game ball to the mound accompanied by Remy.
The longtime NESN announcer, who is again battling lung cancer, received a loud cheer from the crowd and responded with a wave.