Red Sox
Curt Schilling says his exclusion from Game 2's pregame ceremonies was '100 percent on purpose' and 'expected'
"I just didn't get an invitation from a few weak 'men' who've spent their entire lives paying and watching other men achieve."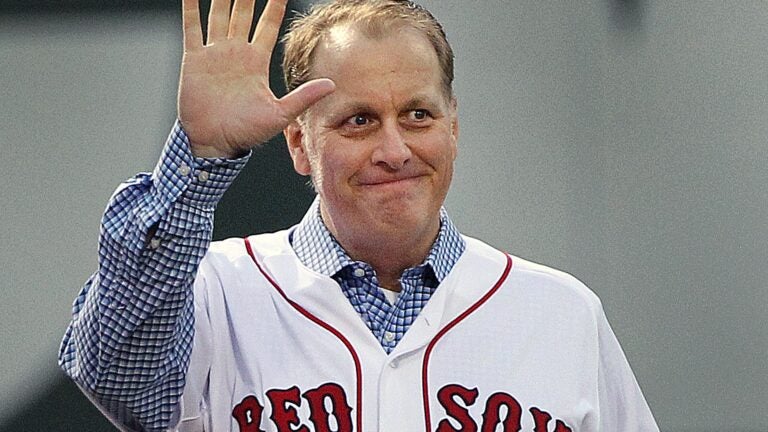 Former Red Sox pitcher Curt Schilling says the Red Sox' decision to exclude him from their ceremonial festivities before Game 2 of the World Series Wednesday night was intentional and unsurprising.
"What they did, or did not do, [Wednesday] was done 100% on purpose and completely expected," he wrote in a lengthy statement on Facebook.
Schilling — who is considered one of the heroes of the team's 2004 World Series run — initially appeared to brush off the non-invite in a tweet, telling his followers it's "all good." But the 51-year-old said later that evening he wanted to speak out after getting "overwhelmed" with private and direct messages regarding the situation.
In his statement, Schilling acknowledged his feelings were, "in one sense," hurt as a result of being snubbed. His former teammates, Alan Embree, Keith Foulke, Pedro Martinez, Kevin Millar, David Ortiz, Jason Varitek, Tim Wakefield — and even Los Angeles Dodgers manager Dave Roberts — all were welcomed to the tune of roaring applause at Fenway.
"Not being able to be on the field with the men who I will always share that 2004 bond with and not being able to once again thank the folks who paid for the tickets and whose lives changed with ours sucks," Schilling wrote.
Schilling admitted post-baseball life hasn't been easy. After retiring in 2007, he was diagnosed with and treated for throat cancer, he started a (now-defunct) video game company that cost the state of Rhode Island millions of dollars, and he was hired — and later fired — by ESPN as a baseball analyst. Currently a commentator for right-wing media company Breitbart News, Schilling has remained subject to several controversies, often relating to the unabashed expression of his political views.
Through all the ups and downs, Schilling insisted he has "slept soundly" most nights of his life — and will continue to sleep soundly after his exclusion from Wednesday's pregame ceremonies. He said there is "no need" to apologize to him on behalf of the Red Sox organization, though he expressed gratitude for the "insane outpouring."
"I know what I did in 2004, [and] the men on that field know what I did," he wrote. "Most importantly? The men who sit in that ivory tower and pass their judgment from on high know EXACTLY what I did and it shames them as men knowing they'll never in their lives be able to do anything remotely close to that."
Schilling also rebuffed the notion that he is a racist, arguing the "complaints and disparaging comments" directed at him are "complete lies and total bull****." He stressed that he will continue living his life as an "independent thinker."
"My dad always told me, 'Never ever live your life to make people you don't know like you,'" he wrote. "It's one of the most peace bringing things he ever said to me."
Contrary to Schilling's perspective, a Red Sox executive said his exclusion Wednesday night was "not out of spite."
"We did not reach out to him," the team executive told The Boston Globe. "But it is not out of spite. It was originally just going to be Pedro and David and Wake and Millar, but we heard from a few others and they are included."
https://www.facebook.com/curt.schilling.56/posts/10216398211161580