Red Sox
Fox' John Smoltz doesn't hate baseball. He just sounds that way.
There is no way John Smoltz hates baseball.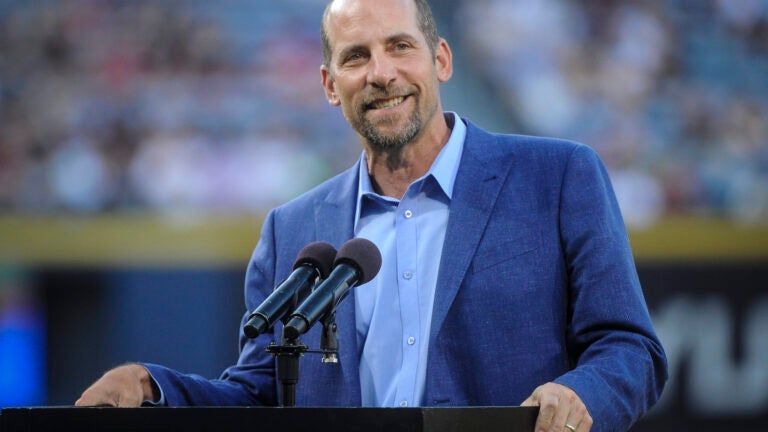 LOS ANGELES — No, John Smoltz does not hate baseball.
I'd venture to guess he loves it at least as much as you or I do, perhaps even more, and not just because he made more than $135 million in his 21-year major league career.
His career track suggests a love of the game. He fought back from multiple arm injuries. He continued to take the ball when his skills were abandoning him, as fans of the 2009 Red Sox might recall.
While he still played baseball, he began preparing for a post-playing career of talking about baseball, serving as a guest analyst on TBS in a couple of postseasons. He was a natural, articulate and uncommonly prescient, and he's worked hard to become even better.
Since 2014, he has been paired with Joe Buck as the color analyst on Fox' No. 1 baseball broadcast team. Two years ago, during the epic Cubs-Indians World Series, he earned rave reviews for his insight and prescience. It would have been difficult to find anyone other than perhaps Steve Carlton to disagree that he was an enormous upgrade over Tim McCarver.
There is no way John Smoltz hates baseball.
Which is why it's such a drag that he sometimes comes across that way on Fox' World Series telecasts.
I've been on location for the World Series, so I've only seen bits and pieces of Fox' broadcasts so far. But I've seen the clips of Smoltz's chronic lamenting of the impact of analytics. The e-mail inbox at this address has consistently received anti-Smoltz screeds, and a search of the micro-blogging website Let's All Hate Everything — commonly known as Twitter — offers plenty of commentary on Smoltz's commentary that suggests he does not much enjoy the sport.
That perception is clouding reality because of the approach Smoltz takes to analytics. He has said he thinks defensive shifts are "killing'' the game. And he really does not like the recent development in which a starting pitcher gets pulled after two times around the order but remains in play to pitch in relief in the coming games. That approach has served the Red Sox extremely well this postseason, thanks to the work of Nathan Eovaldi in particular. But such occurrences inevitably bring out the I-don't-like-it! curmudgeon in Smoltz almost as much as Yasiel Puig's antics do.
It's bewildering that Smoltz is a back-in-my-day guy, because his day wasn't that long ago. He retired after the 2009 season, but he still has contemporaries in the game. He played with Dustin Pedroia in Boston and the Dodgers' David Freese with the '09 Cardinals. Craig Kimbrel was in the Braves' system during Smoltz's final season with the organization.
Perhaps the changes in the game in recent years make him feel like the game he knew not that long ago is slipping away. It's OK for him to acknowledge that, and his frustration with how analytics has led to the implementation of these changes, on the Fox broadcasts. But he might want to do it a little less often than he has been.
Of course, Smoltz doesn't hate baseball. But the perception that one of the sport's highest-profile broadcasters feels that way — and is using the stage of the World Series to literally broadcast as much — is not good for anyone.
Busy Buck
Busy few days for Buck, even by his usual standards this time of year, when his roles as the No. 1 play by play voice for Fox' MLB and NFL broadcasts can overlap. He called Games 1 and 2 of the World Series in Boston on Tuesday and Wednesday, flew to Houston for the Thursday night football game between the Texans and Dolphins, then after a delay leaving Houston, he arrived in Los Angeles at 2:30 a.m. Friday to call Game 3, which lasted a mere 7 hours and 20 minutes. And of course, there's more baseball to come.
Game 3 ratings up
MLB commissioner Rob Manfred acknowledged some frustration that ratings for Games 1 and 2 of the World Series were down year over year, but Friday night's epic brought in good numbers, earning a 9.5 rating and a 20 share nationally. Boston was the top-rated market with a 30.6 rating and a 56 share.