Red Sox
Ian Kinsler: 'I feel like I let the team down right there'
"I just had the last out in my glove and couldn't get it over there."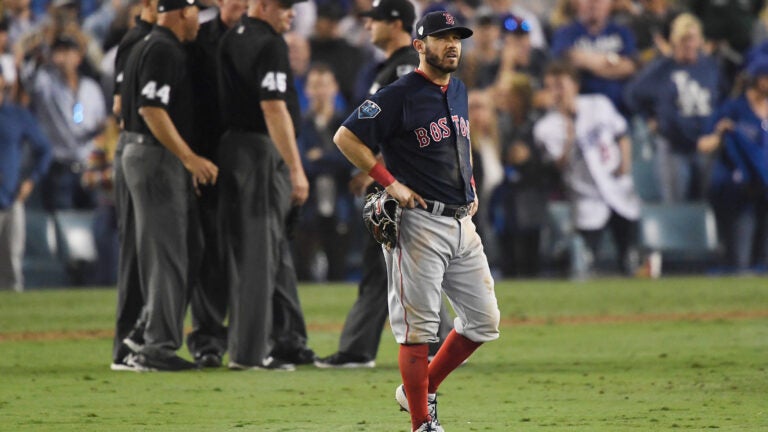 The Red Sox appeared to have Game 3 of the World Series locked up.
Utility man Brock Holt scored the go-ahead run during the top of the 13th inning to put Boston ahead, 2-1, and, with a runner on second and two outs in the bottom of the frame, Los Angeles Dodgers right fielder Yasiel Puig hit what appeared to be a routine grounder up the middle. Sox second baseman Ian Kinsler fielded the ball, but his off-balance throw to first sailed outside the reach of Christian Vazquez.
Kinsler was hit with an error, as Dodgers infielder Max Muncy scored from second and Puig reached first. With the score tied at two apiece, Los Angeles had re-ignited their flickering chances of securing the win. Five innings and two hours later, Muncy launched a walk-off solo home run in the 18th inning to seal the deal.
"There's nothing they can say in that room to make me feel better," Kinsler said after Boston's 3-2 loss. "I feel like I let the team down right there."
The gaffe — which Kinsler attributed to losing his footing as he was trying to make the play — wasn't his only blunder of the night. After entering the game as a pinch-runner for J.D. Martinez in the 10th inning, he almost got picked off at first base, was nearly tagged out for overrunning third, and later thrown out at home while trying to tag from third. Though the Red Sox came up empty that inning, Kinsler's error in the 13th was likely the toughest pill to swallow.
The Sox were one out away from taking a commanding a 3-0 series lead.
"I just had the last out in my glove and couldn't get it over there," Kinsler said.
Right-handed pitcher Nathan Eovaldi, who shined in six innings of relief despite getting slapped with the loss, said Kinsler apologized to him for his mistake. Prior to Kinsler's error, Eovaldi retired five of the six batters he faced.
"He owned up to it," Eovaldi said. "He apologized to me, and I told him he had nothing to apologize for. We're a team. I know you got my back, and I've got his, and it's a team effort. It's not just one guy."
Manager Alex Cora also defended Kinsler, who was recently named a Gold Glove finalist for his fielding performance throughout the regular season.
"It seemed like he was a little off balance when he caught it," Cora said. "He's one of the best defensive second basemen in the big leagues. He's been making that play for a while and just threw it away."
https://twitter.com/MLB/status/1056059769847455744