Red Sox
If you didn't stay up for the longest World Series game ever, here's what happened
The Dodgers earned a 3-2 win in 18 innings when Max Muncy delivered a walk-off blast.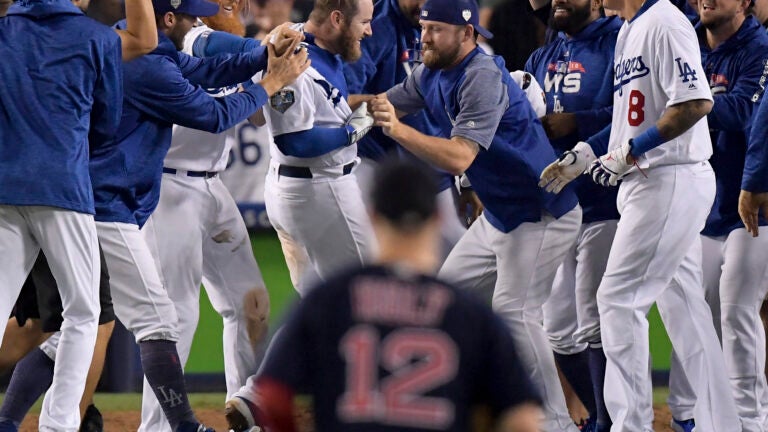 Game 3 of the World Series was the longest World Series game by both innings and time of game, and it ended at 3:30 a.m. Eastern time.
The Dodgers won in the bottom of the 18th inning, and the game lasted 7 hours and 20 minutes. The Red Sox used all of the players on their roster except two — pitchers Chris Sale and Drew Pomeranz, who was warming up in the 18th.
If you couldn't go the distance, here's a rundown of the key events:
Buehler's brilliance
Dodgers rookie starter Walker Buehler pitched seven masterful innings, and left with a 1-0 lead. He allowed just two hits and struck out seven.
But all of his brilliance went for naught when the Red Sox tied it in the top of the eighth on a two-out homer by Jackie Bradley Jr.
Pederson's poke
Left fielder Joc Pederson gave the Dodgers a 1-0 lead in the bottom of the third inning, lifting the first pitch he saw from Red Sox starter Rick Porcello into the right-field seats.
JBJ ties it up
Red Sox center fielder Jackie Bradley Jr. launched a 2-0 pitch from reliever Kenley Jansen into the right-field stands to tie the score.
A threat eliminated
In the bottom of the ninth, David Price, who started Game 2 on Wednesday, took the mound for Boston. Cody Bellinger singled on a line drive to left field to put the potential winning run on base, and after Yasiel Puig popped out to right, Price caught Bellinger breaking for second, and he was out after a brief pickle.
Yasmani Grandal then reached first on a six-pitch walk, and closer Craig Kimbrel came in for Price. Kimbrel walked Chris Taylor on seven pitches to put runners on first and second. But Brian Dozier popped out in foul territory to end the inning.
Kinsler averts disaster
In the top of the 10th, Ian Kinsler came on as the pinch-runner, and twice was almost out on a close play at a base. First, Pedro Baez attempted to pick off Kinsler, who was ruled safe. The Dodgers challenged the call, but it was not overturned.
When Brock Holt singled on a line drive up the middle, Kinsler advanced to third but briefly came off the base but was able to get back in time.
But then Kinsler's luck ran out
In the same inning, with Kinsler on third and only one out, Eduardo Nunez flied out to center. Cody Bellinger made an incredible throw to home in time for catcher Austin Barnes to tag Kinsler to complete a double play and prevent the run.
[fragment number=0]
The Red Sox pull ahead in the 13th
Brock Holt drew a lead-off walk, and advanced to second on a bobbled ball by Dodgers catcher Austin Barnes. Eduardo Nunez then hit a soft infield chopper, but pitcher Scott Alexander couldn't connect with second baseman Enrique Hernandez for the out at first, and when the ball got away from Hernandez, Holt scored to give the Red Sox a 2-1 lead.
Then the Dodgers somehow tie it again
The Dodgers got their lead-off man on first with a walk when Max Muncy checked his swing on a 3-2 pitch. After Manny Machado flied out, Eduardo Nunez tracked down a foul ball hit by Cody Bellinger for the second out of the inning, and Muncy advanced to second. Yasiel Puig hit a grounder up the middle, but Kinsler threw wide of first base, and Muncy scored to make it 2-2.
Nathan Eovaldi turns in heroic performance
Red Sox righthander Nathan Eovaldi, originally projected as Boston's Game 4 starter, ended up throwing 97 pitches in relief, and turned in inning after inning of solid work to keep the Red Sox going. He entered in the 12th inning, the last of nine pitchers the Red Sox used.
[fragment number=1]
Max Muncy wins it in the 18th inning
An opposite-field solo home run by Max Muncy lifted the Dodgers to a 3-2 victory that cut the Red Sox' series lead to 2-1. Muncy drilled a full-count pitch into left-center for the walk-off win.
[fragment number=2]