Red Sox
13 mind-boggling stats from the longest World Series game ever
Eighteen innings, seven hours, 20 minutes, and more key stats from Game 3.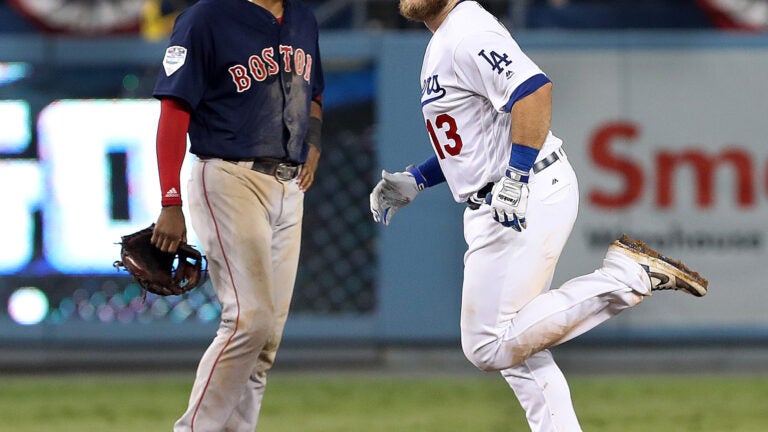 Eighteen innings in seven hours and 20 minutes.
Game 3 of the 2018 World Series was the longest postseason contest in MLB history, with respect to both innings and time. The Red Sox and the Los Angeles Dodgers went the distance in a grueling duel that culminated in a walk-off solo homer off the bat of Dodgers infielder Max Muncy in the 18th.
Muncy's blast was the first walk-off homer since David Freese, his teammate, went deep as a member of the St. Louis Cardinals in 2011.
Here's a look at some of the wild stats from Friday night (er… Saturday morning):
Time of game: Seven hours, 20 minutes
Innings: 18
Total number of pitches: 561
Total number of players used: 46, a postseason record
Total number of pitchers used: 18
The Red Sox used 23 of the 25 men on their World Series roster. Only pitchers Drew Pomeranz and Chris Sale did not play.
Number of Red Sox players who batted in the No. 9 spot: 12
The top four spots in the Red Sox' batting order went 0-for-28.
Righthander Nathan Eovaldi entered the game in the bottom of the 12th and threw more pitches (97) than Game 3 starter Rick Porcello (61). Eovaldi is the first pitcher to throw 80-plus pitches in relief in a World Series game since Greg Harris threw 88 for the San Diego Padres in 1984.
According to commentator Joe Buck of the FOX broadcast crew, the temperature dropped 9 degrees from the time of first pitch (8:09 p.m.) to the start of the 17th inning (after 2 a.m.).
Game 3 lasted longer than the game time of the entire 1939 World Series. In that series, the New York Yankees swept the Cincinnati Reds in four games that lasted a combined seven hours and five minutes.
Christian Vazquez became just the second MLB player to play both catcher and first base in a World Series game.
Game 3 was the Red Sox' first extra-inning World Series contest since Game 6 of the 1986 World Series.