Red Sox
Alex Cora and the Red Sox are in trouble after running through pitchers
Now Cora faces a short staff for the rest of the weekend.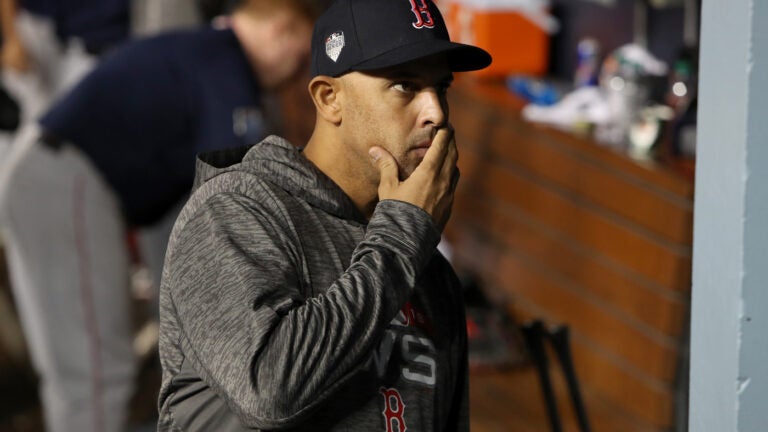 LOS ANGELES (AP) — Now Alex Cora's in trouble.
Boston's manager went for a commanding lead in the World Series, using David Price and Nathan Eovaldi out of the bullpen in Game 3 against the Los Angeles Dodgers.
But Los Angeles won 3-2 in 18 innings Friday night, trimming Boston's lead to 2-1 in the best-of-seven series. Now Cora has to come up with a starting pitcher for Game 4.
After failing to answer the first time when asked, Cora spelled out his situation.
"TBA" he said, then repeating for extra emphasis: "TBA."
Cora's Game 3 moves almost worked. Jackie Bradley Jr.'s eighth-inning home run off Kenley Jansen tied it at 1, and the Red Sox went ahead in the 13th when Eduardo Nunez reached on an infield single that pitcher Scott Alexander threw wildly to first for an error that allowed Brock Holt to come home from second.
But Max Muncy walked off Nathan Eovaldi leading off the bottom half, tagged up and went to second when third baseman Eduardo Nunez fell into the seats catching Cody Bellinger's popup. Muncy then scored when second baseman Ian Kinsler slipped on the infield and bounced his throw wide of first on Yasiel Puig's grounder up the middle , ruled a single and an error.
Muncy ended the game when he homered off Eovaldi leading off the 18th inning on the reliever's 97th pitch.
Boston and Los Angeles tied World Series records by using 23 players, including nine pitchers. All those moves created a short pitching staff for Cora for the rest of the weekend after he pulled starter Rick Porcello after 4 2/3 innings.
"We'll map it out tomorrow," Cora said. "There are a few guys that are lining up in my office to start the game tomorrow. We'll decide what we'll do and we'll be fine."
Cora's choices to start Saturday night are Game 1 starter Chris Sale on three days' rest; Eduardo Rodriguez, who followed Porcello and threw just six pitches in striking out Joc Pederson for the final out of the fifth; or Drew Pomeranz, who hasn't pitched since the regular-season finale Sept. 30 and last started on Aug. 7.
"Somebody will start. Most likely a lefty," Cora said to laughter.
Insisting he's no genius, Cora refused before the game to take credit for making the right moves.
"No. It's all about the players," the rookie manager said. "They're talented. We got information. We put them in spots that we feel that they're going to be successful. But in the end they're the ones that hit homers and make plays and actually they make managers look good. That's it."
Cora's agent, the always glib Scott Boras, coined the term "Coralytics," describing the 43-year-old as a synergy of psychological prowess and analytical aptitude.
"Alex is one of the most intelligent teammates I had and the most caring," said Los Angeles manager Dave Roberts, who was together with Cora on the 2003-04 Dodgers. "He's always played the game the way you're supposed to play."
Cora seems unflappable.
"More than anything, he's just brought consistency," Sale said. "He's the same guy in the first inning as he is in the ninth inning of a 10-1 ballgame or 3-3 ballgame. I think that's the overall thing as players that we take from him. … Ninth inning, bases loaded, one out of a one-run ballgame, and he's sitting there eating seeds, doing the same thing as a 10-1 ballgame in the fourth inning. And I think that goes very well with us as players, when if he's not panicking, why should we?"
That will matter more than ever this weekend.