Red Sox
Chris Sale fired up his Red Sox teammates before a stirring comeback in Game 4
Boston trailed 4-0 before the tirade, and ended up winning 9-6.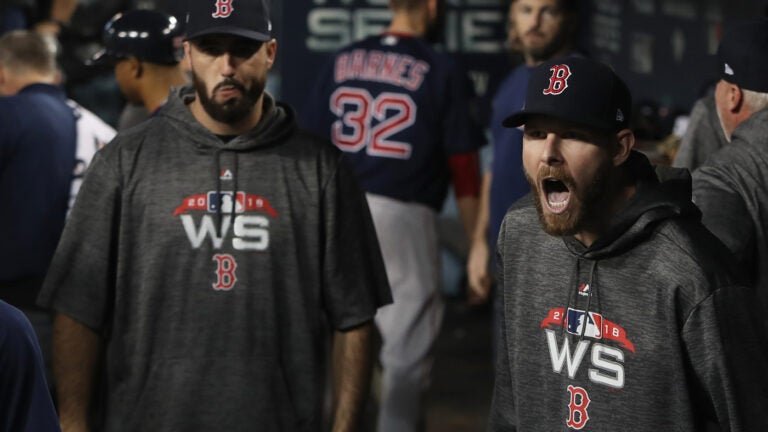 With the Red Sox trailing 4-0 through six innings in Game 4 of the World Series, Chris Sale was fed up with the way the night was unfolding.
He barked at his teammates, imploring them to get the bats going and ignite a rally.
"He was letting us have it, for sure," Mookie Betts said on Fox after the game. "We were slow, but once he started yelling, I think everybody kind of knew we needed to pick it up because he's not going to yell for no reason."
Chris Sale motivated his teammates by screaming in the Red Sox dugout. And he also scared Rafael Devers.
"It scared me a little bit because I had never seen him yell like that and the words that he was saying, I had never heard that come from him before," Devers said.

— Christopher Smith (@SmittyOnMLB) October 28, 2018
LeVangie on Sale: 'Ever been around somebody who's angry and you don't want to say anything or look at them? That was Chris.'

— Alex Speier (@alexspeier) October 28, 2018
Chris Sale is going crazy in dugout.

— Lou Merloni (@LouMerloni) October 28, 2018
Screaming at his teammates to pick it up "This is embarrassing".

— Lou Merloni (@LouMerloni) October 28, 2018
Chris Sale apparently got his teammates attention

— Lou Merloni (@LouMerloni) October 28, 2018
The Red Sox scored three runs in the seventh on a Mitch Moreland blast, then Steve Pearce went deep in the eighth to even the score at four. Rafael Devers drove in Brock Holt in the ninth to push it to 5-4, then Pearce provided a bases-clearing double and Xander Bogaerts an RBI single to extend the lead to 9-4.
Craig Kimbrel held on in the ninth, and the Red Sox won, 9-6, to take a commanding 3-1 series lead.
red sox dugout doing their best impression of the new york city subway pic.twitter.com/nJA6rKY7r6

— joon (@joonlee) October 28, 2018
https://twitter.com/RedSox/status/1056382981349158913