Red Sox
Matt Damon, Ben Affleck among celebrities at Game 5 of the World Series
Damon's "enemy," Jimmy Kimmel, was also in attendance.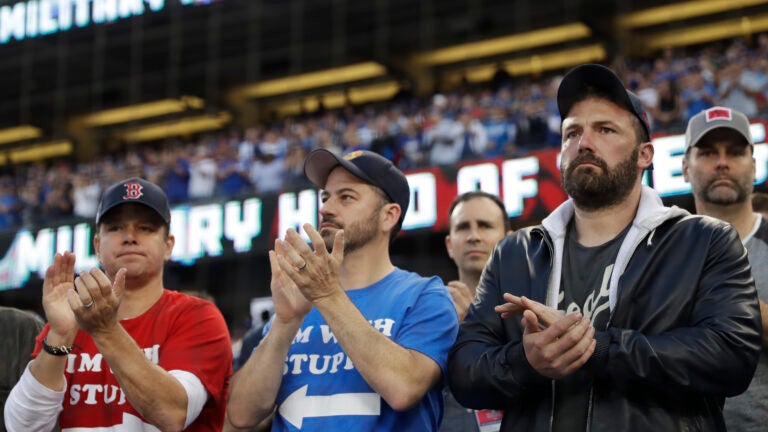 The long-standing feud between actor Matt Damon and talk show host Jimmy Kimmel picked up at Dodger Stadium for Game 5 of the World Series Sunday night.
Damon, a Cambridge native, and Kimmel were spotted in the stands repping "I'm with Stupid" T-shirts — complete with arrows pointed at each other — in their respective team colors. The pair's jokingly hostile relationship began in 2006, when Kimmel would end his eponymous show by pretending there was no time for its last guest, Damon, even if the actor was not scheduled to make an appearance.
Their antics have since made their made way into post-Oscars specials, the Emmys, and now the World Series. Joining Damon and Kimmel in the stands was actor (and Damon's childhood friend) Ben Affleck, who attended Game 4 Saturday as well.
Also in attendance Sunday were actors Jason Bateman, Billy Crudup, and Andy García; singer Joe Jonas; talk show host Conan O'Brien, motivational speaker Tony Robbins; "Wheel of Fortune" host Pat Sajak; and the comedic Hollywood couple of actress Leslie Mann and producer Judd Apatow.
Rapper Lil Wayne, who frequently cheers for the Red Sox on Twitter, was also among the 54,367 people filling the baby blue and gold seats.