Red Sox
20 memorable photos from the 2018 World Series
The Red Sox won it all for the fourth time this century.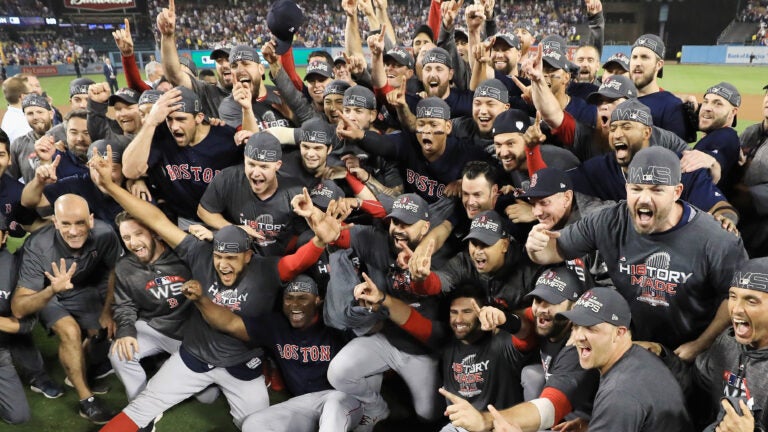 The Red Sox won the 2018 World Series, defeating the Los Angeles Dodgers in five games.
This mark's the franchise's fourth championship this century, and its ninth all-time. Here's a look, through photos, at how the series unfolded:
Game 1
Red Sox 8, Dodgers 4
Before the series even started, there was magic in the air for the Red Sox as a rainbow appeared over the field. Once the action began, Eduardo Nunez's three-run blast in the seventh inning helped the Red Sox pull away from the Dodgers.
Game 2
Red Sox 4, Dodgers 2
Another game, another breathtaking rainbow. David Price shined in his start, tossing six innings of two-run ball. J.D. Martinez delivered a go-ahead, two-run single in the fifth, and Craig Kimbrel earned the save. Andrew Benintendi also helped the cause with an acrobatic catch in the fifth inning.
Game 3
Dodgers 3, Red Sox 2 (18 innings)
This was one for the ages. The Red Sox took the lead in the 13th, but the Dodgers responded and walked off in the 18th on Max Muncy's home run. It was the longest World Series game ever, lasting seven hours and 20 minutes.
Game 4
Red Sox 9, Dodgers 6
The Red Sox trailed, 4-0, but Chris Sale inspired his teammates to get their bats going. Boston ended up scoring nine times, running away with a pivotal victory.
Game 5
Red Sox 5, Dodgers 1
Price twirled another gem, Steve Pearce smashed two home runs and garnered MVP honors, and the Red Sox won the 2018 World Series.