Red Sox
Everything you need to know for the 2018 Red Sox World Series parade
Where and when this year's Red Sox World Series parade will happen, plus more must-know info.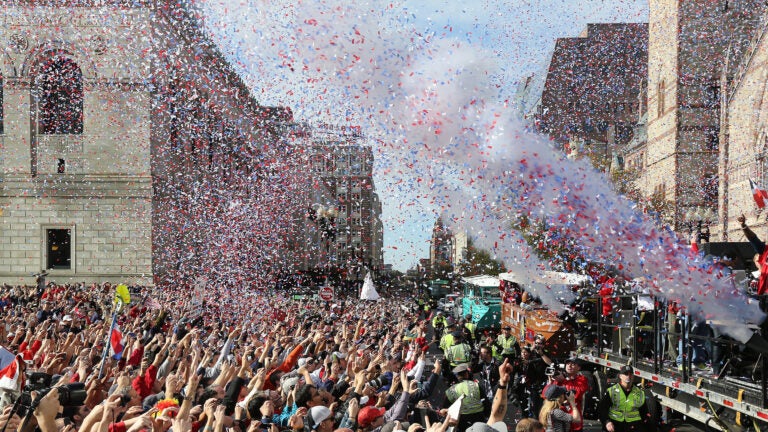 Within minutes of the Boston Red Sox winning the 2018 World Series on Sunday with a 5-1 victory in Game 5 over the Los Angeles Dodgers, Sox fans everywhere began asking the same question: When is the Red Sox World Series parade?
While some unofficial reports about the parade date and time trickled out in the wee hours of the night, Mayor Marty Walsh and the City of Boston officially announced the date, time, and route of the 2018 duck boat procession during a press conference Monday morning. Here's a list of everything you need to know about this year's celebration. This guide will be updated as more information becomes available.
Fire up the Duck Boats for the #WorldSeries Champions — congratulations @RedSox, we can't wait to welcome you home! #DoDamage #DamageDone pic.twitter.com/dqUGL0ufAN

— Mayor Marty Walsh (@marty_walsh) October 29, 2018
When is the parade?
The 2018 Red Sox World Series victory parade will be held on Wednesday, Oct. 31 starting at 11 a.m., rain or shine.
Where is the parade?
This year's parade route will begin at Fenway Park, then head down Lansdowne Street, take a right on Ipswich Street, and then a left on Boylston Street to Tremont Street (opposite the flow of traffic) at Boston Common. The parade then will head straight onto Cambridge Street and finish at New Sudbury Street, according to boston.gov. Check out a map of the route here.
How should I get there?
You should strongly consider alternatives to driving. Parking restrictions will make parking near the route nearly impossible, so consider either parking somewhere and walking to the parade or utilizing public transportation.
Boston Police Commissioner William Gross said at the press conference that parking bans will start going into effect starting at 12 a.m. on Tuesday, and cars will start to be towed soon after. The restrictions will last into Wednesday.
"Do not try to drive to the parade," Walsh said at the press conference. "Take public transportation."
According to the city's website, on Wednesday the MBTA will offer additional service and the commuter rail will provide additional coach cars on several lines. Furthermore, the MBTA will provide extra employees at certain major stations who will assist with the purchasing of tickets, directions, and schedules.  
What will the weather be like?
After a wet weekend, the weather should be clear and dry for the parade. While forecasts in New England can change at a moment's notice, the current one calls for clear skies with a high of 60 degrees on Wednesday, with only a slight chance of showers north and west of Boston. Crucially, Tuesday's weather also looks clear and dry, so there shouldn't be residual puddles on the sidewalks and streets of the parade route.
Lots of temperature ups & downs this week… Only slight risk of a Halloween shower north/west of #Boston. @boston25 pic.twitter.com/RImyLEMG2V

— Shiri Spear (@ShiriSpear) October 29, 2018
How many people will be there?
In previous years, the parade has drawn between 500,000 and 1 million revelers. It remains to be seen whether this year's procession will draw comparable crowds, but if you plan on attending, massive crowds will be a near certainty, whether they're record-breaking or not.
How can I watch the parade if I'm not there?
Local news stations historically have provided live coverage of the parades, and will almost certainly do so again this year. Additionally, the MLB Network provides live coverage of the World Series victory parade on a yearly basis.
What other information do I need to know?
A few other important things to note about this year's parade:
— Be on your best behavior. While the victory parade is certainly a celebration, Walsh emphasized that disorderly conduct is not acceptable.
"As far as safety goes, I encourage you people: Don't do anything on the streets of Boston on Wednesday morning that you wouldn't do in your own house," Walsh said. "Be respectful of the city, be respectful of the property, be respectful of the people, be respectful of the businesses, be respectful of the Red Sox. When you come into town, just come in to enjoy the parade."
An additional friendly reminder: Marijuana use may now be legal in Massachusetts, but public use remains prohibited, as is consumption of alcohol on public property.
"For those attending the parade, no public drinking," Gross said. "Alcohol will not be tolerated."
— Don't climb on stuff. In the minutes and hours following the team's Game 5 victory, a small number of rowdy Red Sox fans began climbing on electrical boxes and lamp posts, and engaging in other unruly acts. Gross said that one person was arrested during the celebration for destruction of property, and that behavior won't be tolerated during the parade.
"For the most part, thousands of people celebrated peacefully," Gross said. "Except for one individual."
— Don't bring big items. The city's website encourages public transportation passengers to leave backpacks, coolers, strollers, and other large items at home.
— Have fun. It's still a parade, after all!
https://twitter.com/RedSox/status/1056774463776219136