Red Sox
9 thoughts on the Red Sox' World Series title
Enjoy the hour, the eventual parade, and don't let anyone stop you from savoring these days.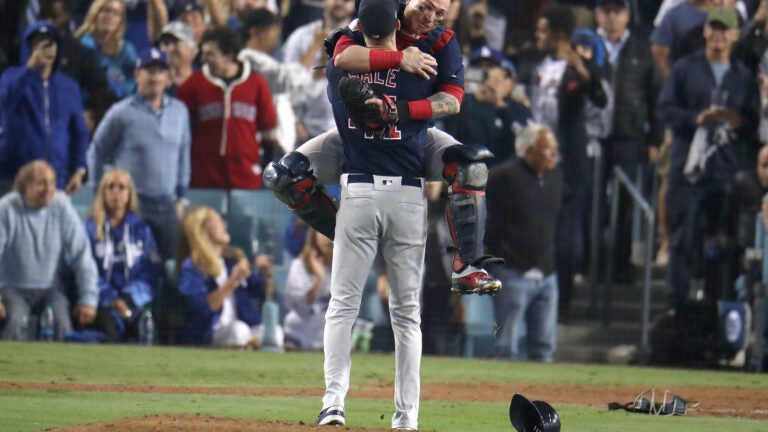 LOS ANGELES — Nine thoughts on the Red Sox' World Series-clinching 5-1 victory over the Dodgers . . .
1. It was real. All of it. The Red Sox had the best record in baseball in spring training, blasted out of the gate at 17-2 under rookie manager Alex Cora, never lost more than three games in a row from spring to summer to fall, soared past the Yankees and Astros with nary any turbulence in the AL playoffs, Sunday night at Chavez Ravine, a lovely spot to celebrate a championship, these remarkable Red Sox did just that. Led by World Series MVP Steve Pearce (two homers) and postseason beast (it's true!) David Price, the Red Sox clinched their fourth World Series in 15 years. The debate about whether this is the best Red Sox team of all time, with 119 wins from when the counting started until now, is something that can keep us warm over the winter. This much we do know, right now: This brilliant, magical season, with win after win after win, was never an illusion. It was real, all along, and never more than right now.
2. Of all the cynical narratives that suffered an embarrassing death this postseason, the one about how they fattened up on lousy opponents and would struggle against real competition really died ugly. The Red Sox lost one game to the Yankees in the ALDS, mauled them, 16-1, the next night, and won the series in four. They dethroned the champion Astros in five games. And then they polished off the Dodgers in five — with Clayton Kershaw, the greatest lefthander of his time, on the mound — by winning two games on their turf after an 18-inning loss in Game 3 that would have shaken lesser teams. The Red Sox defeated excellence en route to their coronation.
3. Know what's amazing, among all of the other assorted amazing developments this postseason? Those long and justified worries about David Price and the weight of his history in big games evaporated like that. They were there, and then they were just gone. He pitched brilliantly (6 innings, 3 hits, nine strikeouts, no runs) against the Astros in the clinching Game 5 of the ALCS, and all ghosts apparently exorcised with that one masterpiece, he just kept doing it in the World Series. Price made two starts, pitching 13 innings, allowing six hits and just three runs, while walking five and striking out 10. He also got two outs in relief in Game 3. This postseason, he was everything the Red Sox paid him to be, and maybe even a little bit more than that.
4. Price's rise from the depths will draw comparisons to past pitching postseason heroes such as John Lackey in 2013 and even Derek Lowe in 2004. But given the expectations that come with a $217 million contract, his previous postseason flops (it seems like seasons ago now, but he recorded just five outs in his ALDS Game 2 start against the Yankees), and the small, silly melodramas along the way, Price might be the greatest redemption story in Red Sox history other than the Red Sox themselves.
5. If you require further evidence beyond four wins in five games that the Red Sox are the vastly superior team, consider this: Mookie Betts and J.D. Martinez were a combined 7 for 33 without a home run through the first four games – and they'd been going so poorly that you'd be hard-pressed to come up with the seven hits. There was justice Sunday night, though. The two superb hitters – one who will probably win the AL MVP award (Betts) and the Hank Aaron Award winner as the league's top hitter (Martinez) — each homered, with Betts's sixth-inning blastoff Kershaw fulfilling manager Cora's prophecy that he would break out of his slump in Game 5. It was only right that Mookie got his moment given all he has meant to the Red Sox in recent seasons.
6. Not sure how clearly this came across on the Fox broadcast Sunday night, but Red Sox fans made themselves at home at Chavez Ravine. The lovely place might as well have been called Fenway West Coast while there were still multiple innings to play. When ''Take Me Out To The Ballgame'' got to the root, root, root part during the seventh inning stretch, the crowd seemed to yell, "DodgeRED SOX!!'' There were also plenty of "Yankees [you-know-what]'' chants. Acknowledging the Yankees in any form seems unnecessary at a time like this, but it did seem to lead to some bonding with Dodgers fans.
7. Of course it helped that Pearce gave Boston a 2-0 lead and a lot of inspiration on the sixth pitch of the game, but the real shift in terms of which team was hearing the loudest cheers actually occurred in Game 4 after Mitch Moreland's three-run home run in the seventh inning. I looked up at that moment and thought, ''Whoa, when did Red Sox fans get here in force?'' You guys travel well, and not quietly.
8. So the Red Sox ended a 100-year drought Sunday night, winning their first World Series since 1918 — with a team that didn't include David Ortiz on its roster, that is. I'm sorry, I've been sitting on that one since this postseason journey began, and I was damn sure going to use it.
9. The Red Sox are champions, again. Imagine saying that sentence 16 years ago. Enjoy the hour, the eventual parade, and don't let anyone stop you from savoring these days.