Red Sox
Morning sports update: Alex Cora wants the whole Red Sox team to come celebrate the World Series in Puerto Rico
Plus: All the latest of the World Series champions.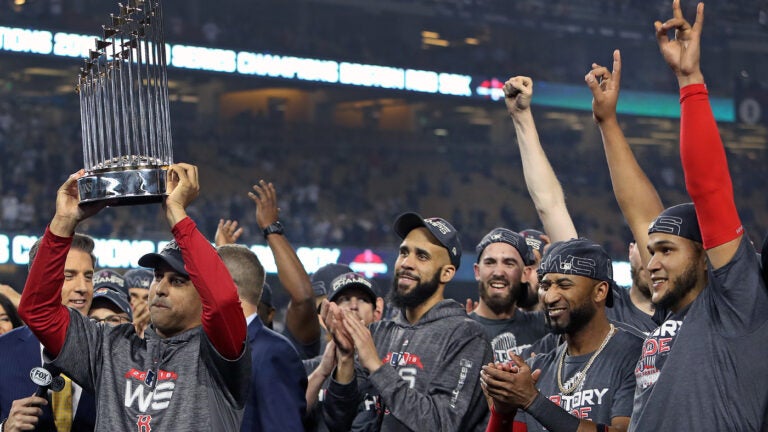 You'll be forgiven if you were a little late into work this morning. That was quite a weekend.
An 18-inning heartbreaker. Another characteristically resilient comeback. And, finally, a trophy Sunday night.
The 2018 Red Sox are World Series champions, and it's hard to argue not also the greatest individual team in franchise history. The 119-win team punctuated a record-setting regular season with an all-around postseason performance marked by unexpected heroes. David Price might have summed it up best Sunday night: "I feel good. I don't know. I feel good."
Here's the latest on the World Series champs:
Cora wants to bring the whole team back home to celebrate
When Alex Cora signed as the Red Sox manager, his contract included one unique stipulation: A plane full of relief supplies for recently hurricane-ravaged Puerto Rico.
"I didn't talk about money," Cora recently recalled. "I didn't talk about incentives. I didn't talk about housing or cars and all that — all I wanted was a plane full of supplies for my hometown."
Now, the 43-year-old Caguas native wants one more thing for the U.S. territory.
"The next thing I'm going to ask ownership is if we can take this trophy to my island."@RedSox manager Alex Cora is taking the World Series trophy back to Puerto Rico! pic.twitter.com/fuNtpkvj3t

— FOX Sports (@FOXSports) October 29, 2018
"The next thing I'm going to ask ownership is if we can take this trophy to my island," he said after receiving the World Series trophy Sunday night. "That'd be great."
Standing nearby during the trophy presentation, Red Sox president Sam Kennedy appeared to gesture that Cora's request was something they could make happen. A little later, the rookie manager appended his request.
"Now I'm just asking for the whole team, or the majority of them, to fly home with that trophy and enjoy it with my countrymen," he said in a later interview.
Cora's first-year success as a manager has made a few Red Sox fans in the Puerto Rican community, both in Boston and back on the island. He also hasn't been afraid to speak up for the island, which is still recovering from the devastating effects of Maria. A number of friends and family from Caguas were in attendance at Dodgers Stadium to witness the World Series-clinching 5-1 win Sunday night.
"We've been through a lot of tough times, obviously, after Maria," Cora told WCVB. " But I'm happy they're enjoying this."
He added onto those words with a simple tweet in the wee early hours Monday morning.
??

— Alex (@ac13alex) October 29, 2018
More on the World Series-clinching win from Boston.com:
Cannonball season is apparently not over: 
CANNONBALL!!!! ? pic.twitter.com/lIHvrMtyiq

— Boston Red Sox (@RedSox) October 29, 2018
Meanwhile, back in Massachusetts: Monday mornings be damned, Red Sox fans took to the streets following the team's win Sunday night, from Amherst to Boylston Street. Fortunately, it doesn't appear like they took the team's official #DoDamage hashtag to heart. At least not too much. [Boston.com]
Let the debate begin: Red Sox owner John Henry said after the game that this in the best team in franchise history. Dan Shaughnessy think the 2018 Red Sox — with 119 wins, just three postseason losses, and a World Series trophy — could be on the best in MLB history. [The Boston Globe]
Cold takes exposed, World Series edition: The Red Sox Twitter account had some fun Sunday night going back and replying to every snarky tweet follow their Opening Day loss this past spring. As a wise man once said, never tweet. [The Boston Globe]
Daily highlight: Feel free to keep watching this on a loop all Monday.
https://twitter.com/RedSox/status/1056753944142131202