Red Sox
David Price continued his Fortnite tradition even through the long hours of the World Series
Once mocked, the tradition endured all the way through a World Series win.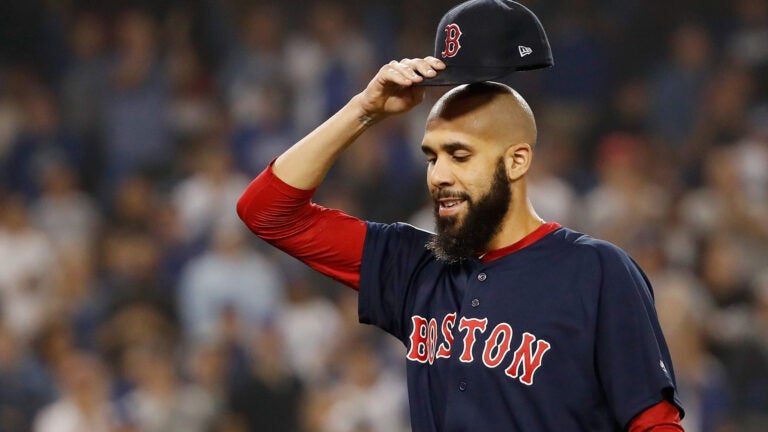 Once the source of embarrassment and ridicule, one of Davie Price's constant companions traveled with him throughout the playoffs and the Red Sox' World Series win.
The Boston left-hander's Xbox, the source of his Fortnite gaming habit, was in his hotel room amid the dramatic trio of World Series games played in Los Angeles. And Nathan Eovaldi, Price's regular gaming partner-in-crime, was there to help get a "couple dubs" in between some of the most intense pitching performances of their careers.
Even after the record-setting 18-inning Game 3, in which Eovaldi pitched six innings in relief to earn immense praise despite the loss, Price wanted to play some Fortnite.
"[He] wanted me to get on, but I was a little tired," Eovaldi told Yahoo's Jeff Passan about the situation after 18 innings of baseball. "So I got on that next morning, and we got a couple dubs."
After being surprised by manager Alex Cora's decision to go with Price instead of Chris Sale as the starter in Game 5, Price responded by immediately falling into his pregame routine. Part of that tradition includes Fortnite with Eovaldi.
"This is their custom, with Eovaldi dropping into the war zone of Tilted Towers, Price preferring the safer terrain of Wailing Woods, both keen to forget baseball for a few hours at a time," Passan wrote.
And, foreshadowing World Series success, Eovaldi and Price battled their way to a video game win.
The Fortnite tradition has a charged history. In May, Boston Globe columnist Dan Shaughnessy wrote about how Price's carpal tunnel injury was due to too much gaming:
Could things get any more hideous for Boston's $217 million starter? Price is forever walking around Fenway with a target on his back because of his salary, his playoff history, his Dennis Eckersley ambush, and all the other quotes and stunts that indicate he is ill-equipped for Boston baseball. And now he misses a start in New York because of a condition that possibly was brought on by playing too many video games?
In his triumphant moment after helping the Red Sox to another championship, Price had a message for his critics.
"I can't tell you how good it feels to hold that trump card," he said. "And you guys have had it for a long time. You've played that card extremely well. But you don't have it anymore, none of you do, and that feels really good."
Price and the Red Sox were part of a wave of athletes who all became infatuated with Fortnite. And his habit continued throughout the season, into the postseason.
"I've got an Xbox. I've got my own backpack for it," Price told Jen McCaffrey of The Athletic in May. "A little 15 1/2-inch monitor and I can put it up anywhere. Just two cords and just need two outlets in the wall and I'm ready to go."
When it mattered most, during the height of the World Series, Price's gaming didn't affect his ability to pitch. He started two games against the Dodgers, winning them both (including the championship-clinching Game 5). In all, he totaled 13.2 innings pitched, striking out 10 with a 1.98 ERA.
And while it won't show up in the box score, there were also countless Fornite wins.