Red Sox
David Price had a message for his critics in the media following his Game 5 World Series win
"I hold all the cards now, and that feels so good."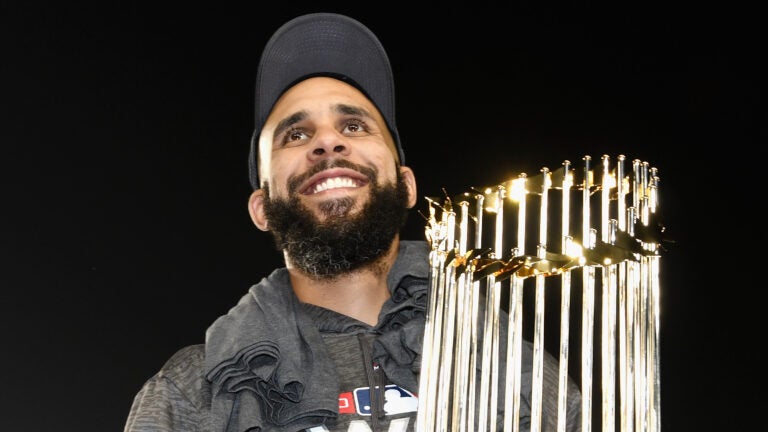 David Price silenced his critics this postseason. And after punctuating his October with seven shutdown innings to win the World Series, the Red Sox pitcher says it feels pretty good.
Price admitted it was "tough" to consistently face questions about his past playoff struggles. Before this postseason, the 33-year-old lefty was winless in nine postseason starts. However, he flipped the narrative when it mattered most this year, delivering three consecutive stellar starts in the clinching game of the American League Championship Series, Game 2 of the World Series, and Sunday night's Game 5 series-clincher.
And that means no more constant questioning of his abilities.
"I hold all the cards now, and that feels so good," Price said after Sunday's game.
"That feels so good," he repeated. "I can't tell you how good it feels to hold that trump card. And you guys have had it for a long time. You've played that card extremely well. But you don't have it anymore — none of you do — and that feels really good."
For good measure, Price reiterated that message one more time later in the night, tweeting four shushing emojis.
????… #Iholdthecardsnow

— David Price (@DAVIDprice24) October 29, 2018
Since coming to Boston in 2016, Price has had an at-times strained relationship with the local media. Despite going 39-19 with a 3.74 ERA in three regular seasons, he has faced criticism for not living up to his record seven-year, $217 million contract.
However, Price said the Red Sox have stood by him through the rocky moments and teared up during his press conference Sunday night when asked about his teammates' support.
With his performance this fall, Price said that he felt he finally proved he can win big games, even if he didn't necessarily have to prove it to himself.
"My confidence was never altered through however many seasons I've been to the playoffs, however many times I've failed in October, however many times I failed in the regular season or against the Yankees," he said. "My confidence was never altered. I always had belief in myself, in my abilities, and to be able to come through on this stage and in October, for myself and for my teammates."
"I know I can do it now, and that's always a good feeling to have," Price added. "It's just good to know."