Red Sox
8 Red Sox artifacts from the 2018 World Series are headed to the Baseball Hall of Fame
Off to Cooperstown.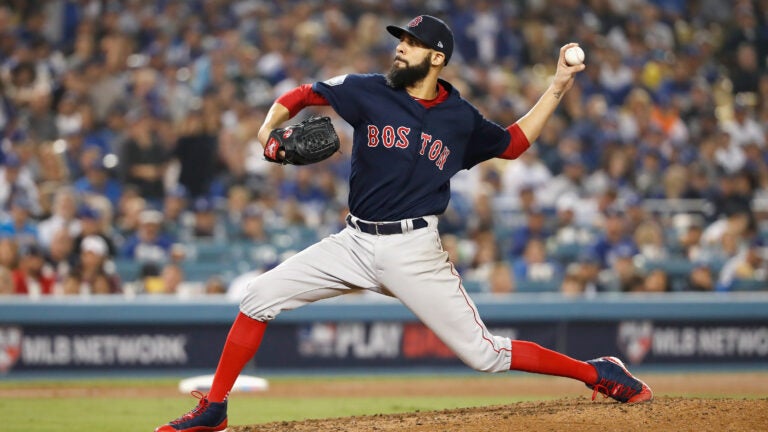 Several mementos from the 2018 World Series are set to be preserved in Cooperstown, according to Jon Shestakofsky of the Baseball Hall of Fame.
(No, pitcher Chris Sale's belly-button ring didn't make the cut.)
The list includes the following items:
Manager Alex Cora's hoodie
First baseman and World Series MVP Steve Pearce's Game 4 bat: Pearce drove in four of Boston's nine runs to help overcome a late four-run deficit. He blasted a solo home run in the eighth inning and then hit a three-run double to open up the scoring in the top of the ninth.
Pitcher David Price's Game 5 jersey: In the clincher, Price turned in a seven-inning, three-hit outing. He struck out five, bringing his postseason total to 23.
Pitcher Nathan Eovaldi's cap and spikes: Eovaldi didn't officially start a game in the World Series, but he effectively pitched the length of a start in Game 3 when he threw 97 pitches in six innings of extras.
Third baseman Eduardo Nunez's bat: With the Red Sox holding onto a one-run lead in the bottom of the seventh in Game 1, Nunez — pinch-hitting for Rafael Devers — gave Boston more of a cushion with his three-run homer into the Green Monster. The blast was Nunez's only at-bat of the game.
Utility man Brock Holt's helmet: With a tie score in the top of the ninth inning of Game 4, Holt was so fired up after reaching second base on a left-field double that he lost his helmet while approaching the bag.
Pitcher Joe Kelly's glasses: After a rocky end to the regular season, Kelly quieted the doubters with six shutout innings across the series' five games. He surrendered just four hits and struck out 10.
Game 3's home plate umpire Ted Barrett's ball/strike clicker: The epic 18-inning battle featured 561 total pitches.