Red Sox
The Red Sox family members stole the show during the World Series celebrations
The support systems that allow the players to compete had their moment in the spotlight.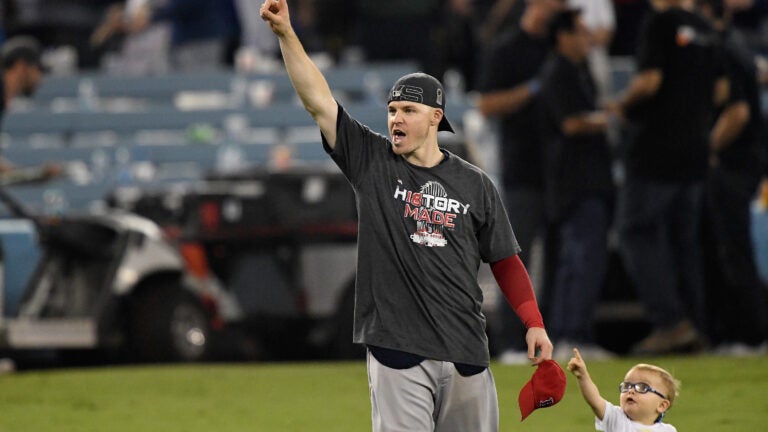 Chris Sale had his son, Brayson, in his arms as he made the media rounds demanded of a newly crowned World Series champion. The ace, who struck out the side in the ninth inning to clinch the Red Sox' win over the Dodgers, comforted the one-year-old when he started to cry during an interview with a television crew.
"I'm not a big fan of him either bud," Sale said, smiling at the WBZ reporter in question.
Sale also joked that it was his wife that deserved most of the credit for the "beauty" in his arms. Like many of his teammates after Game 5, the Red Sox pitcher was quick to give his family credit for the victory, too. The support systems that allow the players to compete had their moment in the spotlight on the Dodger Stadium diamond, and they made the most of their star turn.
Jackie Bradley Jr.'s two-year-old daughter Emerson didn't have to wait for WBZ's David Wade to finish asking his question before she gave her answer: "Go Red Sox!"
??ABSOLUTELY PRECIOUS!!!??@davidwade talks to Jackie Bradley Jr's daughter Emerson and she's just awesome. HYSTERICAL!! #WBZ #RedSox #DoDamage #WorldSeries pic.twitter.com/GtXUXklFwD

— Scott Sullivan (@SullyBunz) October 29, 2018
Bradley's wife, Erin, told WBZ that it was "super exciting" to see her husband play a key role in the Red Sox' run to the title, including his nine RBIs in the ALDS.
"I think people have doubted him his whole career and it's really nice to see all of his hard work come to fruition and that people are actually seeing what I know he can do and what he knows he can do," Bradley said. "I'm happy for him and proud of him."
Elsewhere in the on-field celebrations, three-year-old Knox Kelly helped hold the microphone as his father, Red Sox reliever Joe, handled an interview.
❤️ SUCH A CUTE MOMENT! ❤️
Joe Kelly gets some help during his interview with @ButchStearns as the #RedSox celebration continues on Boston 25 News! ? https://t.co/SPPgu6hqtg pic.twitter.com/mr9OYkWGzD

— Boston 25 News (@boston25) October 29, 2018
Red Sox closer Craig Kimbrel, whose daughter Lydia Joy was born with heart defects in November, was emotional as he described the culmination of the season.
"It's been a long year, but, wow, it's definitely made it worth it," he said, looking down at the baby girl in his arms. "She's made it worth it."
https://twitter.com/boston25/status/1056764473971822593