Red Sox
What John Henry and Alex Cora had to say about a Red Sox White House visit
"We haven't been invited."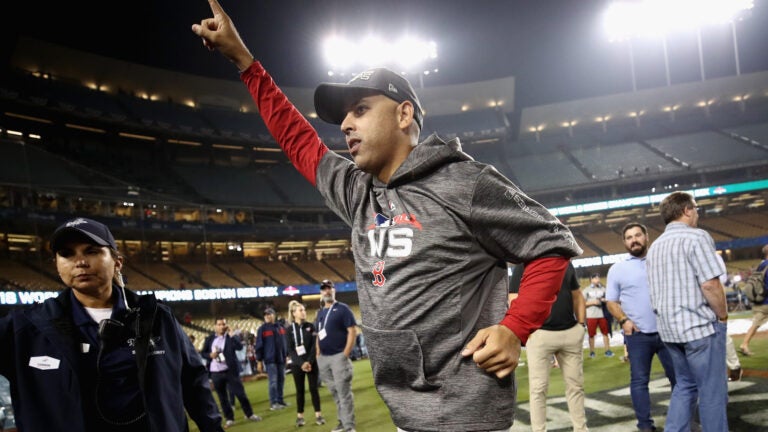 While the Red Sox emphatically answered every on-field question about the team in 2018, triumphantly winning the World Series in five games, a new series of offseason questions begin.
One of them is whether or not the Red Sox will go to the White House.
On that front, the jury appears to officially still be out, though there were two responses in the immediate aftermath of the victory.
Principal owner John Henry was asked by WEEI's Rob Bradford shortly after the team clinched its ninth World Series title.
"We haven't been invited," Henry initially said. But he appeared more definitive in a follow up comment.
"I think we will," said Henry. "This is a special team. We'll see what they want to do, but I think so."
Red Sox manager Alex Cora was asked about it in the final question of his postgame press conference.
Cora's response: "We'll talk about it later on."
Cora recently defended Dodgers manager Dave Roberts after President Donald Trump tweeted criticism of his decision to remove pitcher Rich Hill from what proved a losing effort in Game 4 of the World Series.
In the past, Cora had mixed feelings about the president's public responses after Hurricane Maria, and the damage it did to Puerto Rico (where Cora is from), despite the help the island received from the government.
"To be tweeting about 3,000 people and be efficient, it's actually disrespectful for my country," Cora said in September. "We see it that way. I know probably he doesn't feel that way. And like I said, hey man, thank you for helping us. He went down there, he did what he did. I hate talking about politics and all that, but I think this is more than politics."
"I respect him," Cora continued. "He's the president of the United States. But I don't agree with a lot of stuff that he says about us."
Since Trump has been in the White House, the Cubs and Astros both visited the White House. The Cubs visited twice, first during the Obama administration, and the latter trip occurring with Trump.