Red Sox
What the Red Sox had to say after winning the 2018 World Series
"Seeing all these grown men over there acting like little kids, it's what it's all about."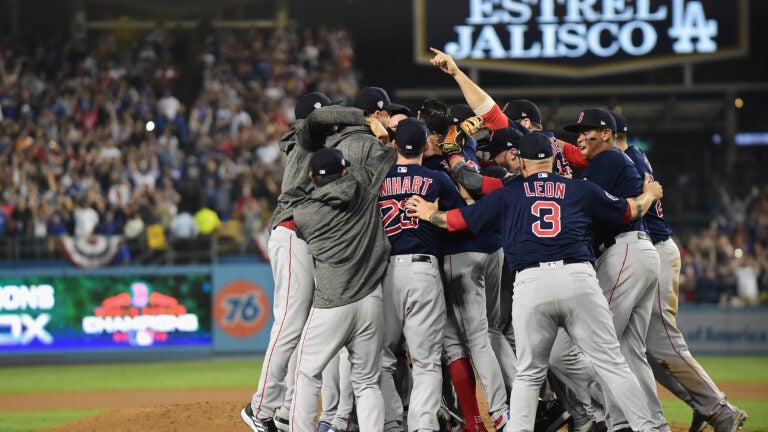 The Red Sox clinched the 2018 World Series title with a 5-1 win over the Los Angeles Dodgers Sunday night.
Here's what some players and executives said after the victory:
Mookie Betts, right fielder
On how he feels: "It's amazing. It's a dream come true. AC [Alex Cora] told us from the first day of spring training that we could do it. We believed in ourselves, we believed in him, and we went out and executed."
On his sixth-inning home run after going 0-for-7 in Game 3: "It was amazing just to know I contributed at some point. These guys picked up all the slack that I left. That's what a team does."
David Price, pitcher
On what was special about this team: "Honestly, everything. We did everything extremely well all year long [and] stuck together. When we were going through a rough patch, nobody panicked. It was day-to-day all year long, and that was very special."
On whether he's fatigued after pitching six innings in Game 2, ⅔ inning in Game 3, and seven innings in Game 5: "I feel good. I don't know. I feel good."
On what it means for the team: "It's very special. Seeing all these grown men over there acting like little kids, it's what it's all about. This feeling kind of feels the same like 2008 [Price was a member of the Tampa Bay Rays, who lost to the Philadelphia Phillies in the World Series]. To go through the entire grind and to come out on top the way that we did, that was unreal."
On what it means for him personally: "This is why I came to Boston. I knew it was a tough place to play. I knew it was challenging with everything that's going to go on there. I've been through a lot in the three years I've been here, but this is why I came."
John Henry, owner
"I think this team this year showed what unity, diversity, a sense of purpose, and determination can mean. I just want to say, from everyone back home, this — congratulations — this is the greatest Red Sox team in history. Congratulations, Red Sox nation."
Dave Dombrowski, president of baseball operations
On how it feels to win his second World Series title (his first was in 1997): "It's as good as it gets. It's a hard thing to do to win. It's a fantastic feeling. It's so wonderful for everyone in the organization — everyone who contributes behind the scenes, scouts, player development, international operations, our front-office staff, everybody. You can see the joy it brings to them when they come into town with you. It's just absolutely fantastic."
On seeing his trades and acquisitions pay off: "It's just fantastic. Every little move can make a difference. It's great to see what it brings, which is a world championship to the city of Boston."
Alex Cora, manager
On his rookie season: "What a season. Everything starts with these guys. They're very talented. From day one in spring training, they've been very consistent as far as preparation, going about the business. What a way to end it. "
Steve Pearce, first baseman and World Series MVP
On Cora: "This has been the funnest year of my life, and he's part of it. He welcomed me when I came into the clubhouse, and he made me feel a part of the team right away. It was awesome. It was awesome to play for him. I can't wait to see what the future has to come."
On what stood out about this team: "We're a bunch of grinders, and it's awesome. The way we play, day in and day out, we expect that of each other. This is exactly where we knew we were going to be."
On whether he thought a World Series would be possible: "Baseball is a funny game. As long as you stay in the game, great things can happen. I'm very blessed to be here right now."
On the key to the championship: "That's what our team's about. We show up every single day. That's how we prepare. We knew we were going to be here the whole time, and that's just a great feeling."
Eduardo Nunez, third baseman
On why Cora is the best manager of his career: "He's made me feel better than what I am."
On the feeling in the clubhouse before Game 5: "We play cards. … We were relaxed, chilling, no pressure, very excited, very together. The energy, you can feel how special the group is, how Alex Cora makes that group so special [and] so together. There's no ego. … Everybody's one team."
Chris Sale, pitcher
On throwing the last pitch: "It's unreal. I'd probably be able to tell you more if I had a voice, but I've been yelling a lot the last couple days. You work your entire life for it. Your parents driving you around as a kid, my dad throwing endless amounts of baseball at me, my wife with me through the thick and thin. To be sitting here with my two boys right now, there's no a better feeling on the planet.
"It was the best. I was talking to one of my buddies that was in the Chicago [White Sox] bullpen with me, Sergio Santos, and I was going to start this game and everyone thought that. DP [David Price] got the nod, and he's like, 'Go get him.' I was like, 'We're going old school tonight. I'm going back to the 'pen,' and [Santos] loved it.
"It's just a surreal moment. There's a lot of blood, sweat, and tears from every player on the bench, every player on that roster, coaches, medical staff, everybody. Everybody put their heart and soul into this and here we are."
On team chemistry: "Spring training rolls around, we're playing golf together. We go on the road, we're playing video games together, we're going out to team dinners and doing things like that. A lot of that has to do with AC. He brings us together. We love, we respect the hell out of him. He pushed all the right buttons the entire season. You couldn't ask for a better team and better team chemistry."
On how he's taking it in: "It's hard to. I threw the last pitch, and the next thing I know I had [Christian] Vazquez in my arms, and it's like we just won the World Series. It's hard to process that in a couple of minutes."