Red Sox
Why do Red Sox fans chant 'Yankees suck' even when the two teams aren't playing each other?
"It just shows how we are in their psyche," says one Yankees official.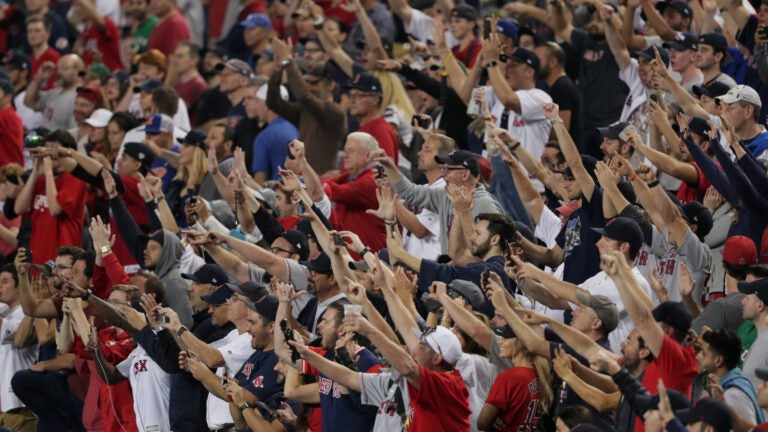 It did not take long for Boston Red Sox supporters to get to the core of the matter. Within minutes of their team's cementing its status as one of the best baseball clubs ever, fans at Dodgers Stadium — in Los Angeles — began a seemingly incongruous chant.
"Yankees suck. Yankees suck."
Huh? What did the New York Yankees have to do with it? They had not played a game in nearly three weeks, since the Red Sox dispatched them in their American League Division Series. Yet with all that joy and euphoria derived from winning the World Series on Sunday night, the happy fans celebrated by disparaging a team that was not even involved.
It may sound weird, but it is actually understandable once you recognize the little-sibling mentality of Boston fans vis a vis New York.
For Red Sox fans, it is always about the Yankees, and that is the way it should be. If we celebrate the so-called best rivalry in sports, then it should endure even when the teams are not actually playing each other. That is how all-encompassing a rivalry should be.
And it is not a one-way street. During the Yankees' celebration after they won their 27th World Series in 2009, fans were heard on a street corner chanting, "Bawston sucks."
This perpetual David-and-Goliath bout goes back and forth with regular swings of the bat. Sunday's anti-Yankees chant in Los Angeles was by no means the first. It was heard the night before, during Game 3, too. But there were good reasons for it, besides just decades of jealousy and resentment.
First, it would have been too long-winded to chant about winning more games in the regular season (108) than any other team. It doesn't roll off the tongue and it has no sense of humor. And an anti-Dodgers chant has no juice, either. What, Red Sox fans are supposed to still harbor animosity from the 1916 World Series (which Boston won, anyway)?
After the kind of season the Red Sox just had — including beating out the Yankees by eight games in the AL East and romping through a postseason that ended with their 4-1 beatdown of the Dodgers in the World Series — most normal fans would have filed out singing triumphantly, "We are the Champions," and nobody could have argued.
The players in their victory celebration in the locker room even took a cue from the fans. Red Sox players sang all right, but it was "New York, New York," which is boomed through Yankee Stadium after a game. It was a return jab at Aaron Judge, the Yankees star who played the song at Fenway Park after the Yankees won the only game of their division series.
But this goes back much longer than a few weeks ago. This is about Babe Ruth, Ted Williams, Bucky Dent and Aaron Boone (that is, Aaron Freaking Boone), and more. The overall inferiority complex Bostonians feel in regard to New York is centuries old, but it is not reciprocated off the playing field. Outside of sports, New Yorkers generally don't care much what happens in Boston.
Here is all you need to know to explain the differences between the cities: The last two New York City mayors grew up in the Boston area and are fans of the Red Sox (they were both re-elected too, despite the local news media poking fun at their roots and sports allegiances).
That could never — in 100,000 years — happen in reverse. No way a New Yorker would ever become mayor of Boston, unless he or she publicly renounced the Yankees and forced Dunkin' Donuts to give out free crullers in perpetuity.
Not that Red Sox fans can't get along with a segment of New Yorkers. During a series in September at Fenway against the New York Mets this year, fans of both teams united in their one core belief, that the "Yankees Suck."
The pain for both is deep. For many years, Yankees fans crushed the souls of Red Sox fans with chants of "1918," a cruel reminder that the Red Sox had not won a World Series since that year, in part because the Red Sox sold Ruth to the Yankees.
All Red Sox fans could come up with in retort was, "Yankees suck." As juvenile as it was, it fit the mood nicely and it stuck because for a long time, the only way Bostonians could get back at the Yankees was by proxy. They had the Celtics and the Patriots, who did so much for the self-esteem of New Englanders before 2004.
So, of course, during the Pats' championship parade in Boston after their first Super Bowl championship in 2002 — something their fans had waited 42 seasons for, guess what they chanted?
But they also chanted it this year during the Patriots game against the Indianapolis Colts in Foxborough, Massachusetts, on Oct. 4. We also heard it four days later at TD Garden during a hockey game between the Bruins and the Ottawa Senators, the day the Red Sox clobbered the Yankees, 16-1, in Game 3.
"They had a terrific season," said one Yankees official, who spoke on the condition of anonymity so as not to further stoke the rivalry. "It just shows how we are in their psyche. No matter what they do, they always compare themselves to the big boys down south."
The chant certainly reflects that old sentiment. Meanwhile, the Red Sox's championship parade — their fourth this century — is Wednesday. You can bet your next cruller what you will hear.